The best curling irons for beachy waves or tight curls
These are the best curling irons for all hair types, whatever hairstyle you're looking to create at home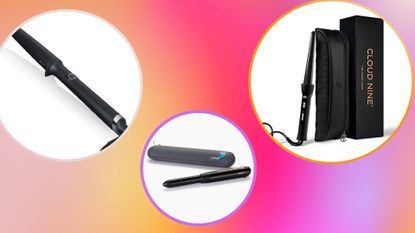 (Image credit: Future)
The best curling irons for each person will likely vary, depending on whether you prefer tighter curls or looser, beachy waves and of course what your natural hair type is. And there are options for everyone—in fact, there's almost too much choice! With everything from barrel size, shape and length, to various heat settings to consider—let alone the curl they create—it can be a confusing market to shop.
The actual process of curling your hair to create one of the best hairstyles for you can be tricky, but one thing that will make using curling tongs easier is ensuring you choose the right option for your hair type, be it fine, thick, long or short.
If you're feeling overwhelmed, don't worry—we've got you. Contributing beauty editor Lucy Partington has reviewed and tested the top curling irons out there (from top brands including ghd, Cloud Nine and BaByliss) and shared her most recommended with you here. There are choices whatever your budget may be, to help you create the curly look of your dreams.
How to choose the best curling irons for you
There are several considerations to think about when choosing the best curlings irons to suit your needs. It's important to think about:
The curls you want—First thing's first, what sort of curls or waves do you want to recreate? Whether it's tousled, effortless-looking waves, tight ringlets, glamorous bouncy curls, or if you simply just want to enhance your own natural curls, there are different tools that will work best to suit your needs and wants.
Your hair type and texture—If you're somebody who regularly bleaches or heat styles their hair, it's likely that it'll be more fragile and prone to breakage so you may benefit from using a product with multiple heat settings. Lower temperatures will cause less damage, but using tools on a higher heat setting will help curls last longer.
The barrel size you need—It's also worth knowing that the bigger the barrel, the bigger the curl. Chopstick stylers will create super tight, perm-like curls, while classic bouncy blow-dry looks are created with altogether bigger, wider wands. If it's a curl somewhere in the middle, look for a conical wand that will create a tighter curl towards the mid lengths with a more relaxed look at the ends.
Here, we talk you through the best tongs and irons to create everything from beachy beauty waves, glamorous blowouts and corkscrew curls...
The best curling tongs as reviewed by a beauty editor
1. Ghd Creative Curl Wand
Best curling tongs for beachy waves
Specifications
RRP: $199/£139
Barrel size: 28mm-23mm (tapered)
Plate/barrel material: Ceramic
Maximum temperature: 185ºC
Reasons to buy
+
Easy to use
+
Built-in cool tip to hold hair in place
+
Works on all hair lengths and types
Reasons to avoid
-
Some users say price didn't match quality
-
Can't adjust the temperature
Perfect for creating beachy, natural-looking waves with minimal effort, the Creative Curl Wand is from one of the most popular and trusted hair brands on the market today, ghd—which is just part of the reason why we love it!
It features a tapered barrel that goes from 22mm at the tip up to 28mm at the bottom, to create natural-looking, beachy waves while being easy to use. The built-in cool tip means you're able to hold hair in place without burning your fingers, while the clever safety stand is very useful for being able to put the wand down on a surface while you're styling. It heats up quickly and maintains a temperature of 185ºC, which ghd says strikes the perfect balance to ensure curls last, whilst minimizing unnecessary damage.
During testing we managed to achieve brilliantly relaxed beachy waves that looked bang on trend. On our finer hair (on day one of our hair wash) they had definitely dropped a bit after a few hours, but on days two and three, the curls held much better.
2. BaByliss 9000 Cordless Waving Wand
Best curling iron for effortless natural waves on-the-go
Specifications
RRP: Between £79-£180 (UK only)
Barrel size: 28mm
Plate/barrel material: Ceramic
Maximum temperature: 180ºC
Reasons to buy
+
Cordless with 40 minute use at max temperature
+
Heats up in 15 seconds
+
Good for travelling and using on-the-go
Reasons to avoid
-
Depending on hair length and thickness, 40 minutes might not be enough battery time
-
Takes three hours to do a full battery charge
-
Expensive
Cordless, three temperature settings, heats up in 15 seconds flat—what's not to love about the BaByliss 9000 Cordless Waving Wand? Despite being cordless, these curlers really do pack a surprisingly powerful punch, and with three temperature settings—160ºC, 170ºC and 180ºC—these are definitely comparable to their corded counterparts. Use them to create smooth, loose, natural-looking waves, which we were able to execute perfectly during testing.
This wand is suitable for all hair types and lengths, although anybody with super long or very thick hair may find that the 40 minute battery life isn't quite enough. Plus, they definitely fall on the pricier side at almost £200. However, the fact it's cord-free does make it somewhat easier to use as there's no wire to get caught up in, and makes them a very handy option for those who travel often. BaByliss also do some of the best hairdryers for curly hair too, if you're hoping to pick up a few more essential hair tools.
3. No1 Chopstick Styler
Best curling irons for corkscrew curls
Specifications
RRP: £19.99 (UK only)
Barrel size: 7mm x 10mm
Plate/barrel material: Ceramic
Maximum temperature: 210ºC
Reasons to buy
+
Creates long-lasting curls
+
Unique rectangular barrel
+
Heats up in 30 seconds
+
Affordable
Reasons to avoid
-
Small barrel
-
May take a while to do a whole head of curls
The signature skinny wand, the No1 Chopstick Styler is one of the best curling irons for creating tight curls that promise to stay in place for up to three days. The original—and arguably the best—this chopstick styler was designed to revolutionize the staying power of curls. By making them super tight, not only will it add serious volume to your locks, but it also ensures they last and last and last.
The ceramic coating on the small, 7mm x 10mm barrel means curls will always be smooth, and the styler heats up to a maximum of 210 degrees in just 30 seconds. Plus, this tool is super affordable, which makes trying it even more appealing. Plus, its suitable for all hair types, textures and lengths—just make sure you separate each curl once it's cooled down, rather than brushing them, out to avoid the poodle-esque look.
4. Cloud Nine Hair The Texture Wand
Best curling irons for enhancing natural curls
Specifications
RRP: $156/£139
Barrel size: 25mm to 4mm (tapered)
Plate/barrel material: Ceramic
Maximum temperature: 175ºC
Reasons to buy
+
Great for curly, textured hair
+
Has a mineral-infused ceramic barrel for shinier hair
+
Heat settings range from 125ºC to 175ºC depending on your preference
Reasons to avoid
-
Some reviews say curls don't last
-
May not be hot enough for some hair types
One of the only wands that has been specifically designed for use on natural and textured hair, Cloud Nine's The Texture Wand boasts variable temperature control, ranging from 125ºC to 175ºC, which means you're able to style hair at lower temperatures if you want to without worrying about causing heat damage.
The mineral infused ceramic barrel features unique technology that works to help seal the cuticle and lock in moisture to ensure hair looks and feels smooth and shiny. In fact, the clever conical barrel has been designed to reach right to the root so you can style even the tightest of natural curls. While this wand will take great care of your hair, we found during testing that the curls didn't last as long as we might have liked—so if that's a top priority for you, you may need to look elsewhere.
5. Beauty Works Professional Styler
Best curling irons for bouncy waves
Specifications
RRP: $81/£69.99
Barrel size: 32mm
Plate/barrel material: Ceramic
Maximum temperature: 80-220°C
Reasons to buy
+
Wide barrel is great at creating big curls
+
Easy to use
+
Good value for money
Reasons to avoid
-
Long barrel makes it harder for people with short hair to use
-
Some reviews say curls didn't last—but that depends on hair type, texture and length
The long, 28.5cm barrel suggests that this particular tool was created with long hair in mind, or for those with extensions (which makes sense, considering Beauty Works is primarily a hair extension brand) so if you've got shorter hair these might not be the best curling irons for you.
Out of all the curlers we tested though, this one has the biggest temperature range, going from 80°C right up to 220°C, which is impressive and means you can play around with different levels to work out which one suits you and your hair best. The key to creating bouncy curls is to take larger sections, and alternating them in different directions for a less polished finish. But once done, we found this gave us brilliantly glamorous curls—almost like a professional blow-dry—so we'd highly recommend for those looking to create a chic, elevated curly hairstyle.
Lucy Partington has been a beauty journalist for eight years, writing for titles including Stylist and Cosmopolitan. She's a true skincare nerd who's on a lifelong quest for a glowing complexion and loves nothing more than learning about new ingredients and products. She's obsessed with having perfect eyebrows and collecting eyeshadow palettes she'll probably never use.