The best curly hairstyles to try—from faux fringes to high ponys
Working out new and fun curly hairstyles can be time-consuming, so we've rounded up some stunning ones to try out below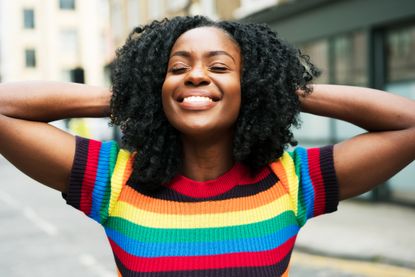 (Image credit: Tim Robberts/Getty Images)
Once you've mastered your curly hair routine, or become well versed in the curly girl method, it's easy to stick to the same old curly hairstyles in rotation. A quick messy bun, a ponytail, or just leaving it all out on a good curl day—they're all classics, but once it starts feeling like Groundhog Day, it's definitely time to shake things up.
Luckily, we've been blessed with TikTok and its huge catalogue of creators sharing their curly hair tips with us. We've sifted through the best curly hairstyles tutorials it has to offer, from faux curly fringes to different takes on the half-up hairstyle, as well as accessories like the ultra-popular claw clip that we were seeing all across fashion week.
Before you start, you're going to want to ensure you're starting on hair that's hydrated and healthy—it doesn't matter if it's freshly washed or a week old. Pulling your curls through hairbands or clips when it's dried out and damaged will only bring on breakage, so get your spray bottle and leave-in conditioner at the ready. Ideally, you'll have used one of the best shampoos for curly hair before attempting any of these curly hairstyles, too.
So without further ado, here are the curly hairstyles you're going to want to spend all weekend trialing yourself...
9 curly hairstyles to try
1. The romantic high pony
It's so easy to quickly pull your hair through a hairband a few times and call it a day. But the best way to make any fast ponytail look intentional, put-together—and most importantly, pretty—is to add a few face-framing tendrils. Pick a couple of curls around the front and next to your ears, re-wet them with water and leave-in conditioner if needed, and fluff out the ponytail on top. Use a microfiber hair towel to pat the curls dry, if needed.
2. The twisted half-up
Variations of this are everywhere right now, in keeping with the Y2K beauty trends and fashion throwback. Match your low-waist jeans and baby tees with this half-up style, which is perfect for days when the top of your hair just won't cooperate. Use clear elastic bands, and coat them in a little bit of hair oil or serum to help them slide down the hair without snagging. Using Olaplex's curly hair products can be useful here.
3. The braided headband
Don't worry if you're not the best at braiding; these cainrows are much easier to do than the traditional back-to-front ones, as your hands are in a better position to braid downwards. Add a middle parting to keep everything looking sleek, then let hair air dry or diffuse. We can't wait to rock this one at the beach!
---
---
4. The intricate braided crown
If you've got more time on your hands, and are a bit of a braiding whizz, then this is one of the best curly hairstyles for you. Taking notes from the Fulani braid style with cainrows looping in front of the ears and through the middle part, this style is the best way to emulate it without sitting at the salon for hours. Finish by brushing your hair out with one of the best brushes for curly hair to create a full head of volume, or refresh your curls for more definition.
5. The slick half down
For days when you just need something quick and slick, smooth your hair down on either side to keep it out of your face without tying it all up completely. Or, if you do want it off your neck, go for the classic low slick bun or ponytail—but we're venturing away from those everyday styles, remember?
6. The ultimate claw clip
Claw clips seem like unfamiliar territory for so many curly girls, but they're actually our curls' best friend if we know how to use them. They don't leave a mark like most hairbands do, and can be gentler on our hairlines with less pressure. Either leave your hair tousled around your head or slick everything down for that "clean girl" look that's trending on TikTok.
7. The faux fringe chignon
Curly hairstyles don't need to be hard work. So if you don't want to deal with a permanent curly fringe (trust us, they take a lot of work and upkeep), then fake it. This hair tool is pretty nifty, but until we can track one down ourselves, a simple claw clip will do. Swirl hair up, arrange the curls across your forehead, and pin invisibly into place. Bonus: wrap a headscarf around your hairline to emulate Rihanna in her We Found Love days.
8. The space buns
Super cutesy and perfect for when just one bun won't cut it, space buns have never been more wearable. They're perfect for curly and afro hair types, as the extra volume means they form and hold the shape better; just use lots of bobby pins and gently pull apart any sections to get the fullest look.
9. The half-up bun
Another quick one, this takes down half of your messy bun so it can flow freely around your shoulders while still maintaining that height at the crown. Pull some of your hair through the hairband, pull it apart a little bit, then swirl the ends around until you've got the perfect piece-y, undone bun. Slicking your baby hairs is optional, but we thoroughly recommend—just be sure to use an edge gel that's nourishing, and go gentle on the finer sections.
Ava Welsing-Kitcher is a freelance beauty journalist who's earned her stripes at InStyle, Stylist, and The Sunday Times STYLE. Though she can write about anything beauty and wellness, her main passion is hair - especially curly and afro textures. You can find her trawling through ingredients lists and product samples to really get to the bottom of what makes an excellent beauty buy.