6 of the best dermatologist-recommended sunscreens for trusted picks you can rely on
The best dermatologist-recommended sunscreens for expert protection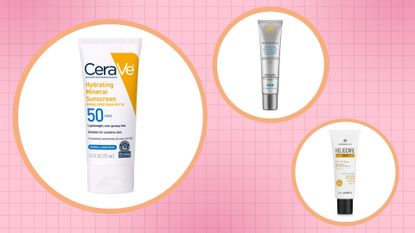 (Image credit: CeraVe / SkinCeuticals / Heliocare )
Of all the products in a skincare routine, sunscreen is probably up there as one of the most baffling. We all know that we should be wearing one of the best dermatologist-recommended sunscreens (ideally) daily to help prevent sunburn, skin cancer, and premature aging, but with names such as UVA, UVB, SPF, physical, chemical, and so on, it can be tricky to make sense of sunscreen labeling and choose the right one.
Still, this terminology gives us essential information about the type and level of UV defense a sunscreen offers. To help you cut through the jargon, we've enlisted the real experts; dermatologists. With skincare constantly on their minds, they're the best individuals to steer us on choosing the best facial sunscreens to suit every single skin type.
Meet the experts on sunscreen
How we tested the best dermatologist-recommended sunscreens
To whittle down our recommendations for the best dermatologist-recommended sunscreens, we looked for a broad spectrum and prioritized those that had a SPF of 30 or higher (the FDA advocates that you use broad-spectrum sunscreen with an SPF of 15 or higher.) The dermatologists we spoke to preferred sunscreens that offered next level skincare benefits as well as protection, so the main gauge was to find sunscreens that provided skin cancer prevention and anti-aging properties.
Meet the tester
Meet the tester
Charley Williams-Howitt
Charley Williams-Howitt is a beauty editor with over 20 years experience. She has a sensitive skin type and also has patches of hyperpigmentation. She is a religious sunscreen wearer and looks for products that offer her comfort while wearing, added anti-aging properties and a Sun Protection Factor of at least 30.
The best dermatologist-recommended sunscreens as reviewed by a beauty expert
1. Teoxane Advanced Perfecting Shield SPF 30
Best dermatologist-recommended sunscreen for tired, dull skin
Specifications
RRP: $46.99 for 1.7fl oz (50ml)
Key : Hyaluronic acid, NovHyal, amino acids, antioxidants, vitamins, and minerals
Reasons to buy
+
Protects the skin from UVA-UVB and environmental factors
+
Multi-use product—skincare and SPF in one
+
Blurs fine lines and gives a lovely glow
Reasons to avoid
-
Only SPF 30
-
It's fragranced, so may not be suitable for sensitive skin
Recommended by: Advanced nurse practitioner Cheryl Cain
If your skin is looking a bit meh (like mine) and you can't be faffed with a drawn-out skincare regime (me), then this multi-tasking shield will be right up your street. It's full of clever active ingredients, such as resilient hyaluronic acid, and a cocktail of powerful antioxidants to help prevent and correct those niggling signs of aging.
It's a peach-colored lotion that smells lovely, instantly creates a smooth, light film over my face, actually blurs some imperfections, and brightens skin instantly. It's an excellent makeup base, too. With a SPF of 30, I'd take this on holiday with me to save trying to cram lots of skincare in my case.
2. Dr Sam Bunting Flawless Gossamer Tint SPF 50
Best dermatologist-recommended sunscreen for sheer coverage
Specifications
RRP : $40 for 1.7fl oz (50ml)
Key ingredients: Zinc oxide, squalane, sodium hyaluronate, shea butter
Reasons to buy
+
Amazing hydration for all-day dewiness
+
Skin-perfecting finish
+
No white cast, just a sheer tint
Reasons to avoid
-
The two available tints may not suit all skin tones
Recommended by: cosmetic dermatologist and skincare expert Dr. Sam Bunting
If you're guilty of skipping sunscreen because of time or you simply forget, then this could be the answer to your prayers. Flawless Gossamer comes in two tints: 01 and 02. My skin is fair but warm-toned with a hint of tan, so 02 worked better for me. If you have olive or darker skin, you may need to do a swatch test before purchasing.
It feels beautiful on my skin—really hydrating, thanks to the moisturizing ingredients of shea butter, hyaluronic acid, and squalane. The finish is like a sheer-tinted makeup base and it gives the desired glowy I love too. Dr. Sam's mission was to produce mineral sunscreen with a high SPF that looked like a radiant "second skin" and that didn't cause spots—which she achieved and then some.
3. CeraVe Hydrating Mineral Sunscreen SPF 50
Best dermatologist-recommended sunscreen for sensitive skin
Specifications
RRP : $14.99 for 2.5 oz
Key ingredients : Ceramides, niacinamide, hyaluronic acid
Reasons to buy
+
No white cast
+
Suitable for eczema-prone skin
+
Really comfortable to wear
+
Brilliant everyday protection
Recommended by: Advanced cosmetic doctor Dr. Ifeoma Ejikeme
Some sunscreens can make those with sensitive skin react. Although not overly sensitive, my skin is prone to redness and breakouts occasionally, so I usually err on the side of caution and go for products formulated especially for reactive skin. This means produced without oxybenzone, chemical filter, fragrance, and parabens, plus it has been allergy tested and is non-comedogenic.
Luckily, this ticks all of these boxes and more. CeraVe is reliable and with great price points, this combined with the fact that it's developed by dermatologists means it's trusted and applauded. It's a lovely light texture and simply feels like a good everyday moisturizer, which I would happily use. My skin is hydrated, protected, and not a white residue in sight.
4. SkinCeuticals Advanced Brightening UV Defense SPF 50
Best dermatologist-recommended sunscreen for the face
Specifications
RRP : £50 for 40ml (UK only)
Key ingredients : Tranexamic acid, niacinamide
Reasons to buy
+
Feels comfortable to wear
+
Great protection
+
Brilliant for wearing underneath makeup
Reasons to avoid
-
Quite expensive
-
Not widely available in the US
Recommended by: NMC-registered aesthetic clinician Eleanor Hartley
SkinCeuticals is a brilliant brand. Derms across the globe recommend it because of the pure, concentrated ingredients and I can't get enough of the stuff. The Brightening Defense is a dual-actioned sunscreen, which helps to protect the skin from UV-induced discoloration and even skin tone. It comes in a neat tube with a super fine nozzle, so dispensing the right amount is easy. After application, my complexion looks radiant and after a week's use, my skin definitely looks less patchy.
What I love most about this sunscreen is how well it sits under makeup—there's no sunscreen pilling or excessive oily shine, even after applying it straight after. For such high protection, it doesn't feel like you're wearing anything on your skin. If you're looking for a derm-recommended sunscreen for the face, this is worth the investment. Promise.
5. Heliocare 360 Gel Oil-Free SPF 50
Best dermatologist-recommended sunscreen for oily/acne-prone skin
Specifications
RRP : $25.99 for 2.4 oz
Key ingredients : Antioxidant fernblock, DNA repair enzymes, vitamins C and E,
Reasons to buy
+
Smooth non-shiny finish
+
Non pore-clogging; won't cause breakouts
+
High protection
Reasons to avoid
-
Not fragrance-free
-
Can feel it on skin
Recommended by: consultant dermatologist Dr. Anjali Mahto
Finding the right sunscreen when you have oily skin or are prone to breakouts is tricky, as some can enhance the problem. But this is perfect for those with this skin type as it offers brilliant protection—their secret weapon is an ingredient called Fernblock, an antioxidant of natural plants—without any breakouts.
The first thing I notice is the slight floral smell to it, which I wasn't expecting. I also thought it would have a colorless formula which I usually associate with a gel, but it had a tint and looked more like a cream rather than gel. The color actually disappears once massaged into my skin and is touch-dry within a few minutes, leaving a smooth matte finish. It didn't clog my pores or aggravate any blemishes, but I did feel it on my skin for quite a while.
6. Arbonne DermResults Soft Focus Veil SPF 30
Best dermatologist-recommended sunscreen for dry skin
Specifications
RRP : $60 for 1.7fl oz (50ml)
Key ingredients : Argan kernel oil, jojoba esters, shea butter, zinc oxide, titanium dioxide
Reasons to buy
+
Super hydrating
+
Great for everyday wear
+
'No makeup' finish—sheer tint
Reasons to avoid
-
Doesn't claim to be water-resistant
-
SPF 30
Recommended by: skin specialist Dr. Lauren Evans
This extraordinarily soothing and hydrating 100% mineral-based sunscreen provides the feel and advantages of a moisturizer and the soft—focus finish of a light foundation. I loved how it smoothed evenly over my face and dried really quickly to leave a nice healthy glow. My pores looked blurred as did small imperfections. I sometimes notice that my skin has patches of dryness that appear throughout the day, but wearing this completely avoided that happening.
It can be hard to find a product that offers optimum hydration without any oiliness or film, but this delivered. I prefer a higher SPF but other than that I'm sold.
SPF decoded: all your questions answered by the experts
Do I need to wear sunscreen all year round?
"Wearing sunscreen every day is one of the most important ways to keep skin healthy," says Dr. Nkem Ugonabo. "I recommend everyone—regardless of skin type, tone, or texture—to wear sunscreen every day, all-year-round." Even when it's cloudy outside, harmful UV rays are still present. "I always tell my patients, 'just because you can't see the sun's rays, does not mean they can't see you'," she adds. Applying SPF daily is essential to help protect skin from UV exposure, which will have both short and long-term benefits for the skin.
According to The American Academy of Dermatology, dermatologists recommend using a sunscreen with an SPF of at least 30, which blocks 97% of the sun's UVB rays.
SPF rating and UVA vs UVB explained
The sun's rays can be broadly split into two main categories: UVA and UVB. "UVA rays penetrate deeply into the skin, causing it to age, while UVB rays are more present in the summer months and have more of a superficial effect—they cause skin to burn," explains Dr. Ejikeme. "It's also important to remember that UVA rays can penetrate glass, so if you're planning a long car journey or sitting by a window all day in your office, sun protection with UVA is important."
"The SPF (sun protection factor) indicates the level of protection against UVB rays," Dr Sam Bunting adds. "For broad-spectrum sunscreen, the symbol of a circle with UVA inside tells you there's a high level of UVA protection, too, in proportion to the SPF."
Mineral vs chemical sunscreen
"Mineral sunscreens reflect the light once applied onto the skin, almost like a shield. Usually, these formulas use zinc oxide or titanium dioxide that can leave the white cast. It's usually a better option for those who have more sensitive skin and works straight away once applied," says Dr. Lauren Evans. "Chemical sunscreens work by absorbing UV rays, which are dispersed across the skin in heat. Chemical sunscreens take time to work and should be applied at least 15 minutes before sun exposure."
How much sunscreen should you apply?
According to the pros, the volume you use does matter and applying sunscreen too thinly could be unsafe. "With SPF, the amount matters," confirms Dr. Sam Bunting.
"The recommended amount of sunscreen per application is the length of two fingers for your entire face and eyelids," recommends Dr. Ejikeme. Or, try Dr. Sam Bunting's "13 dot technique" (basically dotting your sunscreen in 13 spots over the face before blending) to ensure an even covering of skin with no missed bits.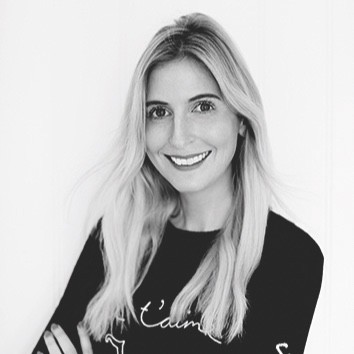 Charley Williams-Howitt has over 20 years of experience working in the beauty industry. As well as previously writing for lifestyle titles, such as woman&home, Woman and Woman's Weekly, Charley has worked for British institutions like Marks and Spencer, John Lewis, and Superdrug creating visual and editorial content cross-platform.
Starting her career in fashion at Cosmopolitan, she eventually moved to the world of makeup, moisturizers, and models, where she has interviewed celebrities and industry icons, reported backstage at MANY Fashion Weeks, shot beauty and hair editorial and scrutinized the ingredients in anything she's testing.