The best floral perfumes that smell fresh and unique
These are the best floral perfumes for those who love florals and those who don't—from Diptyque, Penhaligon's, Jo Loves and more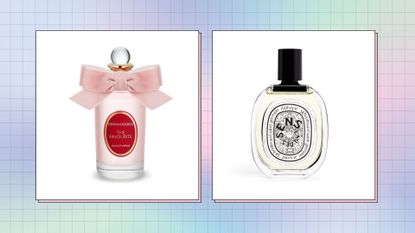 (Image credit: Future)
The best floral perfumes are a universal crowd-pleaser—and guarantee to uplift and re-energize in a single spritz. From soft and delicate to dark and mysterious; the floral fragrance family is extremely versatile and—thanks to the vast variety of flower species—has notes to suit everyone, including those who aren't typically fans of floral scents.
"Most people are attracted to floral scents," says Jo Malone, British perfumer and founder of Jo Malone and Jo Loves. While some floral perfumes are more traditional, featuring a bouquet of blooms that conjure up an English garden, others will transport you further afield with combinations of florals, fruits and warming undertones—which is why you find floral notes in all of the best perfumes for women. And if you like you floral fragrances to be more unique, "you can also layer your fragrances to create something more suited to you," continues Malone, "heavy florals like tuberose can be lightened by layering them with a citrus cologne, for example."
From the soft, delicate and powdery to the bold, masculine and spicy—we've curated an edit of the best floral perfumes so that you can find your perfect match. Tried and tested by a beauty editor, there are options whatever your budget below.
How to pick the best floral perfumes for you
When you're trying to select the best floral perfume for you, it can be helpful to consider what type of flowers you enjoy smelling—for example, do you prefer powerfully sweet or something more subtle?
As with every flower, every floral fragrance is unique and the key floral notes, as well as what they're combined with, will determine the overall scent. Here are a few categories to consider:
Fresh florals—Look for peony and lily of the valley if you're a fan of fresh, light and airy fragrances. The addition of citrus fruits will also amp up the freshness.
Powdery flowers—Prefer delicate, powdery florals? Go for fragrances containing violet or iris.
Intense florals—Fans of rich and intoxicating scents will love a bouquet of white florals including jasmine, tuberose and gardenia.
Sweet florals—If you're drawn to sweet scents that linger on the skin, seek out frangipani, rose or orchid.
"There are no rules when wearing fragrance," says Malone. "Find a scent you like and have fun with it; layer, mix and match to create something unique to you."
Best floral perfumes as chosen by a beauty expert
1. Diptyque Eau de Sens Eau de Toilette
Best overall floral perfume
Specifications
RRP: $84/£78 for 50ml
Top notes: Orange blossom, bitter orange
Heart notes: Juniper berries
Base notes: Angelica, patchouli
Longevity: Moderate
Reasons to buy
+
Smells like springtime
+
Mood-boosting fragrance
+
Fresh and light
+
Gets better as it evolves
We have fallen head over heels for this clean, fresh and addictive floral scent, which is why it's our best floral perfume pick overall. Seriously, it was love at first sniff. Inspired by the bitter orange tree, it brings together all its elements—the branches, leaves and fruit—to create a bright, citrus aroma that instantly uplifts and awakens the senses. As the fragrance warms on the skin, we find that it softens and becomes creamy with white florals and a slight orange blossom kick.
It's very addictive and kept us coming back for more. So much so, we tried the hair mist and body gel, too. Top tip? To increase the longevity of this scent, use the body gel in the shower first, before applying a generous misting of the perfume as soon as you step out. After wearing this perfume for a week, we can confirm that it invites several compliments with many passers-by asking, "what perfume are you wearing?"
2. Christian Dior Holy Peony Eau de Parfum
Best luxury floral perfume
Specifications
RRP: $260/£220 for 125ml
Top notes: Red fruits
Heart notes: Peony, rose, foliage
Base notes: Musk, apricot, woods
Longevity: Long-lasting
Reasons to buy
+
Feminine and pretty
+
Uplifting scent
+
Not overpowering
+
Uncomplicated
Reasons to avoid
-
Expensive, considering its simplicity
Certain scents demand to be noticed, while others, like Dior's Holy Peony, blend effortlessly into the background. Far from a 'look at me' fragrance, this soft petal scent is quietly alluring and as such, the perfect pick for everyday wear. At first sniff, we were struck by the freshness of rose which, after a minute or two, made way for delicate peony. Together, these florals conjure up an English garden in full bloom.
As the fragrance develops, peony prevails—becoming intertwined with light woods and subtle musk that add a sophisticated spin to this floral number. If we had to sum it up in three words, they would be: light, luminous and uplifting. The only downside? It's expensive considering how simple it is—but if you're after one of the best long-lasting perfumes in pure peony and rose fragrance that will linger long after spritzing, this one's for you.
3. Bon Parfumeur 102 Eau de Parfum
Best affordable floral perfume
Specifications
RRP: $39/£36 for 30ml
Top notes: Bergamot, coriander, cardamom
Heart notes: Jasmine, tea, violet
Base notes: Mimosa, oak moss, musk
Longevity: Weak
Reasons to buy
+
Clean and refreshing
+
Uplifting scent
+
Contrast of notes
Reasons to avoid
-
Projection and longevity are weak
If you're not into overly sweet florals, turn your nose to this refreshing concoction from Bon Parfumeur. Light and airy, the subtle scent opens with green and citrus notes (think bergamot, coriander and cardamom) that are sharpened by the freshness of tea. In fact, Earl Grey lovers—this one's for you, as it really conjures up that floral and slightly herbal tea scent.
After a while, we started to detect the scent of powdery violet and soft jasmine that together add a delicate touch to the backdrop of warm oakmoss and musks. Overall, this fragrance is green and clean—and a great choice for a hot summer's day when you want a breezy splash of scent. While we found that it doesn't stick around for hours (see which perfumes do last the longest in our guide), it does perform well in the heat, with the spicy notes really coming into their own.
4. Penhaligon's The Favourite eau de parfum
Best floral perfume for special occasions
Specifications
RRP: $215/£152 for 100ml
Top notes: Mandarine, violet leaf
Heart notes: Jasmine sambas, mimosa, iris
Base notes: Sandalwood, musk, ambroxan
Longevity: Long-lasting
Reasons to buy
+
Elegant and charming
+
Impressive staying power
+
A timeless scent
+
The bottle has major #shelfie appeal
A feminine floral fragrance, The Favorite by Penhaligon's is a timeless classic that's guaranteed to leave a lasting impression. Oozing with elegance, we were taken away by the powdery bouquet of blooms that you can totally imagine floating around a ballroom, spritzed onto bouffant style skirts. Ideal for special occasions, we're reserving this one for weddings, theatre shows and the races.
As with all Penhaligon's fragrances, The Favorite is layered and complex. Bright bergamot and mandarin add a zesty freshness to the powdery florals that steal the show. To finish, expect a slightly sweet, woodsy base of sandalwood, musk and amber. Inspired by Sarah Churchill, Duchess of Marlborough, this regal fragrance is seriously sophisticated and a must for anyone after a 'grown-up' scent. After spritzing, we were inundated with "you smell great" compliments (in fact it was one of the most complimented fragrances on this list). Scent aside, who could resist that lavish bottle topped off with a plush velvet bow?
5. Maison Francis Kurkdjian L'Eau À La Rose eau de toilette
Best modern floral perfume
Specifications
RRP: $103/£95 for 35ml
Top notes: Rose, lychee
Heart notes: Peony, pear
Base notes: Musk
Longevity: Moderate
Reasons to buy
+
Fresh and youthful
+
Perfect for summer
+
Realistic rose scent
Reasons to avoid
-
Expensive considering longevity
Rose is extremely versatile. It can be dark and mysterious or, like this scent from Maison Francis Kurkdijan, light and airy. Best described as a dewy rose, this fragrance captures the essence of its starring note without it getting lost in lots of layers. In this sense, it's straightforward—but if you adore that blooming rose smell, dampened with morning dew, this is the perfect pick, and one of the best floral perfumes around.
While some rose fragrances can overpower your senses with their sweetness, we found that this one strikes the perfect balance between sweet and soft. A modern update on the original Eau de Parfum, the Eau de Toilette is brighter in its nuances with sparkling pear and lychee notes. A great choice for summer, we reckon this scent should be worn on balmy evenings with a cocktail in hand. As for staying power, we found that it mellowed quite quickly—which is a little disappointing considering the higher price point.
6. Miller Harris Rêverie de Bergamote eau de parfum
Best fruity floral perfume
Specifications
RRP: $114/£85 for 50ml
Top notes: Bergamot, orange, tangerine, summer basil, artemisia
Heart notes: Lavender, rosemary, geranium, leather
Base notes: Sandalwood, patchouli, vetiver, moss
Longevity: Long-lasting
Reasons to buy
+
Complex scent that evolves
+
Impressive staying power
+
Transports you to sunny climes
Reasons to avoid
-
A little bit soapy on first sniff
On first sniff, we weren't convinced by this fruity floral fragrance. The initial hit is somewhat soapy, reminding us of a typical masculine aftershave—which may be a good thing, if this is what you're into. However, once we let it linger on the skin, it truly transformed into a sunny addictive scent that had us coming back for more (read: much more).
Taking us on a journey, this scent really evolves on the skin—opening with zesty bright bergamot and tangerine that soon dries down to an earthy base of leather and musky woods. It is at the heart of the fragrance where you'll find the florals—lavender, geranium and garden herbs—which add a green aroma to this complex scent. Overall, it's sweet, soft and smoky and gets better with every sniff.
7. Jo Loves White Rose & Lemon Leaves
Best floral perfume for everyday wear
Specifications
RRP: $100/£75 for 50ml
Top notes: Lemon peel, rose oil, geranium
Heart notes: Honey, amber, cedarwood
Base notes: Patchouli, rose absolute
Longevity: Moderate
Reasons to buy
+
Fresh and feminine
+
Definite crowd pleaser
+
Great for everyday wear
+
Lingers on the skin
Reasons to avoid
-
Lemon scent may be overpowering for some
More proof that rose fragrances needn't be powdery or sweet. This number, from Jo Loves, is another light and airy scent that evokes visions of sun-dappled lemon groves along the Amalfi hillside. Contrasting soft and sharp notes, the fragrance combines delicate white rose and zesty lemon peel with sweet honey and warming amber.
"I love to fill my home with white roses," says Malone, "to me, they represent love and celebration and bring back some of life's most treasured and memorable moments." For us, it transported us back to sun-drenched holidays—surrounded by sweet, aromatic smells. And while the lemon is strong (perhaps too strong for some), we love the freshness it adds to the soft rose. As for longevity, it's moderate—which we'd argue is good for such a light and airy scent. One of the best floral perfumes for everyday wear.
8. Frédéric Malle Carnal Flower eau de parfum
Best sensual floral perfume
Specifications
RRP: $270/£172 for 50ml
Top notes: Melon, bergamot
Heart notes: Tuberose, jasmine
Base notes: Musk
Longevity: Moderate
Reasons to buy
+
Sensual and heady
+
Great for the evening
+
Addictive scent
Reasons to avoid
-
Unique scent not for everyone
This fragrance is not for the faint-hearted. It's challenging, interesting and unique. After spritzing, we were instantly hit by the scent of freshly-cut stems and Tuberose petals—green and lush—it's a very realistic Tuberose. As it evolves on the skin, the freshness subsides slightly and it becomes sensual and creamy (something that we're putting down to the coconut). The dry down is musky, but we can still detect that intense Tuberose which leaves a lasting trail for several hours.
Admittedly, this scent is not for everyone—we would reserve it for when we're in the mood for a heady, sensual, intense number, perhaps for a date night. But if Tuberose and white florals are your go-to, this is up there with the best Tuberose fragrances that we've tried. It's modern and pure; a far cry from grandma's white floral soap.
Freelance beauty journalist
Emma is a freelance beauty journalist who has worked in the beauty industry for six years for a number of titles—including Grazia, Stylist and Net-A-Porter. She has a particular interest in skincare, fragrance and makeup staples and has worked on producing editorial shoots with some of the industry's biggest artists—including Val Garland—and interviews with the likes of Patrick Ta, Pat McGrath, and Sam McKnight for all their insider tips and tricks.