5 bath trays that'll make your bathroom feel like a spa
Want to jazz up your nightly soak with great bath trays? We're here to help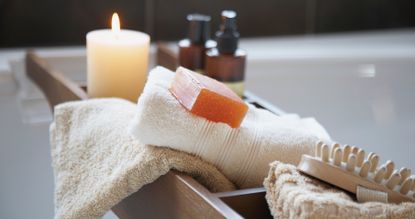 (Image credit: Getty Images)
The best bath trays are the kind that complements your bathtub aesthetically but are also spacious enough to fit all of your bathtime essentials on them, to make sure you get the most out of your quality 'me' time.
You'll agree that after a long, hard day of work, all we want to do is switch off, unwind and indulge in a bit of relaxation. What better way to do that than with a nice, hot soak? Whether you take yours with the best scented candles, essential oils, eucalyptus bouquets or all of the above, the one significant tool that'll transform your tub into a chic wellness haven is a good bath tray.
For some of us, our precious bath time is one of few moments we really get to enjoy our own company and escape from the hectic noise of the outside world. It can be our time to listen to our favorite podcast, catch up on that series we're currently obsessed with or get stuck into that book we've been dying to read. It's also a great time to pamper ourselves with our latest beauty buys—be it a delicious new body exfoliator, a dermatologist-approved face mask or the best moisturizers for dry skin.
However your bath routine looks like, the experience itself will be much better with a swanky new bath tray. Here are some of our favorite options.
The best bath trays to add to your tub routine:
1. SilverWoodWorking Bath Tub Tray
The Etsy bestseller
This bath tray is the most popular one on Etsy for a reason: not only is it made with a lovely dark wood finish that'll make any bath look instantly chicer but it also has cleverly carved out spaces for all you could possibly need. We're talking a placement for your smartphone or tablet, a glass of wine and not one but two candles. It's a bath lover's dream!
2. Royal Craft Wood luxury Bamboo Bathtub Caddy Tray
A five-star purchase
This luxury bath tray is a total crowd-pleaser, receiving an average five-star rating among customers on Amazon. Not only does it have multiple compartments for your bath time utensils but the two-sided tray is perfect for couples, who love indulging in bath time together.

According to customer reviews, it's super adjustable and slip-resistant, too. So if you and your significant partner need stay at home date ideas any time soon, you'll want to grab this one.
3. Relaxdays Bathtub Caddy
For rustic charm
Customers on Amazon have praised this bath tray for its gorgeous rustic feel and natural wooden look. Made of bamboo, it's both stylish and long-lasting with all the space you need for your bath utensils. It fits any standard-sized bathtub and doesn't weigh too much either. Overall, it's a solid purchase.
4. Heirloom Tray Gray - Creative Bath
A budget-friendly buy
This Heirloom tray from Creative Bath is another customer favorite. It's purse-friendly and practical, and features a neutral design that compliments any bathroom interior, be it minimalist or a vibrant look.
With space for all your bath essentials, from self-care snacks to toiletries, it's convenient. And best of all? Despite being light-colored, it's really easy to clean so don't worry about spilling anything!
5. Creative Bath Nantucket Tray
For a 70s-esque design
This Creative Bath Nantucket Tray is great for those who like to keep things simple and minimalistic. The 70s-inspired design gives it a vintage feel and, unlike other bath trays, it doesn't have specific compartments and is instead made more like a traditional, straightforward tray, so you can store all of your bath bombs, body washes and other goodies however you wish.
Sagal is a journalist, specialising in lifestyle, pop culture, fashion and beauty. She has written for a number of publications including Vogue, Glamour, Stylist, Evening Standard, Bustle, You Magazine, Dazed and Wonderland to name a few.