Best silver huggies earrings: the chic mini-hoops will update your Zoom look
From simple pairs to dainty sparklers, these silver huggies earrings add oomph to your jewelry box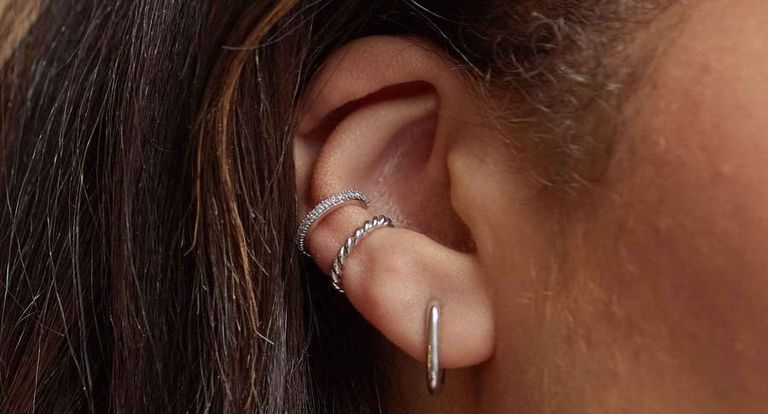 (Image credit: Astrid & Miyu)
Silver huggies earrings are a perfectly chic and versatile jewelry staple—you've got pearls, bejeweled, colorful, and even elongated versions. Dainty and delicate, bold or chunky, there are tons of types to choose from, which can make things tricky as we're spoilt for choice.

Whether you wanna jazz up your WFH loungewear for Zoom meetings or simply fancy a fashion lift, silver pairs of the best huggie earrings will elevate your style with ease, whether from a fine jewelry company or the best sustainable jewelry brands out there.

Slim or more substantial, these silver huggies earrings will help you personalize your lobes, and brighten even the most meh of days with some brand-new ear bling.
Best silver huggies earrings to add to your collection
1. Scream Pretty Chain Linked Mismatched Huggie Hoop Earring
Reasons to buy
+Mismatched style
Reasons to avoid
-If you're seeking a pair
Sold as a single earring, this chain-linked huggie combines both plain sterling silver and sterling silver with clear nano cubic zirconia stones. Looped together via a simple chain, they're a versatile pick for an edgy vibe across different parts of your ear.
With an internal diameter of 6.5mm, both hoops fit really neatly. Because the connecting chain is 4cm, the huggies are delicate but dangly earrings, absolutely perfect for adding different earring layers to your curated ear look.
2. Tada & Toy Capulet Huggies
Reasons to buy
+Semi-precious details
Reasons to avoid
-Expensive if you're on a budget
Semi-precious sterling silver huggies earrings, this elegant pair features white topaz, pink sapphire, rhodolite garnet and ruby. Taking ear inspo from Shakespeare's Romeo and Juliet, you'll also find a blue Capulet pair in this collection.
The hoop diameter is 12mm, and their click post fastening securely closes shut. Sturdy yet intricately made, these wish-list huggies (and others within their luxurious range) definitely bring the "wow" factor.
3. Seol & Gold Triple Spike Huggie Hoops
Reasons to buy
+Spiky details
Reasons to avoid
-Wanting a simple hoop
Snap these spiky dot huggies up as a pair or single earring. Snugly fitting, they have an inside diameter of 8.5mm, and an outside diameter of 12mm. The spikes are 5mm, sized to make a style impact.
Hugging the lobe, this plucky trio is an updated twist on everyday earring wear. A gorgeous gift, too, they arrive in a branded cotton bag with a ribbon tie. Wear the spiky huggies in one piercing or double up as a duo.
4. Astrid & Miyu Rectangular Huggies
Reasons to buy
+Elongated huggies
Reasons to avoid
-Shopping round hoops
Huggies don't have to always be circular hoops—elongated versions are big trend news, too. A modern staple earring, rectangular huggies look extra chic stacked up together. These sterling silver ones have a hoop thickness of 2mm, and their length is 14mm.

Still wrapping around the lobe but just taking a slightly different form, they're perfect for lower ear piercings. Chunky, chic huggies that are a change from the classic round shape, you'll find this sophisticated pair in gold plating too.
5. My-Wishbone Silver sparkle cubic zirconia earrings
Reasons to buy
+Drop-earring detail
Reasons to avoid
-The longer length might not be for everyone
Take the plunge and shop these cubic zirconia dangling huggie earrings. A simple sterling silver hoop attached to the cubic zirconia drop charm, their overall sizing is 25mm by 14mm.
Stylish and reasonably priced, My-Wishbone pieces are handmade, too. Wear alongside multiple earrings for a bolder look, or stick to subtle with this single pair. We'd team with tons of hoops and studs right up the ear.
Dislike heavier drop earrings but love the longer-length style? These are the huggies for you.
6. Missoma Opalite Silver Huggies
Reasons to buy
+Stacking huggies
Reasons to avoid
-Natural stone markings differ
Natural gemstone jewelry featuring luminescent opalite, these sterling silver huggies have a width of 2mm. Creating a subtle iridescent shimmer, this is an opalite version of Missoma's classic best-selling huggies.

Another alternative to crystal huggies, but with equal ear candy potential, opalite suits a mix of jewelry shades. Because they're natural stones, markings and color may differ from pair to pair, making them even more special. A unique set of huggies, they've got stylish stacking potential, too. A brand renowned for their beautiful pieces to layer up and boost your style, we're big Missoma fans.
7. Helix & Conch Azurro silver and turquoise spike hoop huggie earrings
Reasons to buy
+Bright turquoise stones
Reasons to avoid
-Sticking to muted shades
Combine colorful stones and spiky details with this sterling silver pair of huggies. Sized at 10mm, they'll fit neatly into helix, cartilage, or lobe piercings. Bright silver making the turquoise stones pop, you can mix with plain metals or other crystal element jewelry.
With silver huggies effortlessly adding a little extra to your look, these colorful spiked earrings are definitely on our to-buy list. They're pretty purse-friendly, too.
8. Lily & Roo Silver Baroque Pearl Shard Hoop Earrings
Reasons to buy
+Showstopping pearl shard
Reasons to avoid
-Looking for a bargain buy
Stunning showstoppers, these pearl shard earrings are the most elaborate way to wear huggie hoops. A solid sterling silver click-shut huggie with an attached baroque pearl in an incredible shard shape, they're elegantly unique.

With a 2cm pearl, let your earrings be the talking point of your outfit, even if that's low-key loungewear. An investment buy, they'll add a luxury touch to any outfit. Pair with dainty studs and huggies further up your ear, or wear them as a standalone statement piece.
Helen is a freelance writer, who has contributed to titles including Glamour, Grazia, The Independent, Fabulous and Fit & Well. Specialising in beauty, fashion, and lifestyle, she writes about new finds, standout brands, and expert insight. Helen loves multiple ear piercings, layering up looks and seeking out fresh style inspiration.