Will there be a season 3 of 'Firefly Lane'? Here's what we know about the show's future
Is season 3 of 'Firefly Lane' in the pipeline? Will there be more adventures of Kate and Tully?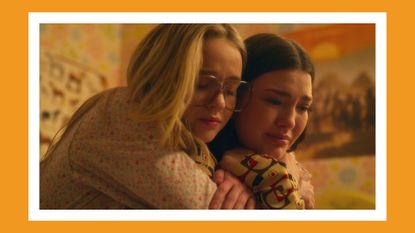 (Image credit: Netflix)
Will there be a season 3 of Firefly Lane? It's been on our minds since the first half of Firefly Lane season 2 dropped on Netflix on December 2, 2022. (Firefly Lane season 2 part 2 followed it up with seven new episodes premiering on Thursday, April 27.)
The show's second season answered some major lingering questions from that shocking season one Firefly Lane ending—namely, "What did Tully do to Kate?" and "Does Johnny die during that IED explosion?" And for those wondering "Do Johnny and Kate get back together?" there were some big romantic developments there, too.
But the first half of the second season also offered up a new batch of concerns. Does Kate ever forgive Tully? And, most pressingly, does Kate die in Firefly Lane?! Not only that but we were left wondering if there be more adventures of our favorite gal pals in Firefly Lane season 3? Here's everything we know about the fate of the series.
*Warning: spoilers ahead!*
Will there be a season 3 of 'Firefly Lane'?
Sadly, there will not be a season 3 of Firefly Lane. *Sobs.* The final seven episodes of Firefly Lane season 2 are the last episodes of the series overall.
After its renewal announcement in May 2021, Netflix confirmed in October 2022 that Firefly Lane season 2 would be the series' last—meaning that a third season of Firefly Lane is definitely not happening.
The streaming service also confirmed that season two would be split into two parts à la Stranger Things season 4. As mentioned, the first nine episodes of the supersized second season arrived on the streaming platform on Friday, December 2. And Firefly Lane season 2 part 2 will finish things off on Thursday, April 27—despite star Katherine Heigl revealing they initially wouldn't drop until June.
Heigl's co-star Sarah Chalke, who plays Kate, told WFLA about filming the second and final season: "It's such a different experience coming back to a show for a second season than just starting out, because you already have that camaraderie and that rapport and you already know everybody and you already have your inside jokes."
"It's just my favorite and we had a particularly great time on this show so I'm very sad that we won't get to do more," she continued, before joking that there should be a "Firefly Lane multiverse" that exists in another space and time continuum. (Fans certainly wouldn't be mad, especially if it meant a Firefly Lane season 3!)
Why won't there be a season 3 of 'Firefly Lane'?
Well, it seems that two seasons only was always the plan for the series showrunner, Maggie Friedman.
In an interview with Glamour, she revealed that she wanted to contain the show to two seasons to ensure that they got to tell the story of Kate and Tully in its entirety, without the risk of leaving the story unfinished.
"Originally, season two was just going to be 10 episodes, but I was talking to one of the Netflix executives who's been such a great champion of the show and said, 'I know where the end of the story is, I know exactly what I want it to be. I just want to make sure that we get there and don't end on a cliffhanger, and then something happens and we don't complete it.' I wanted to make sure that I got to tell the full story," Friedman told the outlet.
It's also fitting that the streaming series would close out after two seasons total—after all, there are two books in the Firefly Lane book series by Kristin Hannah on which the Netflix friendship saga is based. The first is (as you may have expected) called Firefly Lane, which was published in 2008, with the follow-up, Fly Away, hitting shelves five years later.
Just as at the end of Firefly Lane season 2, the original book ends with Kate's death from breast cancer, and the sequel Fly Away is all about how Jonny, Tully and Marah deal with the heartbreaking loss.
How many episodes of 'Firefly Lane' season 2 are there?
If you're wondering how many episodes are in Firefly Lane season 2, there are a total of 16 episodes across both batches of episodes. That adds up to six more episodes than the 10-episode first season.
The first half of the season includes nine nearly-hour-long episodes, all of which dropped on December 2; part 2 sees seven new episodes premiere on Netflix on Thursday, April 27 in both the US and the UK.
So while there's sadly no season 3 of Firefly Lane coming, we're sure that the final episodes of Firefly Lane season 2 are just as juicy as the first set. We can't wait to see how this beautiful series rounds out!
Firefly Lane season 2 is now streaming in full on Netflix.
Christina Izzo is the Deputy Editor of My Imperfect Life.
More generally, she is a writer-editor covering food and drink, travel, lifestyle and culture in New York City. She was previously the Features Editor at Rachael Ray In Season and Reveal, as well as the Food & Drink Editor and chief restaurant critic at Time Out New York.
When she's not doing all that, she can probably be found eating cheese somewhere.