What is Clubhouse—and is it still a thing?
The Clubhouse app is no longer invite-only and has a brand new logo too...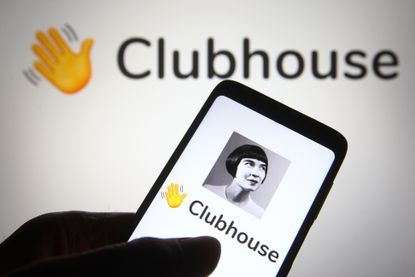 (Image credit: SOPA Images/Getty)
You may have heard of a little app called Clubhouse, especially if you're an avid Twitter user. But what exactly is it, how do you join and, most importantly, do you need an invite?
The app's popularity has dipped slightly, as lockdown restrictions around the world have eased. But it has recently been revamped and it's finally available for Android users which should encourage more users to join. Here's everything you need to know...
What is the Clubhouse app?
Clubhouse was first launched in 2020 during the height of the pandemic. It used to work on an invite-only basis, meaning only those who have been invited by a pre-existing user can get on the app. However, that changed in July 2021, when the app opened its 10-million-person-long waitlist and started adding new users. Along with this change, the creators have also introduced a brand new logo and app icon, giving the platform a new lease of life.
"The invite system has been an important part of our early history," the brand announced in a blog post. "By adding people in waves, welcoming new faces each week in our Wednesday Orientations, and talking with the community each Sunday in Town Hall, we've been able to grow Clubhouse in a measured way, and keep things from breaking as we've scaled."
Created by Silicon Valley professionals Paul Davison and Rohan Seth with a funding of $12 million, the audio-based app took over social media in 2020 as the hottest new platform for networking and interacting with like-minded peers. The first of its kind, it drew in thousands of users, including some famous names.
How to use the Clubhouse app
Clubhouse is an audio-based app where users can participate in different chat rooms with a wide range of topics. These rooms are audio-only and disappear forever once the chat has finished.
One of the best things about the app, aside from the conversations (we'll get to them later) is that unlike other social media apps like Twitter, Instagram or Facebook, you don't have to be staring at your screen whilst using it. Just like a call, you can have it on whilst doing other things, especially if you're in a room as a listener rather than a speaker.
But it is similar to other apps in the sense that you have a profile with a bio and a followers/following count. The rooms that show up in your hallway (which is the Clubhouse equivalent to your Twitter timeline or Instagram homepage) are determined by the people you follow which means the first few rooms you'll see are the ones people you are following are currently in. However, the further down you scroll the more rooms are displayed, all of which have been picked by an algorithm that considers your interests based on the types of rooms you've previously participated in. There's also an overall calendar that shows all the rooms that have been scheduled for the day.
Most recently, the app has added a new direct messaging feature, aptly named Backchannel. This allows users to send messages directly to their followers or request to message other users. It has been introduced to the platform to help people connect outside of the audio rooms. It can also be useful for moderators, who can get audiences to DM their questions during a live discussion as well as allowing people to continue conversations privately.
According to Clubhouse, the DM feature has been highly requested so it's set to be a success among users.
---
---
How do you become a Clubhouse moderator?
In each room, you'll find speakers, listeners, and moderators. The moderator is the person who started the chat and has the power to give a moderator badge to anyone else of their choice. They are also the only ones who can invite those who enter as listeners (known amongst users as those in the audience) to become speakers in the chat.
Any user can start their own room and select whether they want it to be private or open to all users on the app. You can then ping in your followers, who can ping in their followers and a small group chat of five can quickly turn into a room with hundreds.
How to make a club on the Clubhouse app
If you want to make your own club on the Clubhouse, then the first thing you have to do is host your own weekly show on the app for three consecutive weeks. This means starting and moderating a room with the same title once a week for three weeks. This will then qualify you to request a club via a form provided on the Clubhouse website and you'll then have to wait for it to get approved. At the moment, they're only allowing one club per user. However, you can join as many clubs on the app as you want as a member.
According to the website, creators are planning on launching a self-serve clubs feature built in the app, allowing users to set up a club instantly.
Clubhouse for Android—is it available now?
Android users, we have great news—Clubhouse is now available from Google Play.
In its first year, Clubhouse was only available for iPhone users and could be downloaded via the App Store. As of May 2, 2021, it became available for Android users too.
This resulted in the app growing internationally in countries like India, while its momentum has slowed down in the US and the UK in recent months. In fact, between June 1 and June 22, 80% of Clubhouse downloads came from India. This may also have to do with the current COVID variant in India, which has forced the country into lockdown while the rest of the world eases restrictions—allowing people to return to "normal" life.
What can I expect on the Clubhouse app?
There are a number of things you can expect from Clubhouse, the first being that it is super addictive. If you thought you were hooked on Instagram and Twitter then you haven't seen anything yet.
The most amazing thing about Clubhouse is how directly interactive it is, be it for networking or simply making new friends. No matter what you're interested in, there'll be a room for it where people who share similar interests or careers come together to discuss their experiences, give advice on things like how to get a promotion at work, and even cement business partnerships or collaborations.
You'll find everyone from major music execs like Scooter Braun (the man behind the successes of Justin Bieber and Ariana Grande) and Parkwood Entertainment president Steve Pamon sharing their knowledge about the industry and connecting with aspiring music moguls, to comedian Tiffany Haddish dishing out dating advice to hundreds of users or discussing the future of Africa with its diaspora.
There are rooms about how to become a CEO, how to start your own business, or even how to get into the tech world, all hosted by people who have extensive careers in each field. Then there are rooms about astrology, dating and relationships (including online dating tips), sports or mindfulness rooms encouraging affirmations and self-care day ideas. The list is endless!
So far, the app is mostly made up of professionals in tech, business, and the music industry as well as young creatives, athletes, journalists, and celebrities including the likes of Tyrese, Meek Mill, Aston Kutcher, Oprah, and Chris Rock.
In fact, Kevin Hart once surprised users by entering a chat room entitled "Is Kevin Hart funny?" where a small group was discussing the comedian's latest Netflix stand-up special. The room quickly became one of the biggest ever seen on the app so far, with thousands joining to listen in on what turned into a Q&A with Kevin. The room became a huge talking point on Twitter as it took a controversial turn after Kevin was questioned about a joke he had made about his 15-year-old daughter and other men in the room were accused of gaslighting the women.
If there's one thing to know about Clubhouse, it's that it is utterly unpredictable. You can start a room with one person and end up leaving it with 30 new contacts or new friendships. Rumour has it some have even found relationships on the app, with regular "shoot your shot" rooms hosted in the late hours of the night. There's never a dull moment!
Sagal is a journalist, specialising in lifestyle, pop culture, fashion and beauty. She has written for a number of publications including Vogue, Glamour, Stylist, Evening Standard, Bustle, You Magazine, Dazed and Wonderland to name a few.