The remarkable history of red lipstick and women's rights
Pout meets power! How red lipstick became a symbol of feminine rebellion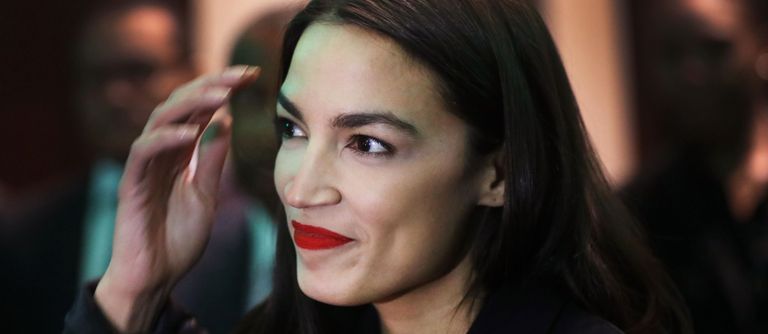 (Image credit: Spencer Platt/Getty)
The textbooks may make it seem far in the past, but the history of women's rights in the United States wasn't shaded in black and white. Rather, the suffragettes were an altogether colorful thing to behold, with specific hues signaling different aspects of the cause.

A 1913 edition of The Suffragist—the weekly newspaper published by the Congressional Union for Woman Suffrage—explained the symbolism of the movement's go-to colors: "Purple is the color of loyalty, constancy to purpose, unswerving steadfastness to a cause. White, the emblem of purity, symbolizes the quality of our purpose; and gold, the color of light and life, is as the torch that guides our purpose, pure and unswerving."
But one color tied to the suffragette movement has been synonymous with powerful women for thousands of years: Red. Namely, red lipstick, that singular beauty item that nearly every makeup lover has in their cosmetics bag.

Cleopatra used crushed carmine beetles to paint her pucker a deeply pigmented red. Queen Elizabeth I famously paired her stark alabaster skin with bright crimson lips, reviving the red lipstick trend among England's upper crust. And flappers in the 1920s used tubes of the stuff as metaphorical weapons, wielding the bold beauty look to symbolize their independence and free will.
She did it first: 20 women who set records, made history and changed the world in 2020
Similarly, red lipstick became a tangible symbol of the suffragette movement in the U.S. and the U.K. during the 19th and 20th centuries. During a time when a face full of makeup could spark scandal and was stereotypically relegated to women in "loose" professions like actresses and prostitutes, suffragette women wore a strategic uniform of delicate Edwardian dresses and red lipstick to create an overall appearance that was staunchly feminine but undeniably forceful.

Red lipstick was so entangled with women's fight for the vote that department stores and beauty brands took advantage of the connection. A 1910 Selfridges advertisement proclaimed: "Fashionable young women are flocking to the store for delicate tea dresses and that most powerful symbol of female emancipation: red lipstick. As the first department store to sell lipstick, powder and rouge, Selfridges is leading the way for the country's suffragettes."

And legend holds that in 1912, cosmetics queen Elizabeth Arden—a dedicated suffragette herself—wrenched open the doors of her New York office to hand out tubes of the red stuff to suffragettes marching down Fifth Avenue as a sign of solidarity.
Lipstick as a marker for feminine power and protest continued well into the 20th century. During World War II, women rapidly entered the workforce and active duty, and many of them did so with a strong red kisser. Hitler-run Germany reportedly condemned feminine adornment, such as lipstick, instead wanting the "ideal German woman" to be fresh-faced and wholesome, so allied women painting on the rouge was seen as an act of all-American defiance. So much so that the U.S. utilized red lipstick in their wartime propaganda—it's no mistake that Rosie the Riveter wears a famously, fittingly rosy pout.
Wearing lipstick on duty became standard protocol for women in the armed forces, as well as nurses and volunteers throughout the war. The Marine Corps even commissioned Elizabeth Arden (again proving her activist bona fides) to create a tube specifically designed for women in service—1941's vibrant, victorious "Montezuma Red"—which was issued in the official military kit alongside nail polish and matching rouge.
Half a century later, the tradition of wearing red lipstick as an act of social commentary and political protest is still going strong. (Remember those F*ck Trump lipsticks?) Alexandria Ocasio-Cortez wore modern-day suffragette garb to her historic swearing-in as the youngest woman ever elected to Congress back in 2019: A crisp white suit capped with a bright red lip look. (The congresswoman has gone on the record to say she's a fan of Stila's Stay All Day Liquid Lipstick in Beso, FYI.)
Lip+hoops were inspired by Sonia Sotomayor, who was advised to wear neutral-colored nail polish to her confirmation hearings to avoid scrutiny. She kept her red.Next time someone tells Bronx girls to take off their hoops, they can just say they're dressing like a Congresswoman. https://t.co/eYN5xYFcTEJanuary 4, 2019
See more

Talking to Vogue, Ocasio-Cortez shared that she adopted her now-signature lip look during her first primary election, as a way for constituents to remember her and her platform: "We were out, we were knocking on doors, we were making sure that people were being heard. When you're always running around, sometimes the best way to really look put together is a bold lip." AOC added: "I will wear a red lip when I need a boost of confidence."
So, if you're looking for a beauty moment that commands attention and underlines authority—one that's imbued with #herstory and hidden messages, one that's a literal highlight for the opinions and sentiments coming out of your mouth—you can't go wrong with a simple tube of red lippie.
Christina Izzo is the Assistant Managing Editor of My Imperfect Life.
More generally, she is a writer-editor covering food and drink, travel, lifestyle and culture in New York City. She was previously the Features Editor at Rachael Ray In Season and Reveal, as well as the Food & Drink Editor and chief restaurant critic at Time Out New York.
When she's not doing all that, she can probably be found eating cheese somewhere.