Who knew about Chrishell and Jason's relationship before Greece?
Who was in on Chrishell and Jason's 'Selling Sunset' romance before that big vacation reveal?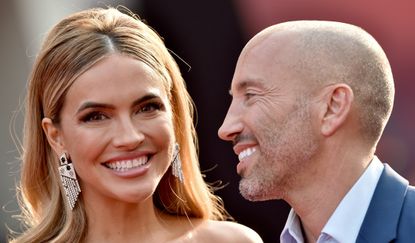 (Image credit: Axelle/Bauer-Griffin/Getty)
Chrishell and Jason's relationship is one of the most anticipated parts of Netflix's Selling Sunset season 5.
The relationship between Oppenheim Group brokerage owner Jason Oppenheim and real-estate agent Chrishell Stause was only teased at the end of Selling Sunset season 4, at which point they had been dating quietly for two months, so it's only right that this season, their romance is front and center.
If you're wondering, "Are Chrishell Stause and Jason Oppenheim still dating?" alas, the couple is no longer together, after calling it quits in December 2021 after just five months of dating. Selling Sunset season 5 showed the nitty-gritty of their relationship, including what others thought about it, including Jason's mom, and what ultimately led to the breakdown of their relationship.
But who of the Selling Sunset crew actually knew about the burgeoning romance in the beginning, before they publicly revealed their relationship during that group trip to Mykonos? Here's what we know.
Who knew about Chrishell and Jason's relationship before Greece?
Mary Fitzgerald seems to be the only Selling Sunset cast member who knew about Chrishell and Jason's relationship before the couple went public in Greece and announced it on Instagram. It's not totally surprising that Mary is the only one who knew, as she is super close to both Jason and Chrishell. Plus, Mary and Jason share custody of a dog, as they used to date.
Heather Rae Young, Emma Hernan, Davina Potratz and Maya Vander all revealed they found out about the relationship the same way we all did, through Instagram. Even Amanza Smith, who calls both Mary and Chrishell her best friends, only found out about the relationship through social media, so it's safe to say the coupling was very hush-hush for a long time. Also, can we just say how good Chrishell and Jason are at keeping secrets?!
When did Jason reveal his feelings to Chrishell?
Season five of Selling Sunset revealed that it was at Heather's engagement party that Jason sat Chrishell down and told her he had "real feelings." Chrishell said that the idea of dating Jason had not even crossed her mind at this point because he has always said he's a life-long bachelor, but he'd slowly been changing his ways, thinking about babies. However it wasn't until he kissed her that she realised he was for real.
Chrishell said that they were "best friends before anything happened and I've never had a relationship start like that."
Chrishell revealed it was the hardest not to tell Heather as she was trying to set her up with someone. She also said that at first the sneaking around was fun but before they revealed their romance, it was starting to get old.
What did Jason's mum think of Chrishell?
Episode seven of season five opened with Chrishell meeting Jason's mum and it was pretty clear it was a big deal not only because of Jason's reputation as a lifelong bachelor but also because his mum definitely wasn't afraid to grill Chrishell.
Chrishell had literally just sat down before Jason's mum started saying she wouldn't be surprised if they got married, as Chrishell is the first serious girlfriend she's met of Jason's. But she didn't stop there, grilling the couple on babies, which had Chrishell sweating. Jason and Chrishell revealed that they had been thinking about kids and even had a name for their daughter, who would be called Maverick.
We know that Chrishell really wants to be a mom but Jason revealed that since he was 18, he's never thought about having a child, but he's considering it more now that he's found someone he thinks would be a good mother.
In his confessional, Jason revealed he thought he'd be a good father as he's already a good one to his dogs, but to be one to a baby is a huge commitment, so he's going slow when thinking about it.
Jason's mum said she thought Chrishell was special, so we think it's safe to say she liked her!
Did Jason and Chrishell move in together?
The show suggested that the couple did move in together just before Jason decided that he didn't want to be a dad, which was what broke up their relationship.
In the final episode of season five, Jason revealed in a conversation with Brett, Amanza and Mary that his main priority was to Chrishell: "My priority is to be a great boyfriend to Chrishell, but she wants me to be a dad, too. She was very clear from the beginning about that, so I'm also spending a lot of time thinking about that and the potential responsibility for me." Jason revealed that the pendulum wasn't swinging one way or the other for him and so he was conflicted.
Jason explained that it was professional responsibilities that also had him conflicted because he's so busy and wouldn't be able to be present with a baby in his life. He discussed how when he first got with Chrishell he took a more emotional and less professional approach. But during the process of their relationship, his decision-making mind started taking over as he thought about, "Who would I hire? Where would we live? What would I be doing now? How would we travel, how would I manage my offices and agents?" Jason was really overwhelmed with the thought of being a dad and that not being a dad would mean he would lose Chrishell.
See how it all played out between Chrishell and Jason on Selling Sunset season 5, streaming now on Netflix.
Liv is a freelance journalist currently studying English at university. She loves covering everything from entertainment and politics to lifestyle and travel. As well as writing for My Imperfect Life, Liv has bylines in The Times, HuffPost, Den of Geek, Bustle The Metro and The Bookseller.