The best sustainable jeans for an eco-friendly wardrobe upgrade
The best sustainable jeans as chosen by our expert, from Levi's, to Everlane and Sezane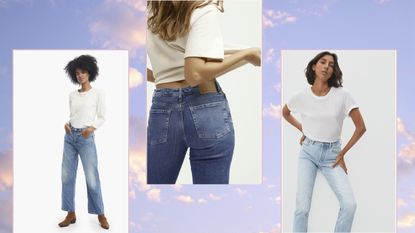 (Image credit: Everlane)
Adding sustainable jeans to your wardrobe is a great way to make your clothing collection more eco-friendly. To help you decide on the right pair for your body shape and personal style, our expert stylist Charlie Bell shares her pick of the best on the market right now.
While they used to be scarce, sustainable fashion brands are available in abundance these days, giving us a much bigger cool of options to choose from. Jeans are a solid staple in our capsule wardrobe, so purchasing a pair that are friendlier to the planet makes a lot of sense. Denim in general isn't as throwaway as other fast fashion garms, that's for sure. But it can still have a damaging impact. The UN estimates that a single pair of jeans requires one kilo of cotton and producing that one kilo uses around 10,000 liters of water—enough drinking water for one person over 10 years. And we're all guilty of having more than one pair in our closets.
Luckily, many brands—including the likes of Everlane, DL1961, Levi's, and all your faves—have been making moves to make jeans more planet-friendly. Below are some of the best options, including the best budget buy and the comfiest sustainable jeans around. But before you start shopping, make sure you're clued up on the difference between sustainable vs ethical.
Meet the Expert
---
---
What to look for when shopping for sustainable jeans
How do you know a pair of sustainable jeans are actually as good for the planet as the brand may claim?
Look for transparency from the brand about how each pair is produced—from the use of dyes and chemicals to shipping and factory conditions. Be wary of 'greenwashing' e.g. brands not putting sustainability promises into action, and anything too brief. Brands such as Reformation and DL1961 state the sustainability impact of each pair of jeans on its website, so you know exactly what you're in for.
When it comes to fabrics, look for materials such as Tencel, Organic Cotton, and recycled or upcycled methods. Justyna Przygonska, Co-Founder of The Odder Side, a sustainable fashion brand based in Poland, explained, "Buy clothes made from sustainable fibers. We use certified fabrics (Oeko-Tex, GOTS, Lenzing). Our goal is to create clothes that reduce the environmental impact. That's why we keep our supply chain short and build long-lasting relations with our suppliers based on trust and communication."
Now that you're aware, you can start looking for the best sustainable activewear to add to your wardrobe too, including the popular Girlfriend Collective leggings. But first, jeans...
The best sustainable jeans as chosen by our expert
1. Everlane The 90s Cheeky Straight Jean
The best sustainable jeans for an effortlessly cool look
Specifications
Size range: 23-33, ankle and regular
Material: 100% cotton
Care: Machine wash cold, tumble dry low.
Reasons to buy
+
Flattering high waist
+
Cool retro aesthetic
Reasons to avoid
-
Non-stretch fabric so harder to fit
-
Doesn't use recycled materials
This retro-inspired denim is made in a factory that uses renewable energy and air drying to reduce CO2 emissions by 80%. They also recycle 98% of their water too. This straight-leg cut has a high waist and a butt-boosting rear for a flattering finish. , A chic vintage style, these are bang on-trend right now and would look just as stylish paired with jumper as they would with a plain white tee. Available in six colorways, you should be able to find a color you love too.
2. Boyish The Zachary – Short Circuit
The best sustainable skinny jeans with a deconstructed edge
Specifications
Size range: 22-32 waist
Material: 66% OCS Certified Organic Cotton, 33% Tencel Lyocell, 1% Recycled Elastane
Care: Machine wash cold, do not tumble dry
Reasons to buy
+
Made using upcycled materials
+
Have a slight stretch to them
+
Long-lasting
Reasons to avoid
-
More expensive
-
Limited sizing
Boyish jeans are super ethical and only use 1/3 the amount of water that regular denim uses—and recycles it. These upcycled jeans include organic cotton that is OCS certified and Tencel Lyocell—a natural raw material from eucalyptus trees that is responsibly produced so they tick all the planet-friendly boxes. A classic skinny cut with ripped detailing for an added edge, they have a slight stretch for added comfort, making them a great option for those who hate feeling too restricted in their denim. They are a little more on the pricey side, but we reckon it's worth the investment.
3. Outland Abigail Jeans
The best relaxed sustainable jeans that deliver on comfort
Specifications
Size range: 24-34
Material: Organic Cotton, 100% Vegan
Care: Unknown
Reasons to buy
+
Super soft and comfy
+
Organic cotton
Reasons to avoid
-
Can come up small
-
More expensive
Outland jeans get Meghan Markle's stamp of approval—she has been spotted wearing a black pair from the brand in the past, so we had to include them in our round-up here. This relaxed girlfriend pair are made from organic cotton and washed organically too. The high-rise fit is flattering on the waist whilst the looser leg keeps them as comfy as a pair of joggers. It's worth noting that they come up a little small though, so it's definitely sensible to size up if you're between sizes.
4. Gap Sky High Rise True skinny Jeans
The best budget-friendly pair of sustainable jeans
Specifications
Size range: 24-35, short, petite, regular, tall and long
Material: 94% Cotton, 4% Elasterrell, 2% Spandex
Care: Machine wash
Reasons to buy
+
Super flattering
+
Have good stretch to them
+
Budget-friendly
Reasons to avoid
-
Not as eco-conscious as other brands
-
Can come up big
These jeans are part of Gap's Washwell program which uses 20 percent less water than a conventional wash, saving over 289 million liters of water since its launch in 2016. This super-stretch pair is super flattering, hugging your curves in all the right places. A good option if you're after something more budget-friendly that still does its bit for the environment—though they can come up big, so it might be a good idea to size down if you feel comfortable.
5. Able Whitney Boyfriend Jeans
The best sustainable boyfriend jeans
Specifications
Size range: 25-32
Material: 75% Cotton, 25% Lyocell
Care: Unknown
Reasons to buy
+
Super soft denim
+
Good fit
+
Great brand from an ethical stand-point too
Reasons to avoid
-
More expensive
-
Limited sizing
Based in Nashville, Tennessee, Able's denim uses less water, avoids harsh chemicals, and is mostly produced in Mexico to reduce the carbon footprint from shipping. The brand also pays its workers (compromising of 95% women) fair living wages and publishes their wages too for full transparency. We love this super comfy relaxed boyfriend pair—which make for the perfect weekend pair of sustainable jeans. The brand does have rather limited sizing though, with their jeans only going up to a size 32—something that could and should be much improved.
6. DL1961 Bridget Boot: High Rise Instasculpt 33" Hail
The best pair of bootcut sustainable jeans
Specifications
Size range: 23-34
Material: 62% Lyocell, 23% Cotton, 14% Polyester, 1% Lycra
Care: N/A
Reasons to buy
+
Very impressive eco-credentials
+
Flattering fit
Reasons to avoid
-
Can come up big
-
Another limited sizing range
Promising to smooth, sculpt and conform to your body, these bootcut sustainable jeans fit like a glove. Made with botanic, water-efficient fibers the fabric is breathable and moisture-wicking for a seriously comfy fit. The brand's factory is powered by solar energy and denim effects are created using waterless processes such as laser machines, eliminating any harsh chemicals.
7. E.L.V Denim Dark Blue/Mid Blue Contrast Straight Leg Jean
The best pair of stand-out sustainable jeans
Specifications
Size range: 25-30
Material: Varies
Care: Wash cold, do not tumble dry or dry clean
Reasons to buy
+
'Zero-waste' jeans
+
Unique style
Reasons to avoid
-
More high-end—meaning they're pretty pricey
-
Limited sizing
Although at the higher end of the price range, these E.L.V straight leg jeans really come into their own when it comes to sustainability. With a 'no waste' operation, all of the brand's jeans are created using discarded denim that would be destined for landfill. These vintage jeans are made from two contrasting colors, giving them a really unique look that those with a more alternative style will love.
8. Sezane The Perfect Slim Eco Friendly
The best Parisian-style sustainable jeans for ultimate style points
Specifications
Size range: 23-36
Material: 99% Organic Cotton, 1% Elastane
Care: Wash as little as possible
Reasons to buy
+
Seriously stylish
+
Hugs your curves
+
Low-maintenance—no need to wash regularly
Reasons to avoid
-
Can come up long
-
No stretch
Naturally, this Parisian brand manages to captures that effortlessly-cool-French-girl-aesthetic—and now, they can add sustainability to their forte. Their eco-friendly denim range uses 100 GOTS-certified organic cotton and recycled packaging. Opt for this gorgeous slim pair for a snug fit that flatters. There's not much stretch in them though, so if you like a bit of give in your pants, you may want to look elsewhere.
---
How to make your jeans as sustainable as possible
Everything from production to transport has its effect on the planet—sustainable living covers almost every part of life.
So we, as consumers, can help when it comes to our wardrobe, by investing in high-quality jeans that last, holding on to them for longer, and wearing them more often.
If we kept our clothes (and continued to wear them) for just nine months longer, it could reduce their environmental impact by 22 percent, according to a report by the recycling charity Waste and Resources Action Programme (WRAP).
"Sustainable fashion to me is a more considered approach to what I'm consuming—so really abiding by the principles of buying less, buying better, and sharing more," agreed Eshita Kabra Davies, founder of By Rotation, a peer-to-peer rental app.
Charlie is a freelance fashion, beauty, and lifestyle editor with a pretty extensive dress collection. She bagged her first magazine job back in 2009 working for a woman's weekly title (which mainly involved making lots of coffee) and has worked her way up, embracing anything that was thrown at her, from styling celebrities to writing about must-have beauty buys. On the weekend you can usually find Charlie running around southeast London (literally), baking cookies, or re-watching films from the nineties.
With contributions from