The best 2023 nail trends for your prettiest manicure yet
Wave hello to the 2023 nail trends that will sharpen up your look in the new year...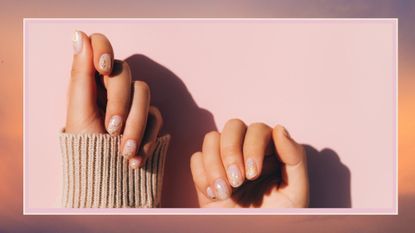 (Image credit: Getty Images)
New year, new manicure? We've pulled together the best 2023 nail trends to give you some salon-worthy inspiration. Because while there's nothing wrong with opting for the same shade of polish each time you get a fresh set, this is one area of beauty where you can really get creative and have some fun.
The top 2022 nail trends were an eye-catching bunch. Who can forget Hailey Bieber's glazed nails that took over TikTok and the expensive-looking velvet nails that have been spot-on this winter? There was certainly something for all manicure tastes.
The best 2023 nail trends
In the coming months, the leading nail trends will prove just as chic. From chrome and celestial designs to "Lipgloss" nails and chocolate brown shades. There will also be a colorful twist on the classic French manicure which might just be our favorite yet. Which will you be requesting?
1. Pop art
This one is for fans of a statement manicure. "Pop art is the latest nail trend to take over social media, dominating our Instagram and TikTok feeds in a variety of different styles," says Nick Drewe, trend expert at Wethrift. "The demand for comic book-inspired designs has increased by a whopping 1150% on Pinterest in the lead-up to the new year, while over on TikTok the #popartnails hashtag has amassed 35.2 million views."
2. Chrome
Want to shine? "Since Hailey Bieber's viral glazed donut nails in the summer there's been no sign of the chrome trend leaving," explains Amanda Lee owner and founder of Iris Avenue nail salon. Indeed, there's been a recent 691% rise in online searches for the manicure look. She adds: "Right now, we're playing with chrome powders to give an ombre effect, leaving a luminescent feel."
3. Plum
A seriously classy shade to opt for. "If you're always guilty of sticking to a nude polish, then the new year is the perfect time to experiment with color," notes Drewe. "This season, we're going to see a lot of dark tones making a comeback, and plum will be the hot color of the season. There are more ways to wear dark tones than just a solid shade, you can print thick lines, opt for polka dots or add curves and swirls."
4. Celestial
If you're into your weekly horoscopes, then this is certainly a trend for you. "It seems that our fascination with what's happening in the sky is making its way into our nail art inspiration," says Drewe. "The celestial nail trend is a show-stopper this year and we're seeing it everywhere. Not only is the astronomy-themed design versatile, but it pairs well with nails of all different lengths and shapes."
5. Glazed 2.0
This one might sound familiar. "Sheer, glistening, neutral nails with a luminous, moonlit finish—otherwise known as 'glazed doughnut' nails thanks to Hailey Bieber—has undeniably been the reigning nail trend of 2022," says nail artist Leighton Denny. "These dewy, glowy, glimmering nails aren't going anywhere in 2023. But expect to see the classic neutral, pearlescent glazed look, as well as 'glazed nails 2.0'— bolder, darker, moodier shades, but still with that gorgeous, iridescent, glimmering glazed finish."
6. Micro French manicure
This one is giving Emily In Paris season three vibes—chic but colorful. "The micro French manicure is a modern take on the classic French mani—a shorter cleaner nail shape, a beautiful, glossy neutral base shade, with a super fine, stark white strip across the tips," explains Denny. "In 2023, we'll see a micro French update, swapping out the classic white tips for more playful color shades. Anything from hot pinks, vibrant oranges, dark greens and bright reds."
7. Airbrush nails
Another design certain to make your nails feel wonderfully *now*. "Airbrush nails will trend in 2023, thanks to celebrities like Megan Thee Stallion championing the look," says Tinu Bello, a manicurist and senior brand ambassador for Mylee. "It's a super versatile take on nail art, and allows you to get creative with colors and patterns that appeal to your own aesthetic. They can be muted or full of rainbow shades, and the hazy finish gives an airy, dreamy feel to the manicure." She adds that you can achieve the look at home by swirling colors into one another for a blended finish.
8. Nail accents
While the 'clean girl' aesthetic made nude nails the prime salon option last year, things will shift the other way in the coming months. "In 2022, it was all about neutrals—like cool beiges, browns and whites," says Bello. "However, 2023 will see a shift towards bold shades. Rather than an all-over hue, I predict that brights will be used to outline and accent nails, taking a basic manicure to the next level, with sharp edges and negative space. Shades to look out for will include blue, purple, yellow and orange."
Lauren is a freelance writer and editor with more than six years of digital and magazine experience. Most recently, she has been the Acting Commissioning Editor of Women's Health—where she co-produced the Going For Goal podcast—and has previously also written news and features for titles including The Telegraph, Grazia, Stylist, Dazed, The Sun's Fabulous, Yahoo Style UK and Get The Gloss. She covers all aspects of lifestyle, specializing in health, beauty, and travel. Can't live without: oat milk lattes, new podcast episodes, long walks, and great skincare.