The 2023 workout trends that will inspire you to get fit in the new year
In an exercise rut? These 2023 workout trends will get you moving...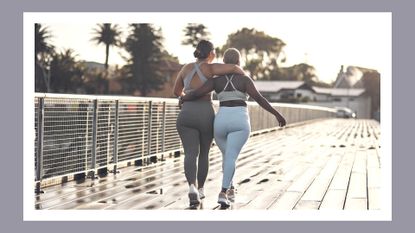 (Image credit: Getty Images)
Want to increase your fitness levels? Discovering the top 2023 workout trends is a great starting point. At the dawn of a new year, there can be an overwhelming number of exercise options—but we've done the legwork and whittled down which forms of movement will be hot stuff, for good reason, in the coming months.
While planning the perfect workout schedule for January and beyond, it's no longer all about HIIT, long runs and lifting heavy weights (although they are still great as part of a balanced routine). We've called on experts in the field to share where they think the fitness scene is sprinting next in order to give you an effective training session for both your physical and mental health.
The 2023 workout trends to try this year
From the go-to celebrity exercise class of the moment to TikTok's favorite way to break a sweat and the next-generation fitness tech to make breaking a sweat more enjoyable than ever, it's going to be a sweaty year! With plenty to keep you on your toes this year, all that's left to do is pick out your best workout clothes and get moving...
1. Virtual training
While the pandemic may be over, some of its lasting impacts can still be felt on the fitness scene, like virtual training. This trend of working out at home via a screen is set to grow next year due to the cost of living crisis. "Fitness is beginning to feel like an extravagance that many can no longer afford, with over 1.2 million people in the UK canceling their gym subscriptions according to recent research," notes Daniel Sobhani, CEO at Freeletics.
"As such, the fitness industry is evolving. There will be an uplifting of fitness apps and other cost-effective, credible ways people can use to prioritize their health and fitness, but reduce the need for expensive gym and studio memberships."
Still want one-to-one guidance from a PT? "Virtual coaching, which can be accessed at home more cheaply, can help people prioritize their fitness routine as well as provide them with direction," adds Jake Keeling, co-founder and managing director of P3RFORM.
2. Movement focus
In 2023, you'll likely hear the term 'movement' used much more often in place of 'fitness'. "There will be a focus on helping people fall in love with training sessions—making it more inclusive and less intimidating—minimizing anxiety around exercise, or more specifically, getting started and sticking to a fitness plan," notes Sobhani. "This will help motivate those who may have become disillusioned with the fitness industry and the 'ideals' it has presented to date."
But what exactly will this 'reframing' process look like in action? "You'll be encouraged to adopt the mindset that your workouts should serve you rather than you serving your workouts," explains Sobhani. "Build your own movement plan around things you enjoy and praise your body for what it can do rather than what it can't… yet. Drop the phrases long associated with fitness like 'no pain, no gain', and get moving because you want to and for all the amazing benefits."
3. Pilates classes
Pilates has become a social media hit thanks to celebrity fans like Lori Harvey (we're calling her the unofficial ambassador), Hailey Bieber, Bella Hadid and Kendall Jenner, particularly on TikTok where it is considered the Gen Z fitness class of choice. What's more, a survey found that 70% of people would now choose it over yoga, thanks to its benefits for toning and flexibility. We're set to see its popularity rise further in the coming months, so you better invest in one of the best yoga mats.
"Consumers are becoming more aware now of what fitness does to your body and wanting to be kinder to it—we're moving away from the 'go hard or go home', 'I must do constant cardio' mindset of fitness," explains Hollie Grant, founder of Pilates PT. "So it's easy to see why more people are doing Pilates, where you are focusing on musculoskeletal strength rather than weight loss or calorie burn." She adds: "The practice improves your posture and strengthens weak muscles, which in turn reduces back pain associated with sitting at a desk all day."
4. 12-3-30
One of the key exercise trends from 2022 that's set to get even bigger in the new year is the 12-3-30 workout. According to PureGym's latest fitness trend report, there has been a 308% increase in people searching for it on Google in the months since influencer Lauren Giraldo's viral TikTok post. But what is it? The 12-3-30 involves setting your treadmill to a 12% incline and walking at a pace of 3 miles per hour, for 30 minutes—which is much harder than it sounds.
"Walking is already a fantastic cardiovascular activity, and adding the incline creates a bigger increase in heart rate—improving cardiovascular health and endurance," explains Laura Easton, a personal trainer at PureGym. "This workout is also much gentler on the joints than running or jogging, making it an excellent choice for different age groups and fitness levels."
5. Hyrox race
Move over CrossFit, because HYROX is the new kid on the block in 2023 for fans of a fitness challenge. According to that same PureGym report, there has been a 421.05% recent spike in interest. The fitness race mixes eight lots of one-kilometer runs with functional exercises to create a high-energy indoor competition. In the coming months, it is set to take over the fitness scene with a series of global events at large indoor venues that people can sign up to.
While HYROX isn't exactly a walk in the park, it is designed for everybody—regardless of fitness level—to take part in. While it is called a race, you can do it all in your own time—it is comprised of running, as well as functional movements like lunges, burpees and using erg machines like the rower and skier. Sign up solo, in a pair or as a relay team.
6. Virtual reality
The Lululemon MIRROR showed us in 2022 that fitness tech is getting even more clever. And this year, virtual reality (VR) is strengthening its grip on the workout scene, with some of the biggest fitness brands muscling in. "Les Mills has started to bring exercise motivation to the metaverse with the launch of the BODYCOMBAT VR app," says Dan Pearson, managing director at specialist health and fitness agency Action Group. "This saw trainers fused with VR for a fitness gaming experience.
"It pits players against martial arts challenges across a variety of levels, spanning intergalactic deserts and neo-city skylines. Players earn points for their effort and technique, with trainers providing cues and motivation to power them through the workouts." Next, Les Mills will become one of the first fitness brands to upload live filmed content onto the metaverse, so that people can simply break a sweat by tapping into their Oculus headsets and mobile phones virtually.
7. Cold therapy
It's time to chill out when it comes to fitness—but not quite like that. "The training performance benefits of cold therapy have filtered from professional sport to the mainstream consumer over the last few years with products and treatments such as cooled compression, ice baths, and cryotherapy regularly used by athletes to maximize their performance and optimize their recovery," says Pearson.
Now, a fresh product has arrived on the scene. "CoreTx has been proven to enhance athlete's performance by cooling the palms of their hand during the rest periods of workouts," explains Pearson. "This simple, localized cooling causes incredible reductions in fatigue and significantly enhances performance. It can drastically improve repetitions performed, increase time to fatigue and overall workload for both highly experienced and beginner gym goers."
8. Gentle workouts
Less will increasingly be more when it comes to fitness in 2023. "We are expecting people to say goodbye to grueling exercise regimes, in favor of more low-impact workouts that offer enormous benefits," notes Emily Rutherwood, studio manager and Pilates trainer at FS8 Oxford Circus. "In the past, fitness fanatics commonly followed the mantra, 'no pain no gain', but this has recently turned out to not be entirely accurate.
"In fact, exercises that are kind on the joints, such as low-impact training, can provide a myriad of health benefits that used to be overlooked. This has become somewhat of a revelation to hardcore gymgoers who thought intense exercise was the only way to see results, when in fact, any form of exercise where your body is moving, and your heart rate is slightly raised is found to be beneficial and easier to keep up with."
9. Fitness efficiency
Finally, the coming year will also be about short and sweet workouts. "We can expect to see people become more productive and efficient with their training," says Gunnar Peterson, chief of athletics at F45 Training. "Gone are the days when you needed to dedicate a huge amount of time to working out and plan ahead as to whether you would focus on cardio, strength or even recovery on set days.
"Nowadays, people live extremely busy lives which are only getting more chaotic, while being told exactly what they need to do to live a healthy, balanced lifestyle. For this reason, we can expect to see the fitness world transition into an era of efficiency, where people will turn to fitness concepts that will do all of the thinking for them while delivering results."
Here's to an active 2023!
Lauren is a freelance writer and editor with more than six years of digital and magazine experience. Most recently, she has been the Acting Commissioning Editor of Women's Health—where she co-produced the Going For Goal podcast—and has previously also written news and features for titles including The Telegraph, Grazia, Stylist, Dazed, The Sun's Fabulous, Yahoo Style UK and Get The Gloss. She covers all aspects of lifestyle, specializing in health, beauty, and travel. Can't live without: oat milk lattes, new podcast episodes, long walks, and great skincare.