Lululemon MIRROR review: is this pricey fitness mirror worth the investment?
The Lululemon MIRROR is a smart piece of fitness tech—literally—but our expert tester shares whether it's worth the cost or not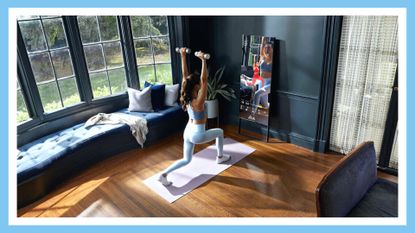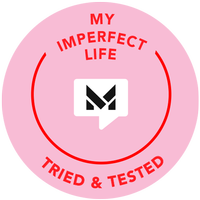 (Image credit: Lululemon)
My Imperfect Life Verdict
A boutique fitness studio in your own home, the Lululemon MIRROR is a worthy workout investment that offers customization, convenience and community
Reasons to buy
+

Live classes at home

+

Doesn't take up space

+

Good for bigger households

+

Looks very stylish
Reasons to avoid
-

Mandatory additional subscription fee

-

No laptop access
Equal parts home decor and workout tool? The Lululemon MIRROR surely sounds like a win-win, but our fitness writer Rebecca Fontana put the gym tech to the test to see if it actually proves to be a worthwhile addition to a normal exercise routine.
You might be wondering how the Lululemon MIRROR works exactly. The 53-by-21-inch smart mirror is essentially a screen that projects a workout straight from your phone, meaning you can follow the exercise and observe your own form while performing it. Practically, it can be either wall-mounted or freestanding, and it's operated via a corresponding app (meaning the mirror isn't a touchscreen—yay, no fingerprints!)
Though technically there aren't any additional accessories required to use the Lululemon MIRROR, you can easily add some of the best resistance bands or dumbbells for women, or one of the best yoga mats if you're doing a specific kind of class. But is the smart mirror the right buy for you and your fitness routine? We've dissected everything from the value-for-money of the item to the classes available and the ability to customize this popular Lululemon offering, to help you decide.
Shop the Lululemon MIRROR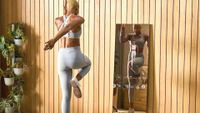 Lululemon MIRROR $995 | Mirror (Lululemon Studio)
This 56.0" by 22" smart mirror allows you to have hundreds of classes and interactive offerings at your fingertips (but it's app-controlled, so don't expect smudge marks on the mirror). The high-fidelity speaker system, five-megapixel front-facing camera and fitness trackers will help you achieve any goal you set your mind to.
Keep in mind, a monthly Lululemon Studio membership, which gives you access to unlimited fitness classes, is required and costs $39 per month. It is accessible on both iOS and Android.
If you still feel on the fence about the purchase, note that there is a 30-day risk-free trial in case it's not a fit for you. If you love it, however, know that you're covered under a year warranty, and have the option to sign up for an extended protection plan.
Lululemon MIRROR: a tried-and-tested review
How to use the Lululemon mirror
The Lululemon MIRROR is a subscription-based workout tool, which shifts the focus from the fitness instructor to your own image. It has customizable fitness trackers (including calories burned, time remaining, and heart rate) appearing as faint holograms on the screen, to let you keep track of your progress but also so as not to divert your attention. The tool was created by Brynn Putnam of Refine Method, who as a former ballerina knows the value of working out in front of a mirror to optimize form and technique.
The corresponding app is available for both iOS and Android, and supplies thousands of classes to choose from ranging in duration from five minutes to 60 minutes, and in 50-plus genres, from cardio to online Pilates classes. It's accessible on a mobile phone, tablet, or smart TV too, depending on what you have to hand.
You can personalize your experience, too—you can select your favorite instructors, class length, and more. Or, you can just get started with a pre-selected program of classes for the week if you'd rather not think about it. If you want more human interaction in your workouts too, there are daily live classes with the option for you to share your screen and get IRL shoutouts from the instructor.
Class offerings on the Lululemon MIRROR
If you're into virtual live classes, the Lululemon MIRROR is only going to get better with time for you. Its daily selection of live classes is archived each day, meaning that the library is constantly growing, so you'll never run out of workouts.
The instructors are also real people, not robots, who offer comments on your form and technique throughout the classes (if you want!) They also say hi to you, which is quite nice if you work out alone, and tend to WFH a lot too! The live class schedule is updated daily, so you can pick a time to join throughout the entire day. The personal training classes take it a step further too, offering one-on-one instruction and guidance, though you will have to pay extra for these.
Within class categories such as Dance, you can break it down even further into lessons on Hip-hop, Latin, Ballet, or Dance Cardio. If you hate working out alone, there are partner classes targeted toward more than one participant, or you could view your virtual classmates who are also sharing their videos. There's even a competition mode, with points to be earned for hitting your personalized targets. There are also class options ranging from Prenatal to Postnatal to Family Fun, where the instructor suggests moves for all ages to follow.
Customization of the Lululemon MIRROR
The options for customization include several standouts, such as the ability to select a limitation or injury or to filter classes that may target a specific body part. Alternatively, you can select precisely what you want to do in a yoga class, whether it's arm balances or twists, which we really liked as it allowed us, during testing, to match the workout to our exact mood. Or, if you don't want to spend forever scrolling through filters, just select the beginner, intermediate, or advanced options, and the Lululemon MIRROR will find your ideal class for you. Perfect for those of us who work out early in the morning and don't want to make too many decisions! (The early morning is one of the best times to do yoga, after all...)
The customization continues with the display, as well, with options for precisely what you want to show up on the MIRROR while you're working out. Want to shrink the size of your instructor, change the music station, or get rid of the calorie counter? It's all doable!
A bonus of the app is the ability to access the MIRROR's class library remotely. If you're traveling or even outdoors, you can still use your phone or tablet to play the class videos directly in the app. You can also pair it with your Apple Watch, heart-rate monitor, and Bluetooth speakers or headphones—any number of the best activewear accessories work with the Lululemon MIRROR.
Is the Lululemon MIRROR worth the price?
The Lululemon MIRROR currently costs $995 up-front in the US (it's sadly not yet available to buy in the UK), with a 30-day risk-free trial. It comes with free wall mounting at the time of delivery, and if you find that it's not the fitness tool for you, the Lululemon team will even have it picked up for free as well as issue a full refund.
As far as fancy fitness items go, we'd say the initial price isn't too hefty, though it is expensive if you're only used to paying for a few cheaper workout accessories here or there.
However, it's important to note that the purchase of the MIRROR itself does not include any classes without an app subscription. The app is $39 a month (yes, on top of the initial cost of the mirror itself), which includes separate profiles for up to six household members, so the more people you have using the Lululemon MIRROR, the better bargain it becomes. The additional personal training session also starts at an extra $40, if you want to directly interact with the instructors.
Overall, we'd say that the Lululemon MIRROR is well worth the price if you can afford it. It's undeniably pricey though, especially with the extra costs, so if you can't justify it in your budget, know that you can still enjoy a brilliant workout routine without it.
Rebecca Fontana has been a professional writer, editor, and content strategist for 10 years, covering everything from celebrity gossip to fitness advice. Her specialties are Broadway and baseball, and she is always in the middle of reading a book—or two or three!