'And Just Like That' filming locations you can visit IRL
Want to live like the 'Sex and the City' girls? Visit these 'And Just Like That' filming locations in real life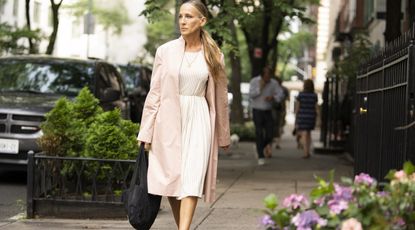 (Image credit: Craig Blankenhorn/HBO)
It's a well-known fact that Sex and the City was practically a love letter to the city that never sleeps. It always featured New York's hottest spots or if they weren't already, they were once they were featured on the show.
Fans of SATC love galivanting through the same streets as Carrie Bradshaw, Miranda Hobbes, Charlotte York and Samantha Jones and the Sex and the City reboot, And Just Like That, is no different (except minus Samantha).
And Just Like That, which premiered on December 9 on HBO Max, was filmed in some incredible locations that fans can visit, and we have the scoop on where they are.
---
---
'And Just Like That' filming locations you can visit:
1. Webster Hall
The famed concert venue, which was founded in 1886, had a visit from the And Just Like That cast for their latest season. What exactly they were filming there is yet to be fully revealed, but it likely is a scene shown in the trailer where Che Diaz, a new character played by Grey's Anatomy Sara Ramirez, is performing onstage.
2. Grant's Tomb
A picture was captured of a pondering Carrie at Grant's Tomb at West 122nd St and Riverside Drive in Upper Manhattan on August 12 this past summer. Miranda was later captured at the same location.
3. Lyceum Theater
Towards the end of the first episode of And Just Like That, we see our new favorite trio—Carrie, Charlotte and Miranda—as well as Carrie's bestie Stanford, their spouses and families (minus Big because he had a date with the famous Allegra) at Broadway's oldest continually operating theatre.
The show changed the theater's sign to read "Manhattan School of Music," which is a real music conservatory in New York, for a scene in which the characters go see Charlotte's daughter Lily (Cathy Ang) give a piano performance there. The cast of the Sex and the City spin-off filmed at the theatre, which was built in 1903 in the Beaux-Arts style, on July 24.
4. Bethesda Terrace
Central Park is a must location for any show set in NYC, so it makes sense why back in August, Sarah Jessica Parker was seen filming there at one of the park's most well-known features, Bethesda Terrace.
5. The East Pole
If you want to brunch as the SATC girls do, then The East Pole would be a restaurant to add to your list, as the cast was spotted filming there back in October. The Upper East Side kitchen and bar feature a farm-to-table selection and beautiful dining room.
The restaurant's owner, Anthony Martignetti, even told The New York Post how since the cast filmed there, "the excitement from the fans was palpable. When [the cast] got out of the town cars, people were screaming the characters' names. They were really freaking out for Stanford [Willie Garson]."
6. Greene Naftali Gallery
*Warning: Spoilers ahead!*
This is the location where Carrie holds Big's minimalistic funeral. Originally established by art dealer Carole Greene and art patron Gloria Naftali in 1995, the contemporary space features a sleek, simple white-on-white color scheme, which perfectly encapsulates Carrie's modern vision for Big's final (non-floral) send-off.
7. Chelsea Market
Sarah Jessica Parker, Cynthia Nixon and Kristin Davis were spotted grabbing a lobster meal in Chelsea Market, a food and retail marketplace on Manhattan's west side, while filming the show.
8. SoHo, Manhattan
We didn't have a doubt that the fashionable neighborhood of SoHo would feature in And Just like That but we never expected it to feature so massively. Bridget Moynahan, who played Big's ex-wife Natasha in the original series, was seen filming in SoHo right next to Balthazar. And yes, she still looks like a model!
9. Dante West Village
Fans were aghast when the paparazzi snapped photos of Sarah Jessica Parker as Carrie seen on a date with a man who is not Mr. Big. They were spotted outside Dante restaurant on the corner of Perry and Hudson Street, back in November, which is just a block from Carrie's fictional apartment at 66 Perry Street.
10. The Whitney
Fans know that Charlotte is an art fan so it's no surprise that the Sex and the City girls were spotted filming at the Whitney Museum in Chelsea. The New York City institution is known for hosting fabulous galas and events and is the perfect spot to meet up with friends for a bite at the in-house restaurant before taking in some art.
11. Paris, France
Although New York served as the show's home base, the cast also filmed in Paris back in October. Both Sarah Jessica Parker and Chris Noth were spotted filming on the Pont des Arts in the city of love, where we see them riding in a carriage together.
Carrie and Mr. Big have history in Paris, as it's the place where Big showed up to tell Carrie she was the love of his life (she was still with Aleksandr Petrovsky at the time) at the end of the O.G. series. However, after watching the first 2 episodes of And Just Like That, we're not so sure a similar scene is going to be happening. We're hedging our bets it's a flashback!
12. Cortlandt Alley, Tribeca
Carrie was spotted opening the door to Au Cheval restaurant, located on Cortlandt Alley between Walker and White Streets in Tribeca. There was no one else photographed with her but perhaps the other gals were already inside?
13. Carrie's apartment
A trip to New York City for Sex and the City fans is not complete without visiting Carrie's iconic apartment from the original series. Though set uptown, the apartment is located at 66 Perry Street in Greenwich Village, just around the corner from the infamous Magnolia Bakery, which was featured in season two of the original series. Magnolia makes for the perfect stop after visiting the historical brownstone that houses Carrie's apartment.
It also seems that the apartment will be used in the new series, as some photos were taken on set back in October that saw Carrie Bradshaw kissing a man played by actor Jon Tenney.
14. Madison Square Park
Multiple scenes were filmed in Manhattan's Madison Square Park with the cast, including one of Carrie and Big riding in a horse-drawn carriage back in November.
Liv is a freelance journalist currently studying English at university. She loves covering everything from entertainment and politics to lifestyle and travel. As well as writing for My Imperfect Life, Liv has bylines in The Times, HuffPost, Den of Geek, Bustle The Metro and The Bookseller.