Most fashionable TV shows to stream now for style inspiration
Did your favorite series make our list of most fashionable TV shows? Style inspo straight ahead!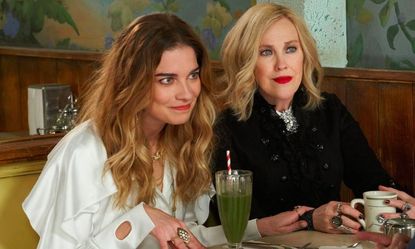 (Image credit: Comedy Central / The Hollywood Archive)
Some shows give us drama, others romance, but the most fashionable TV shows offer more than just entertainment—they reflect the style trends of a given era, help inform our wardrobes and inspire us to think outside the sartorial box.
Whether it's the midcentury shift dresses of Mad Men, the Manolo heels of Sex and the City, or the myriad Gen Z lewks of Euphoria, each of these series is iconically stylish in its own way. You'll want to update your capsule wardrobe ASAP after watching just a few episodes of these well-dressed shows.
---
---
Fashionable TV shows that spark real style envy:
'Sex and the City'
When you think of fashionable TV shows, you think of Sex and the City. That's a testament to the style genius of costume designer Patricia Field, who famously mixed high- and low-brow pieces ("I was looking for a $7 dress to go with my $300 shoes") and kickstarted countless late-nineties and early-noughties trends, from tulle skirts to flower brooches.
Field isn't styling the upcoming Sex and the City reboot, And Just Like That...—she'll be busy working on another fashionable favorite, Emily in Paris season 2—but by turning clothing into a character in and of itself, whoever follows in her footsteps has got quite the legacy to uphold.
'Schitt's Creek'
We don't want to be Moira Rose when we grow up—we want to be Moira Rose now. Sure, some of the styles sported by the Rose family matriarch may be a bit avant-garde for every day, but her boldness, sense of sartorial self, and disregard for the obsolete notion of "dressing her age" are totally admirable, no matter how you may feel about her outrageously high platforms.
Throw in David Rose's extensive knit collection, Alexis's boho-chic ensembles, and Johnny's perfectly tailored suits and you've got a fashion family for the ages.
'Mad Men'
Into 1960s fashion? No show serves as a better primer on the fashion of that decade than Mad Men, which expertly chronicled the culture shift from the prim-and-proper, waist-nipped dresses and sleekly tailored suits of the early 60s to the funkier, freer ensembles (the bell-bottoms! the bright caftans! the bolero ties!) that came to define the decade's groovier back half.
'The Fresh Prince of Bel-Air'
More like the Fresh Prints of Bel-Air. With 90s fashion back in a real way, the Will Smith-fronted Fresh Prince of Bel-Air is a treasure trove of pattern-mixing, color-blocking and ahead-of-its-time athleisure—not to mention Carlton Banks' prep-king looks and Hilary's incredible hat game.
'Killing Eve'
Jodie Comer's Villanelle isn't just a terrifying assassin—she looks drop-dead chic while doing it, too. We're talking high-fashion stuff like Alexander McQueen blazers, Chloé blouses, Burberry trenches, and frocks from The Vampire's Wife, all while wielding a murder weapon.
Sandra Oh's Eve Polastri is more function-focused than fashion-forward when it comes to clothes, but there are moments of style greatness—a form-fitting dress by Roland Mouret is a stand-out—all capped with the best accessory out there: that glorious mane of hair.
'The Nanny'
It took a while but The Nanny's Fran Fine is finally getting her flowers when it comes to being a veritable fashion icon—she's the lady in red when everybody else is wearing tan, after all.
Fran didn't just have flair, she had fashion chutzpah, from her all-over cheetah ensembles to fur-trimmed jackets, her pleather mini skirts to crop-top turtlenecks. The flashy girl from Flushing, indeed.
'Gossip Girl'
Thanks to the Gossip Girl reboot, there's a whole new era of fashion moments to drool over, but we're still partial to the OG outfits coming out of Constance Billard.
Blair Waldorf, Serena van der Woodsen and company used the streets of Manhattan's Upper East Side as their runway, with designer statement coats, chunky necklaces and a seemingly never-ending array of headbands giving a serious style boost to their basic school uniforms.
'Friends'
To see the fashion legacy that the NBC sitcom left behind nearly 20 years later, all you have to do is walk down the street: you'll no doubt spot a Monica, a Phoebe, or a Rachel.
There's something for every clothes lover on the show, whether you're into the 90s slip dresses and chunky knit sweaters of Ms. Buffay, the cropped sweaters and boyfriend jeans of Ms. Gellar, or the mini skirts and heeled boots of one Rachel Green.
'Empire'
If you need a dose of capital-F fierce, look no further than Cookie Lyon, the label-loving hip-hop mogul on Empire. Taraji P. Henson's Cookie had a closet packed with big-pimpin' fabulousness: floor-length fur coats, body-con dresses, sky-high stilettos, and plenty of bling, sporting coveted designer tags like Fendi, Balmain, and Versace. Together, it was over-the-top, ostentatious, and totally Cookie.
Luxury fashion was so entrenched in the show that Saks Fifth Avenue created an entire clothing line based on the series. Now that's influence.
'The Marvelous Mrs. Maisel'
The word's right there in the title: marvelous. With its period-perfect set pieces and 1950s New York fashion, the Amazon comedy from creator Amy Sherman-Palladino is a feast for the eyes.
"Everything with Midge starts with an accessory," says Rose, the mother of our titular heroine, and it shows with retro statement accessories like velvet pill-box hats, matching gloves, and impeccable pumps, each painstakingly chosen by costume designer Donna Sakowska.
'Euphoria'
Some high school shows, like Gossip Girl and The OC, offer an aspirational view of teen fashion—as in, no actual 16-year-olds have ever dressed like this. Euphoria is the opposite, in that the cast actually looks and dresses like teenagers today, albeit the coolest teens in your homeroom.
Looking for tomboy-chic? Opt for the patterned button-downs, Dickies pants and Chuck Taylors of Zendaya's Rue. Want a punky The Craft vibe? Mimic Kat with leather corsets, layered chokers, and a school-girl plaid skirt. Whichever road you go down, just make sure to top it all off with an elaborate eye makeup look!
'Scandal'
Want to give your work wardrobe a high-powered upgrade? Look no further than Olivia Pope, a former White House communications director who dodges PR disasters and manages media crises all while draped in stunning structured coats, pastel power suits, hard-working handbags, and ever-dramatic capes. If her work skills alone didn't scream BOSS, her wardrobe sure did.
Christina Izzo is the Deputy Editor of My Imperfect Life.
More generally, she is a writer-editor covering food and drink, travel, lifestyle and culture in New York City. She was previously the Features Editor at Rachael Ray In Season and Reveal, as well as the Food & Drink Editor and chief restaurant critic at Time Out New York.
When she's not doing all that, she can probably be found eating cheese somewhere.