Anna Shay: everything you need to know about Bling Empire's matriarch
Meet Anna Shay, our new life guru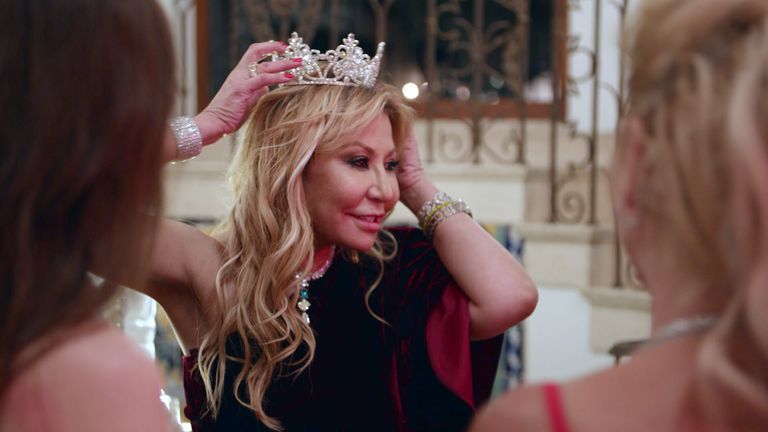 (Image credit: Netflix)
Netflix is the gift that keeps on giving and our latest present is Anna Shay, star of their new reality TV show, Bling Empire. 
The show follows a group of seriously rich Asians in LA, including matriarch Anna - who tries to share her wisdom with the younger cast members. And this lady knows her stuff too - there really ain't no dick that good (sorry Kelly!).
And just like that: Anna Shay became reality TV gold. 🏅#BlingEmpire pic.twitter.com/0rpehfQ0JRJanuary 15, 2021
See more
While we wait to hear if we'll be lucky enough for a second season of the Bling Empire, here's what to know about the fabulous Anna Shay...
How old is Anna Shay?
Anna Shay is 60-years-old. She was reportedly born in 1960, and celebrated 60th birthday on the 31st December 2020.
What is Anna's net worth?
Anna Shay's net worth is approximated at 600 million dollars, as of 2021. That includes her incredible Los Angeles Spanish style mansion, which is currently worth 16 million dollars.
What does Anna Shay do for a living?
In 2006, Anna and her younger brother Allen sold their father's business for $1.2 billion. Whilst he was alive, her father never wanted her to work but despite this, she has done a lot of philanthropy. She previously served as a board member for the George Lopez Foundation, which raises awareness about kidney disease and organ donation. She has also worked for the Shay Foundation, a programme focusing on education, arts, performing arts and music which was founded by her late parents. 
Who was Anna's father, Edward Shay?
Anna is the daughter of late billionaire businessman Edward Shay and Japanese-American Ai-San. 
Edward Shay was the founder of Pacific Architects and Engineers (PAE), a defence contractor that worked with the United Nations and the U.S. government. He died in 1995. 
What is Anna Shay's ethnic background?
Anna Shay's mother Ai Oizumi Shay was part-Japanese and part-Russian while her father, Edward Shay was white American from the South Side of Chicago, according to reports. That makes her Japanese, Russian and American. 
Anna Shay's parents: was she close to them? 
In an interview with Oprah magazine, Anna stated her parents as her heroes. 
"My father, mother, and son. My parents are my heroes because they have taught me values, morals, honor, respect, loyalty and principals. These things are rare qualities today," she said. 
Who is Anna Shay's son, Kenny Kemp?
Anna Shay's son is 27-year-old Kenny Kemp. While there's not much know about him, according to Buzzfeed News Kenny is the proud owner of a "collection of bongs worth half a million dollars". 
Anna also mentioned her son in an interview with Oprahmag.com, saying his friends are always asking her advice. 
"I need to grow up a little bit", she said, referring to her fellow Bling Empire cast members. "Sometimes I think the other cast members are too serious. And I think the way that we grew up is very different. I had to put them in check. I'm not here to raise them. I'm here to make sure they're OK. My son [Kenny Kemp] is 27. His friends are always over, asking me for advice. I've always been around kids as my mother was with me."
What did Anna Shay look like younger?
Anna has shared  a few throwback pictures of herself on Instagram, including the below... 
Who are Anna Shay ex husbands?
Anna has bee married and divorced four times , all of which she says were amicable break ups. However, she has not made any of the names of her ex-husbands known to the media, valuing her privacy.