'Dubai Bling' cast net worth: who is the richest member of the Netflix show?
If you're curious about the 'Dubai Bling' cast net worth, you're not alone! Discover the wealthiest member of the hit Netflix reality show...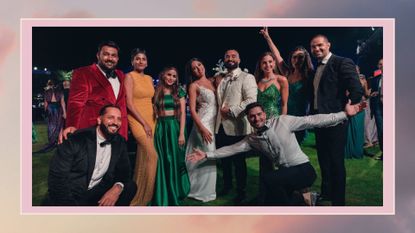 (Image credit: Netflix)
It's only natural to be curious about the that Dubai Bling cast net worth—after all, the Dubai Bling cast aren't shy about discussing their uber-luxurious lives, from their beautifully glam homes to their impressive-sounding job titles.
The Netflix reality series (which hit the streamer on October 27, 2022) chronicles the lives of a prominent, prosperous group of UAE residents, including fashion models, famous DJs, billionaire widows and social-media influencers—think Bling Empire in the Middle East.
But is Dubai Bling scripted? That's debatable. However, given that there are estimated to be 67,900 "high-net-worth individuals" (you know, millionaires, multimillionaires, billionaires and the like) currently living in the metropolis, per The National, you know that we're dealing with very real, very deep pockets here.
But when it comes to the Netflix hit, who actually is the richest person in Dubai Bling? And where do the rest of the cast land on the rich list? Here's what we know about the Dubai Bling cast net worth.
'Dubai Bling' cast net worth: who is the richest?
1. Ebraheem Al Samadi
When it comes to the richest person in Dubai Bling, Ebraheem al Samadi, the 34-year-old CEO and founder of Forever Rose comes out on top. He is reported to be the Dubai Bling cast's richest star, with a whopping reported net worth of $50 million, according to Arabian Business.
This appears to be largely due to Forever Rose, which specializes in "the only original 100% Natural Long Lasting Rose" (a preserved flower). A company with 350 employees, the Forever Rose brand boasts seven outlets—four in the UAE, two in Qatar and one in Saudi Arabia—and its Forever Rose Café offshoot has three brick-and-mortar locations in the UAE, and one in London. Ebraheem is also setting up a fragrance business too, it seems—Forever Oud, which he has branded as the world's longest-lasting perfume.
It appears that Ebraheem has always been an entrepreneur at heart, selling items on eBay from the age of 14 (yes, really!), before earning his masters at the University of Aberdeen in Scotland, UK.
2. Loujain 'LJ' Adada
A former model and TV presenter, Loujain Adada is said to have a net worth of $4 million, though the LJ Dubai Bling net worth may actually be higher. Much of her assets were inherited from her marriage to the late Arabic billionaire Walid Juffali, which lasted from 2012 to 2016.
LJ in Dubai Bling shared two children with Juffali, and he has four other children from previous marriages—meaning much of his wealth was shared across his six children when he died, including Loujain's.
Loujain Adada still models, but it seems she has put the presenting gigs in the past for now—likely to continue her career in reality TV.
3. Zeina Khoury
Zeina Khoury is CEO and Chief Growth Office of High Mark Real Estate, a luxury brokerage in the UAE—and largely due to this, the real estate professional is allegedly said to be worth anywhere between $310,000 – $2.8 million.
It's a wide range, but Zeina's true net worth isn't all that certain according to reports online—though if the scenes on Dubai Bling are anything to go by, she's doing very well for herself!
According to her LinkedIn page, she's also the co-founder of BookAnyService.com, a UAE-based business where customers can book all sorts of services (as you may have guessed), from cleaning to nail appointments, to handymen.
And of course, there's also her career as a reality star on Dubai Bling, and her seemingly burgeoning career as a social media influencer!
4. Kris Fade
The 42-year-old radio presenter, TV host, brand ambassador and entrepreneur is said to have a net worth of reportedly $2 million.
Kris Fade is the founder of Fade Fit, a lifestyle brand offering protein snacks, energy bars, multivitamins and smoothies, which he also runs alongside wife Brianna Ramirez. He of course also works on The Kris Fade Show, which is broadcast in both Dubai and Australia; a role for which he was won multiple accolades.
5. DJ Bliss
Marwan Parham Al Awadhi, also known as DJ Bliss, is an Emirati DJ, TV presenter and radio personality. The DJ Bliss net worth reportedly sits at around $1.7 million, per Celebs Week.
DJ Bliss is also a musician, and has toured the world as part of his musical career. He has also co-produced alongside artists including Wyclef Jean, and released his own albums too, which likely contributes a decent amount to his overall net worth.
Like many reality stars, he also has his own YouTube channel, where he posts regular videos about his lavish Dubai lifestyle, as well as his music. His videos see him experiencing some of Dubai's most expensive activities, such as trying a 24K gold cappuccino at the Burj Al Arab, and touring the most expensive duplex apartment in Dubai (which was selling for 32,000,000 AED—around $8.7 million—if you're curious).
6. Farhana Bodi
The 36-year-old entrepreneur and content creator, who founded the women's empowerment and lifestyle blog and company "I Woman of the World," has an estimated net worth valued at $1.5 million.
Not only does she earn a salary from Dubai Bling, but SCMP also reports that she also earns money from Instagram deals and brand endorsements, as well as modelling jobs.
7. Lojain Omran
Though her exact net worth is unknown, the fortune of Saudi Arabian television presenter and social media personality Lojain Omran is estimated to be between $1 and $5 million dollars. With 10.7 million followers, she has the most Instagram clout of the Dubai Bling cast, and regularly shares sponsored content with brands like Clarins and Van Cleef & Arpels.
She is most well known for her role as presenter on MBC1's Good Morning Arabs, which has led to her huge popularity in the Middle East.
A budding actor, she has also had one acting job, a 2021 mini-series called Qata'ef, where she starred in five episodes.
8. Safa Siddiqui
The net worth of Iraqi-British 32-year-old Safa Siddiqui isn't totally confirmed, with outlets reporting a huge range from $180,000 to around $1.28 million. Whatever the actual total, her considerable handbag collection (stocked with luxury brands like Chanel, Louis Vuitton and Hermès) is proof that Siddiqui is doing just fine indeed.
She is reported to have multiple streams of income—Exact Net Worth reports that she is a fashion designer, social media influencer, and former real estate agent. Then of course, there is her career as a reality star as part of the Dubai Bling cast.
So when it comes to the Dubai Bling cast net worth, while some are clearly wealthier than others, it appears that all of them are earning very respectable livings—with none of them earning less than six figures!
Season one of Dubai Bling is currently available to stream on Netflix. Will we get a Dubai Bling season 2? Stay tuned!
Christina Izzo is the Deputy Editor of My Imperfect Life.
More generally, she is a writer-editor covering food and drink, travel, lifestyle and culture in New York City. She was previously the Features Editor at Rachael Ray In Season and Reveal, as well as the Food & Drink Editor and chief restaurant critic at Time Out New York.
When she's not doing all that, she can probably be found eating cheese somewhere.