Are Elys and Alex still together now that 'Too Hot to Handle' season 5 has wrapped?
They were one of the strongest couples, but are Elys and Alex still together now that the cameras stopped rolling?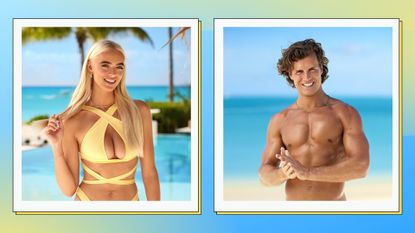 (Image credit: Netflix)
Are Elys and Alex still together now that their time at the retreat has come to a close?
Viewers are definitely curious about which Too Hot To Handle season 5 couples are still together, and considering these two were fan favorites, you better believe everyone's waiting for the tea to spill.
Although the show's intimacy coach, Brenden Durrell, considered the latest season his best and most productive one yet, there were definitely a few challenges for the singles, to say the least: hesitancy, love triangles, and of course, Lana's strict rules. (No surprise there.)
Were Elys and Alex able to work through their troubles and leave the Netflix show as one, or are they just another pair of reality TV exes to add to the list? Let's dive in.
Are Elys and Alex still together?
If you were searching for clues about Elys and Alex's romance on social media, good luck. The two have kept their status on the down low, much to fans' disappointment. But that's not necessarily a bad thing, right? Well, in this case, it *kind of* is.
Although the two spent a passionate and exciting six months together once the show stopped filming, they ultimately went their separate ways. Distance played a large factor in their decision, but ultimately, there's no bad blood between them and they remain on good terms. (Not all couples on reality shows can say the same!)
Now that Elys has uprooted herself to Los Angeles, she's putting her career first and seeing what happens in the romance department. Alex, a model and personal trainer, is seemingly unattached at this time.
Did Alex and Elys break up during 'Too Hot to Handle'?
Elys and Alex have not had an easy journey to the end. But the good news is that they do actually end the show as a couple and leave as boyfriend and girlfriend. Elys initially coupled up with Hunter LoNigro. However, despite feeling a physical connection to Hunter, Elys couldn't stop thinking about Alex, even after she broke the rules by kissing Hunter. That told viewers how much deeper her connection was with the former.
After finding out about Hunter and Elys' kiss, Alex did try to move on with Megan Thompson but his eyes kept straying back on Elys. So good ol' Lana did what she does best and got involved. Lana sent Elys on a date with Hunter but halfway through, she gave Elys the choice to stick with the date or switch over to Alex. Though the date was going well, she quickly jumped at the opportunity to spend time with Alex. Alex and Elys' date went so well that when they got back to the villa, they announced to the group that they would be sharing a bed from now on, much to Megan's heartbreak.
From that moment on, Alex and Elys were pretty inseparable and their connection grew so strong that they embarked on a record-breaking 12-minute kiss resulting in a $36,000 deduction from the Too Hot to Handle prize fund.
When sent out on their final date, it was Alex's turn to have doubts. Alex was battling with whether or not he wanted to commit to Elys. While he liked her, he wasn't sure if he was ready to stop being a wanderer. Elys told him he could have both as she loves traveling too. While he was happy to hear that, he still felt scared of commitment. But he was pushed outside of his comfort zone when Elys decided to ask Alex to be her boyfriend. While he was shocked, he did end up saying yes.
Alex's continued doubts saw Lana issue him one last challenge. Lana gave him an ultimatum of securing $25,000 but leaving the retreat then and there as a single man or staying on the retreat, continuing his relationship with Elys and forfeiting winning the show and the prize fund. Ultimately, he chose love over money.
Who won 'Too Hot to Handle' season 5?
After both Louis and Alex rejected Lana's $25,000 offer, Lana ended up selecting Elys and Dre as the season 5 finalists because she felt they had made the most growth.
The rest of the contestants got to vote for who they felt should be crowned winner and they ultimately chose Elys to receive the $100,000 cash prize. However, she decided to split the money 50/50 with Dre because she knew how much it would mean to him and his family.
If you're curious where the rest of the crew from this season stands, here's the scoop on Louis and Christine, Isaac and Hannah, and what happened to Megan. We'll see you at the retreat in Fiji!
All episodes of Too Hot to Handle season 5 are streaming on Netflix now.
Liv is a freelance journalist currently studying English at university. She loves covering everything from entertainment and politics to lifestyle and travel. As well as writing for My Imperfect Life, Liv has bylines in The Times, HuffPost, Den of Geek, Bustle The Metro and The Bookseller.