Pixi Beauty Balm review: how good is this pigment packed BB cream?
Our Pixi Beauty Balm review reveals everything you need to know about this longwear BB cream that offers long term skincare benefits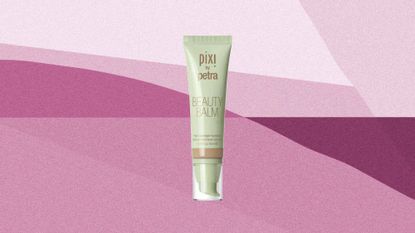 (Image credit: Pixi Balm)
My Imperfect Life Verdict
The perfect fusion of skincare and color cosmetics, it comes in an impressive amount of shades and contains a potent blend of actives and concealing pigments.
Reasons to buy
+

Longwear formula

+

Skincare benefits

+

Wide shade range
Reasons to avoid
-

More coverage than you'd expect from a BB

-

Does not contain SPF
As you'll see from our Pixi Beauty Balm review, we're big fans of this BB cream wonder-product. It's packed with impressive skincare-grade ingredients that provide long-term benefits, offering the wearer way more than just color correction.
Because of this, you'll find it holding a firm spot on our coveted best BB creams list. You can expect a medium to full coverage with this velvety-textured base that has been formulated to not only keep your skin hydrated all day long, but to smooth and even skin tone for a flawless finish.
This is all thanks to gold standard actives like ceramides and hyaluronic acid, plus yeast-derived adenosine, and chamomile. It doesn't contain SPF, but it does come in an impressive range of colors when compared with other BB creams on the market. And it does mix well with an SPF if so desired.
How much does Pixi Beauty Balm cost?
The RRP for this BB cream is $29/£22, which is on the slightly pricier side of BB cream prices. But the skincare-packed formula makes it worth the investment. The price doesn't tend to vary across stockists, but it's worth keeping an eye out during big retail sale days like Black Friday and the Christmas period, as many of them offer discounts on Pixi products at these times.
What is the packaging like?
Sunlight and heat can affect the quality of skincare product, potentially breaking down active ingredients, which will accelerate the aging of a product. While some packaging is created to protect the formula inside, the tube that houses Pixi's Beauty Balm isn't made from a heat or UV protective material. Because of this, it's best to store this BB cream out of direct sunlight and far from any heat source, like say your bathroom radiator.
The tube is ergonomically pleasing, and the airtight pump is easy to use and convenient—as one pump equals one 'dose'. The airtight lid ensures that oxygen, nitrogen, and carbon dioxide don't make their way into the tube and break down the active skincare ingredients. After use, it's best to place the pump down to ensure that the formula is ready and waiting at the base of the pump for quick and easy dispensing next time round.
What is the formula like?
Pixi Beauty Balm is made up of a blendable, richly pigmented medium to full coverage formula, which has a velvety texture and is made up of a plethora of skincare actives, including ceramides, hyaluronic acid, and more.
Ceramides, the fat found on the uppermost layers of the skin, help form the skin barrier and protect it from environmental aggressors like irritants, and pollution. They also help the skin retain moisture and without them, skin can become dry, itchy, and irritated. We do naturally produce ceramides, but their levels can deplete rapidly due to exposure to hot water, soaps, chemicals, and environmental factors. This is why replenishing them by way of your skincare can make a huge difference to the look of your skin.
Another active included that's naturally produced by the body is the much-lauded hyaluronic acid (HA). Made from amino acids and sugar molecules, it acts as a natural 'humectant'—meaning that it draws water to itself. It can hold a thousand times its weight in water and help keep skin hydrated, but just like our ceramide supply, it's beneficial to boost numbers topically. The hydrating nature of HA also helps stop the pigment within the formula from oxidizing and fading during the day. And if that wasn't enough, this hardworking ingredient supports tissue structure too, resulting in smoother firmer skin.
To further ramp up the smoothing effects of this BB cream, yeast-derived adenosine has been added. Essentially, it's a signaling molecule that relaxes skin cells, reducing contractions that lead to lines and wrinkles. Studies show that the inclusion of this ingredient within skincare can lead to faster anti-aging results, than using collagen-building ingredients alone.
To round out this skin-friendly BB, there's the addition of anti-inflammatory and antioxidant chamomile. Just as it calms the mind, lowers stress, and soothes upset tummies, it also works wonders at relieving skin irritation, reducing redness, and boosting skin health for a radiant, lit-from-within complexion.
How to use Pixi Beauty Balm
When it comes to how to apply BB cream, Pixi recommends you put this hybrid buy directly over your skincare or primer. However, we found that while the formula keeps skin hydrated, what skincare and how much you use before application depends on your skin type. Dry skin may well benefit from a moisturizer pre-application, while normal skin might only need a serum, and oily skin types might want to use a serum followed by a mattifying primer. For protection against harmful rays, we'd suggest mixing with an SPF too.
When it comes to application, the best method is to start at the center of the face working outwards—don't forget to use it on the neck, and out onto the ears to create a seamless finish. We liked using our fingers for a sheer veil that's more akin to a traditional BB finish, but for medium coverage, a long fluffy nylon bristle brush used in a sweeping motion works a treat.
If you're after a fuller coverage to conceal pigmentation, scarring, redness, or acne, use a sponge or a foundation brush with dense hairs and a compact head, pushing the pigment into the skin using small circular movements.
---
---
Pixi Beauty Balm: is this BB cream actually worth your money?
In a word, yes. We loved that Pixi Beauty Balm stays put all day and leaves skin smooth—most importantly IMO—with an even skin tone. Over time skin looks and feels more hydrated too. Multitasking, hybrid beauty that gives wearers the opportunity to show off their skin is the ethos that lies at the heart of the Pixi brand. This is why they have got this BB so right, despite it not containing an SPF like traditional BBs. The ability to tailor the coverage to your needs, the multiple skincare benefits, superior staying power, and choice of shades more than makes up for this slight deviation from the norm.
We found it super impressive that the ingredient list reads like a covetable serum, and that it had multiple long-term skincare benefits as well as instantly visible ones.
The velvety formula felt like a second skin, even when worn at full coverage and it suits a range of skin types and an even further range of concerns from redness, and lines, to acne.
Amerley is an award-winning beauty & lifestyle journalist who has been writing for the UK's most well-known glossies, websites and newspapers for over a decade. Known for her ability to predict the next big trend, there is really very little she won't try for a story. From microblading and injectables, to10 step skincare plans and breathing her way to better skin, Amerley loves to share her experiences and write relatable, informative and trend-led copy for beauty novices and junkies alike.