Can you use a foundation and BB cream together? We asked the experts
The experts weigh in on how and when to use a foundation and BB cream together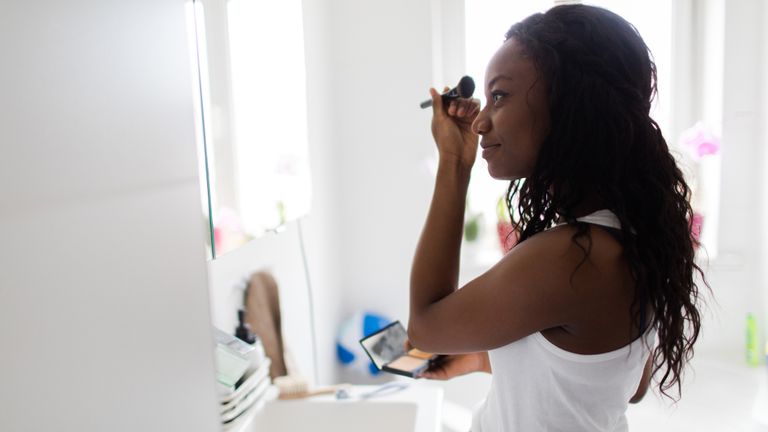 (Image credit: Getty Images)
BB creams perfectly marry skincare solutions with skin perfecting colour pigments, making them more than just a tinted moisturiser. But when it comes to colour payoff coverage varies. 
Hailing from Germany, the BB was the brainchild of dermatologist Dr Christine Schrammek. She formulated the very first multitasking marvel in the 1960s after realising that her laser treatment patients needed a single cream that could protect from external aggressors (such as the sun), speed up repair and provide a veil of coverage to hide redness and even out skin tone.
Once it reached the shores of South Korea the concept really took off and the BB was reborn. While the offerings you'll find today treat anything from lines and wrinkles to acne and redness, most BB creams still only offer a sheer second skin – like layer of adaptable colour – that doesn't really cater to a wide range of skin tones.  So we asked the experts: if you want to take advantage of the skincare benefits of a BB, but prefer more coverage or need a better colour match, can you add a foundation into the mix? 
Can you use a foundation and BB cream together?
The answer is not so black and white according to makeup artist Elaine Lynskey . "BB creams leave the skin looking natural and radiant for that 'no makeup, makeup' look, making them a great 'introduction' to colour cosmetics for youthful skin – as well as the ideal way to treat and conceal problem skin without applying a thicker layer of coverage by way of a foundation," she says. "This is why most people who choose a BB cream over a treatment skincare solution and a foundation do so – for ease of use and a more natural finish. 
"This doesn't mean that you can't add a touch of foundation to build up the coverage of your BB cream, but the success of this practice would really depend on the BB cream you choose and how well the formula behaves when a foundation is added to the mix."
If the two products don't gel well together, it can result in your BB rolling off the skin – a common occurrence with velvety, mattifying formulas, or ones with blurring properties. 
Not to mention you also have to consider the intended look of your chosen BB. For example, if your BB cream is packed full of hydrating ingredients, and pearlescent particles to leave skin looking radiant, applying a foundation on top – especially one that might have mattifying longwear ingredients – will cancel out that glow. 
Or your BB might be designed to keep oil at bay, but your foundation might not be. It's definitely a case of trial and error, and you might find that you don't have the time or will to experiment. "Luckily, if you still want to add a little more coverage, you can use a concealer. Simply, take a small fluffy brush and buff it into any areas where redness, pigmentation or blemishes are still noticeable. You'll be left with a natural-yet-flawless finish, just as the creators of BB intended," says Lynskey.  
How to apply your BB cream and foundation
But if all the stars align and your BB cream and foundation are determined to be BFF's, the best way to go about applying the two is to mix them first. "Think about the finish you're after before dispensing any product onto the back of your hand, then adjust the ratios accordingly; the total of your mix should be about the size of a twenty pence piece and the majority of it should be made up of your BB cream," explains Lynskey. 
"When it comes to application, the best method is to start at the centre of the face working outwards all the way to the ears and down to the neck. For light coverage use your fingers to apply, as the added warmth of your hands will help your base adhere for the ultimate second-skin finish. For medium coverage a long, fluffy nylon bristle brush – used in a sweeping motion – works a treat. If you're after a fuller coverage, use a sponge or a foundation brush with dense hairs and a compact head, pushing the pigment into the skin using small circular movements." 
Experimentation seems to be the name of the game when it comes to mixing your BB and foundation. If you can get it right, you'll reap all the skincare benefits of your BB cream without compromising on shade compatibility and coverage.