What is glycolic acid and how does it work? A handy guide
We asked an expert to break down the benefits of glycolic acid, one of the most popular alpha-hydroxy acids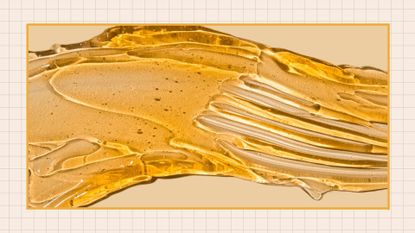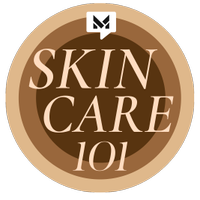 (Image credit: Future/Getty)
Get the lowdown on glycolic acid in this instalment of Skincare 101—our comprehensive skincare dictionary of every ingredient that you need to know about.
There are a lot of options available for skincare, and they all have different active ingredients, like glycolic acid. It can be hard to keep up with what they all do.
This alpha-hydroxy acid is one of the most widely-used ingredients on the market right now, and found in many good skincare routine these days.
But what is this tiny molecule, how does it work, and when do dermatologists recommend using it? Keep reading to find out.
What is glycolic acid?
Glycolic is a type of alpha hydroxy acid (AHA), exfoliants that work on the topmost, dead layer of skin, peeling it off to reveal the softer, fresher skin below it. It was traditionally sourced from sugar cane, but nowadays it's also produced synthetically.
"Glycolic acid is the most effective AHA due to its small molecular size which allows it to penetrate deep into the skin's surface," explains Dr Kemi Fabusiwa, aka Dr Fab, skin expert and ambassador for The INKEY List. "It is particularly effective in treating acne, hyperpigmentation and wrinkles.
"However, due to its high performance and overall strength it may also be less appropriate for those prone to sensitive skin and can often lead to irritation and inflammation."
Glycolic acid benefits: What does glycolic acid do?
Glycolic acid speeds up cell turnover; it works to remove the top layer of skin by breaking down the bonds that hold dead skin cells together, revealing fresher and softer skin. This makes it a great choice for both skin that's prone to dullness and dryness, and blemish- and acne-prone skin.
The benefits of glycolic acid for skin don't stop there, though. As well as the above, it's a great ingredient for improving the evenness of skin tone and also helps to reduce the appearance of fine lines and wrinkles.
Because the molecules of glycolic acid are so tiny, they can penetrate the skin more easily than most other exfoliants. This makes it a popular ingredient in professional-grade chemical peels.
How to use glycolic acid in your skincare routine
Glycolic acid has been available on the commercial market for decades now, so it's far from a new innovation, but it's really only become popular with the masses within the last 10 years, so there are now tonnes of products to choose from—from cleansers to serums to toners.
The most important factor to consider when adding any alpha hydroxy acid to your skincare routine is that AHAs—including glycolic acid—will make you more sensitive to UV rays. It's therefore imperative that you use one of the best sunscreens for face with an SPF of at least 30 during the day if you're using glycolic in your routine (although you should be doing that anyway).
Like you can use vitamin C morning or night, you can do the same with glycolic acid. But because it can make skin more sensitive to the sun, it is also well suited to your evening skincare routine.
Although it's generally safe for all skin types (apart from very sensitive), many experts say you don't need to use glycolic acid regularly until your mid-to-late twenties when your skin is a bit more resilient, unless tackling blemishes is your concern.
And just be aware that it can sometimes make skin feel slightly parched or maybe a bit sensitive, so it's always a good idea to pair with one of the best hyaluronic acid serums or best moisturizers for dry skin. But we''d avoid pairing it with anything like vitamin C and retinol. Here are a few of our favourite glycolic products.
Glycolic acid products to include in your skincare routine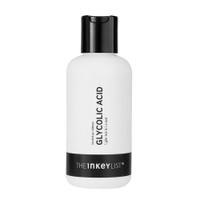 The INKEY List Glycolic Acid Exfoliating Toner
RRP: $11.99/£8.50 for 100ml
Glycolic acid is one of the best-loved AHAs, known for its ability to banish dead skin cells and boost radiance, and is found in a 10% concentration in this INKEY List toner.
Be sure to introduce it into your routine gradually.
---
---
---
It's also extremely important not to overuse this powerful ingredient. More doesn't equal better results; you will only cause harm to your skin barrier and possibly end up with post-inflammatory pigmentation. Always follow the instructions on your specific product, but a good rule of thumb is to start by using a toner a couple of times a week, building up as and when your skin tolerates it.
In short, glycolic acid is a powerful little molecule, and its results are real. It's one of the fastest-acting skin ingredients on the market. Make sure you're using it wisely and not overdoing it, and you'll be sure to reap its benefits in no time.
Lucy is a beauty journalist who has written for titles including Marie Claire, Cosmopolitan, OK!, woman&home and Women's Health, as well as regularly contributing to My Imperfect Life. Her work covers everything from skin and haircare tips to trying and testing the latest beauty launches, and interviewing celebrities and experts. A certified dog person, her other interests include mental wellbeing, books, piña coladas and not getting caught in the rain.