The best Christmas gifts to get your loved ones this festive season
Our ultimate round-up of the best Christmas gifts, no matter who you're shopping for...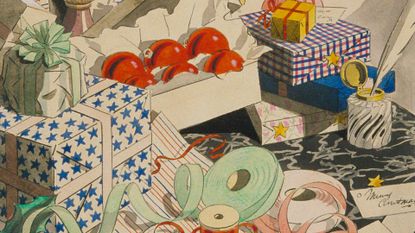 (Image credit: Getty Images / Leslie Saalburg / Conde Nast Collection)
Shopping for Christmas gifts at the moment isn't the easiest thing, especially with the different pandemic restrictions making what is always a most hectic time of year, even more hectic.
Not only are the queues in stores significantly longer, but there are also looming fears of stock shortages—empty shelves cutting a swathe through your options...and that's before you even start to get your thinking cap on for great gift ideas for your loved ones. Luckily, the latter is something we can help with.
No matter how well you know your friends and family, we all need a little help when it comes to gift inspiration. This year, we've created bespoke guides to help you shop everything from Christmas gifts for your girlfriend, Christmas gifts for your boyfriend, eco-friendly Christmas gifts, wellness gifts, cozy gifts and even gifts for astrology lovers.
But if we had to pick our top 10, these are the best (and trendy!) presents to gift everyone in 2021...
Our pick of the best Christmas presents
1. Sunset lamps
Sunset lamps have been on our wish lists for a while, even since we saw them trending on TikTok. Add them to your own stocking this year (go on, treat yourself), or buy the person in your life who won't stop scrolling TikTok...
2. Olaplex Healthy Hair Essentials
Who doesn't like shiny hair? Olaplex boasts fans like Kim Kardashian and Kylie Jenner, and our beauty experts also vouch for the miracle-working products (check out our Olaplex No 3 review and Olaplex No 8 review). With this bundle (which includes full-sizes of the No 3 Hair Perfector™ and No 7 Bonding Oil™ and travel-friendly sizes of No 4 and No 5) you can get the beauty lovers in your life all they need to make their hair the healthiest it's ever been.
3. Apple HomePod
Say hello to the newest member of the Apple family! We've had Alexa and Google Home for a while, so it was about time Apple users could get our pal Siri over to speaker you can use as a home assistant. Plus, they look super cute!
4. Ninja Air Fryer
The New Year is usually a time for healthy eating resolutions, but healthy doesn't have to mean boring. Gift this air fryer to anyone in your life who wants to enjoy tasty food while keeping up their healthy lifestyle—they'll be forever thankful!
5. Yankee Candles
Need we say more? Candles always make a nice gift, but Yankee Candles are really having a moment right now. Pick from the best Yankee Candle scents for some classics or opt for some of the new festive products to get your loved one's smelling like Christmas heaven.
6. Our Place Always Pan
If you know anyone not obsessed with this pan, buy it for them anyway because they will be!
Sagal is a journalist, specialising in lifestyle, pop culture, fashion and beauty. She has written for a number of publications including Vogue, Glamour, Stylist, Evening Standard, Bustle, You Magazine, Dazed and Wonderland to name a few.