Bling Empire: all your questions on Netflix's hit show answered
Everything you need to know about Bling Empire, Netflix's new reality TV series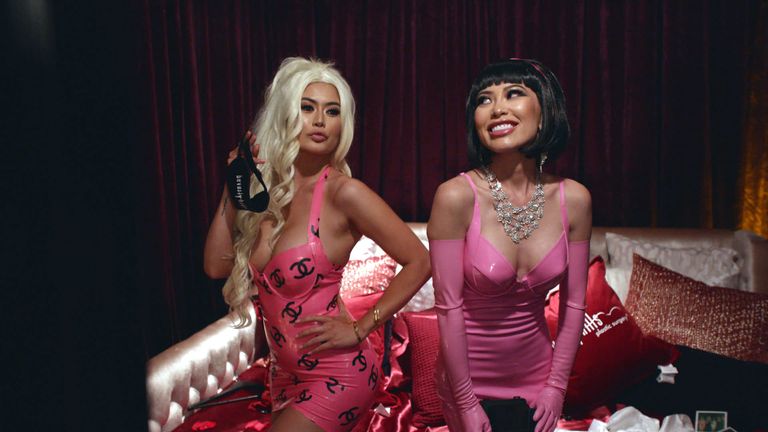 (Image credit: Netflix)
Bling Empire was one of Netflix's biggest hits this year and it got us hooked—following in the footsteps of Lupin and Bridgerton.
If like us, you've been obsessed with all the reality TV show offerings the streaming service has produced in the past couple of years—from Selling Sunset to Love is Blind—then get ready to lap this up.
The show, which dropped in January 2021, has been described as a real-life version of hit blockbuster Crazy Rich Asians, with even better fashion.
Here's everything you need to know about the new show, including all that important info about the Bling Empire cast...
They're just like your friends... only so much richer and so much more dramatic. Bling Empire premieres January 15 pic.twitter.com/kBfr5DsqolJanuary 8, 2021
See more
What is Bling Empire about?
Set in Los Angeles, Bling Empire follows the lives of a lavish group of Asian-American friends who live incredibly affluent, glamourous lifestyles. The cast is all connected in the fashion and entertainment industries, wearing the best designers and attending the hottest events in the city. But of course, behind the glitz and glam lies what we're all really here for—ferocious drama!
If you liked Singapore Social—another one of the shows like Bling Empire that focuses on the lives of young, rich socialites in Singapore—you'll love the Bling Empire. Especially since the show has been produced by Jeff Jenkins, who previously oversaw E!'s Keeping Up with the Kardashians.
"While their days and nights are filled with fabulous parties and expensive shopping sprees, don't let the glitz and glamour fool you," a Netflix voiceover says in the official trailer for the series. "Between running multi-billion dollar businesses and traveling the world, these friends are as good at keeping secrets as they are at spilling them. And there is certainly no shortage of secrets."
Bling Empire cast
Kevin Kreider: actor and model, a fan of "flexing muscles all day" and often seen shirtless throughout season 1.
Kim Lee: DJ, model, and actor, sometimes dubbed the 'Asian Kylie Jenner.
Anna Shay: the daughter of a billionaire defense contractor who sold 'bombs and guns'.
Cherie Chan: heiress to a major denim business.
Kane Lim: fashion designer and entrepreneur, who expresses his love for shopping and finer things in life.
Christine Chiu: married to the son of a Chinese emperor and known Beverly Hills plastic surgeon, Dr. Gabriel Chiu.
Kelly Mi Li: successful businesswoman, also produces the show and was in a turbulent relationship with a former Power Ranger, Andrew Gray.
Jaime Xie: a regular presence at all the Fashion Weeks, raised in Silicon Valley and daughter of cybersecurity technology entrepreneur, Ken Xie.
When was Bling Empire season 1 filmed?
Bling Empire was actually filmed in 2019, way before the coronavirus pandemic hit. The confirmation came from cast member Dr. Gabriel Chiu, who said in an interview with Los Angeles news station KTLA5 earlier this month that filming for the show wrapped up two years ago.
So while it may seem weird to see everyone hanging out without masks, having intimate dinner parties and flying over to Paris for no good reason, the Bling Empire cast have a good excuse.
How many seasons of Bling Empire are on Netflix?
For now, only one season of Bling Empire has been released. However, Bling Empire season 2 has indeed been confirmed, but we're still waiting for a release date to be confirmed.
How was Bling Empire received?
Finished screening Netflix new reality series, BLING EMPIRE.As an Asian, I'll say this1). Fun to see "Crazy Rich Asians"-esque lifestyle on small screen2). Never apologize for your successBUTNot sure a show flaunting excessive wealth in a time of pandemic is a good idea. pic.twitter.com/UO73tvqql7January 9, 2021
See more
The show was mostly well-received, but it did cause a bit of controversy over criticism for being tone-deaf and feeding into unrealistic stereotypes and racial myths about Asians.
One viewer tweeted: "Finished screening Netflix new reality series, BLING EMPIRE. As an Asian, I'll say this 1). Fun to see "Crazy Rich Asians"-esque lifestyle on small screen 2). Never apologize for your success BUT Not sure a show flaunting excessive wealth in a time of pandemic is a good idea."
Similarly, another agreed, saying: "CRA [Crazy Rich Asians] was released during a very different time and at least had characters like Rachel, Nick, Peik, and Astrid, who audiences could connect with because of their humility. Bling Empire is troublesome to me because of what you said, it's tone-deaf."
However, we did end up seeing the human side of all the cast members, from relationship issues to estranged fathers and identity struggles—and it's fair to say there are plenty of fans eagerly awaiting another season...
Sagal is a journalist, specialising in lifestyle, pop culture, fashion and beauty. She has written for a number of publications including Vogue, Glamour, Stylist, Evening Standard, Bustle, You Magazine, Dazed and Wonderland to name a few.