Bling Empire is set to be our next reality TV obsession on Netflix
Everything you need to know about Bling Empire, Netflix's new reality TV series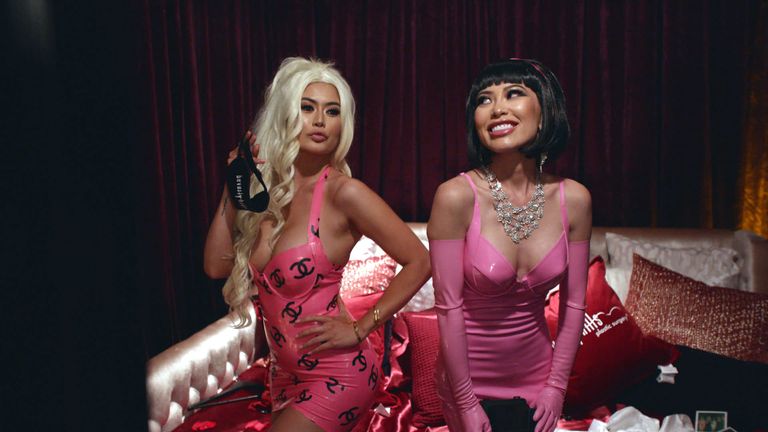 (Image credit: Netflix)
Bling Empire is the brand new reality TV show coming to Netflix this week and judging by the trailer, we're all about to be hooked - following in the footsteps of Lupin and Bridgerton.
If like us, you've been obsessed with all the reality TV show offerings the streaming service has produced in the past couple of years - from Selling Sunset to Love is Blind - then get ready to lap this up. 
The show, which drops on Netflix on Friday (15 January), is the first reality binge-watch of 2021 and has been described as a real-life version of hit blockbuster Crazy Rich Asians, with even better fashion. 
Here's everything you need to know about the new show, including all that important info about the Bling Empire cast... 
They're just like your friends... only so much richer and so much more dramatic. Bling Empire premieres January 15 pic.twitter.com/kBfr5DsqolJanuary 8, 2021
See more
When was Bling Empire filmed?
Bling Empire was actually filmed in 2019, way before the coronavirus pandemic hit. The confirmation came from cast member Dr. Gabriel Chiu, who said in an interview with Los Angeles news station KTLA5 earlier this month that filming for the show wrapped up two years ago.
So while it may seem weird to see everyone hanging out without masks, having intimate dinner parties and flying over to Paris for no good reason, the Bling Empire cast have a good excuse.
Bling Empire: what is it about?
Set in Los Angeles, Bling Empire follows the lives of a lavish group of Asian-American friends who live incredibly affluent, glamourous lifestyles. The cast is all connected in the fashion and entertainment industries, wearing the best designers and attending the hottest events in the city. But of course, behind the glitz and glam lies what we're all really here for, ferocious drama! 
If you liked Singapore Social, another Netflix reality show focusing on the lives of young, rich socialites in Singapore,  you'll love the Bling Empire. Especially since the show has been produced by Jeff Jenkins, who previously oversaw E!'s Keeping Up with the Kardashians. 
"While their days and nights are filled with fabulous parties and expensive shopping sprees, don't let the glitz and glamour fool you," a Netflix voiceover says in the official trailer for the series. "Between running multi-billion dollar businesses and traveling the world, these friends are as good at keeping secrets as they are at spilling them.  And there is certainly no shortage of secrets."
Bling Empire cast: who is in the show?
The first cast member we're introduced to in the trailer is Kane, a fashion designer and entrepreneur, who expresses his love for shopping and declares: "The Asians are here!" 
Then we met model Kevin, who tells us how hard it is to "flex your muscles all day" before being introduced to founder of Beverly Hills Plastic Surgery, Christine, who tells us she is married to the son of a Chinese emperor. Then there's Kelly, who's in a relationship with actor and former red Power Ranger Andrew Gray, successful DJ Kim Lee, Cherie who is an heiress to a major denim business and Anna, the daughter of a billionaire defense contractor who sells "bombs and guns". 
How have people reacted to Bling Empire so far? 
Finished screening Netflix new reality series, BLING EMPIRE.As an Asian, I'll say this1). Fun to see "Crazy Rich Asians"-esque lifestyle on small screen2). Never apologize for your successBUTNot sure a show flaunting excessive wealth in a time of pandemic is a good idea. pic.twitter.com/UO73tvqql7January 9, 2021
See more
While many people are super excited for Bling Empire to drop on Netflix as a new form of escapism and entertaining drama (many have even declared themselves as stans), the trailer has caused a bit of controversy over the past few days, receiving criticism for being tone-deaf and feeding into unrealistic stereotypes and racial myths about Asians. 
One viewer tweeted: "Finished screening Netflix new reality series, BLING EMPIRE. As an Asian, I'll say this 1). Fun to see "Crazy Rich Asians"-esque lifestyle on small screen 2). Never apologize for your success BUT Not sure a show flaunting excessive wealth in a time of pandemic is a good idea."
Similarly, another agreed, saying: "CRA was released during a very different time and at least had characters like Rachel, Nick, Peik, and Astrid, who audiences could connect with because of their humility. Bling Empire is troublesome to me because of what you said, it's tone-deaf."
Meanwhile another person tweeted: "I hope #BlingEmpire goes much deeper than the money and the privilege. I really, really hope so." 
The conversation will definitely continue as the show airs and storylines are unveiled, which means there's definitely more to be said on the topic.