Here's exactly where you need to pause for that 'Bridgerton' lake scene
Anthony Bridgerton meets Mr. Darcy in the much-hyped 'Bridgerton' lake scene from season two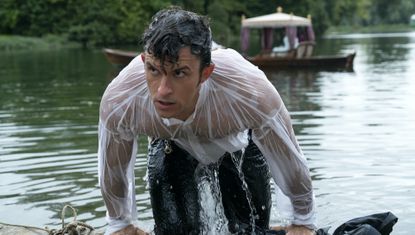 (Image credit: Liam Daniel/Netflix © 2022)
Get ready to smash that pause button: Anthony Bridgerton gets his very own sultry, soaked-shirt moment in a much-anticipated Bridgerton lake scene from season two. And man, are we here for it.
Bridgerton season 2 is definitely not as overtly sexy as the first (here's why those Bridgerton sex scenes were toned down this time around), but there are lots of subtle, tantalizing moments to be enjoyed: stolen glances, heavy breathing and plenty of almost-kisses. Swoon!
But in episode five, there's absolutely nothing subtle about the pure thirst-trap from showrunner Shonda Rhimes and her leading man Jonathan Bailey, who plays the eldest Bridgerton son. Together, they take heavy inspiration from an iconic scene in the BBC's 1995 Pride and Prejudice series, when Mr. Darcy (famously played by Colin Firth) emerges from a lake in a clinging, see-through white shirt, much to the pleasure of everyone watching.
And we don't doubt Anthony's wet-shirt scene will cause just as much racket. Here's exactly when it happens in the show, so you can get yourself emotionally, physically and spiritually prepared.
*Warning: spoilers ahead!*
---
---
'Bridgerton' lake scene: How does Anthony end up in the lake?
The lead-up to what's likely to be the most-memed moment of the series—and, in fact, is already doing the rounds on social media after the trailer was released—is all down to the love triangle between Anthony, his fiancee Edwina Sharma (Charithra Chandran), and her older sister Kate (Simone Ashley), who is clearly in love with Anthony, feelings reciprocated by the Bridgerton heir.
In the fifth episode of season two, everyone who's anyone in the Ton is gathered at the Bridgerton residence for an alfresco party to celebrate the engagement of Edwina and Anthony. There are magicians, carriage rides, card games, drinking and some very precarious-looking boats on their huge lake.
Anthony is fuming that Kate has taken a boat ride on the lake with Mr. Dorset and he steps over to cuss Dorset out on his nautical knotting skills and offer Kate his hand to help her back onto dry land. "Miss Sharma," he says. "Lord Bridgerton," she replies, holding out her hand. But when they touch, it's so electric that Kate pulls back in shock and Anthony falls over a dog, pulling his love rival into the lake with him.
"Are you hurt?" asks Edwina as the whole party gapes at the entertainment in the water. "Not at all," says Mr. Dorset. "The water is a rather welcoming refreshment, is it not, Bridgerton?"
When exactly do we need to hit pause for the 'Bridgerton' lake scene?
At exactly 23.43 minutes into the episode, a fuming Anthony strips off in the water, drenched and with his frilly white shirt going very see-through. "Refreshing indeed!" gasps Edwina, speaking for all of us, really.
"Come now, it is not proper to stare," scolds Kate, who's definitely getting a good eyeful as Anthony hauls himself out of the lake.
Phew. Okay, we're going to need a moment! And apparently, fans do, too, as many have already taken to Twitter to discuss the tension-filled moment.
We repeat: it's episode five, 23.43 minutes in. You are so welcome.
the lake scene is so much better than i expected lmfaooo #BridgertonMarch 25, 2022
See more
Men in period dramas coming out of a lake soaking wet in a white shirt? Groundbreaking everytime #BridgertonMarch 25, 2022
See more
Waiting for @bridgerton S2 to come out so I can start my petition to get a statue of #jonathanbailey erected in a lake somewhere. pic.twitter.com/aLDF2uGWlpMarch 24, 2022
See more
Cant believe bridgerton's about to give us a regency period man in wet shirt coming up from the lake scene my knees r already shakingMarch 23, 2022
See more
WELL HELLO ANTHONY LAKE SCENE that was hot someone should push him in lakes more oftenMarch 25, 2022
See more
How am I supposed to go to work and act like a serious and occasionally strict teacher when every 5 minutes my brain reminds me of Anthony Bridgerton falling into the lake? pic.twitter.com/X81hsjVcoqMarch 21, 2022
See more
Laura is a freelance entertainment and lifestyle journalist who writes for The Guardian, The i newspaper, Metro, BBC Culture and Grazia. She's happiest travelling the world and discovering new trends and, within reason, is willing to give most things a try. From feasting on rancid camel milk cheese in Morocco to jumping into the shimmering aquamarine cenotes of the Yucatan; it's all out there to be explored, then written about. A firm believer of Nora Ephron's mantra: "everything is copy".
With contributions from