Can dry skin cause acne? We ask a dermatologist to explain
The condition is most associated with oily skin types, but can dry skin cause acne? Here's what the experts have to say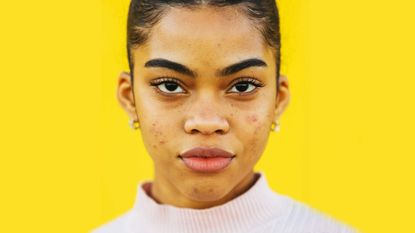 (Image credit: Getty Images / Jordi Salas)
If your skin is currently straddling dryness and serious breakouts, you might understandably have some questions for the universe. Can dry skin cause acne, or is it the other way around? How did I land two skin behaviours that (supposedly) sit at opposite ends of the spectrum? What did I do to deserve such a complex complexion? Et cetera, et cetera.
And while reaching for the best moisturizers for dry skin feels like the right thing to do to nix flakiness, slathering on a very rich formula will likely clog your pores and worsen your acne. And lo, you have yourself a bit of a skincare conundrum.
Thankfully, team My Imperfect Life reached out to one of the UK's top dermatologists to get some expert advice on what to do if you're battling dry skin and acne.
Can dry skin cause acne? Does it exacerbate it?
"Acne typically occurs when the sebaceous glands increase in size and produce too much oil, or produce oil with an abnormal composition," Consultant Dermatologist Dr. Justine Kluk tells us. "It is therefore much more common for acne to be associated with oily skin rather than dry skin, but it is certainly possible."
Dry skin can be a red flag that something is up with your skin barrier—the function that keeps moisture in and unwanted bacteria out of your skin. Our doctor notes that the relationship between dry skin and acne is more likely a side effect scenario.
"More often, dry skin occurs in the context of acne due to overzealous use or inappropriate combination of skincare products for blemish-prone skin, or using prescription creams in too high a volume or frequency, particularly in the initial phases of treatment," she explains.
"Disrupting the skin barrier in this way can cause both dry, red, irritable, flaky skin and potentially increase breakouts."
What should you do if you're experiencing both dry skin and acne?
Of course, with anything serious that's skin-related, your first port of call should always be your derm or alternatively (if you're in the UK), your GP. "Tackling dryness and acne together is definitely challenging, and it's usually best in this situation to get professional help early on. Experimenting with skincare products can easily make each of the issues worse."
As is often the case when your skin is acting out, it's sensible to strip your skincare routine back until your skin has calmed down. "General principles include keeping the skincare routine as simple and non-fussy as possible, using products that soothe and repair the skin barrier such as moisturizer and a mild creamy cleanser," Dr. Kluk adds.
"Be selective with active ingredients targeting acne to reduce the risk of aggravating dry or irritable skin. For example, although they are great for acne, retinoids, salicylic acid, and glycolic acid are highly likely to irritate dry skin."
THE TOP THREE PRODUCTS TO TRY
---
One of the most popular affordable skincare brands that dermatologists often recommend in clinic, CeraVe's gentle fuss-free cleanser is a real staple.
---
The Ordinary's formulations are loved by many because of their straightforward approach. Their 10% niacinamide formula comes with the added bonus of zinc, which can assist your skin's healing abilities.
---
The wonder treatment loved by celebrities, Sunday Riley's Good Genes is a lactic acid powerhouse. Sadly the UK version is glycolic-based which, although, is probably best to swerve for now if you're navigating dry skin and acne.
---
---
The alternatives, should you have them? "If you're opting for over the counter solutions, niacinamide is an option that can be helpful for reducing greasiness, calming spots and inflammation and respecting the skin barrier. Lactic acid has gentle exfoliating and humectant properties, so is another potential option."
A gentle moisturizer is also an essential part of your but, with regards to acne, it's a good idea to choose something non-comedogenic. This means the formula won't clog your pores, exacerbating your acne in turn.
Other dry skin and acne tips to support your skin barrier
Avoid hot showers
Some people like their showers to be scorching, but hot water can strip your skin and lead to dryness and irritation. Try to only have warm or even lukewarm showers or, if you absolutely cannot live without, limit your hotter-than-the-sun time to just a few minutes.
And remember to always cleanse your face separately from showering—doing so afterward will remove any traces of your in-shower products, like shampoo, from your face.
Try pimple patches
Pimple patches are everywhere at the moment. These little stickers often contain soothing ingredients to help reduce the size and redness of pimples overnight, while hydrocolloid (which they're often made from) draws out impurities from the skin.
But a definite benefit is that you'll be physically unable to touch or pick at the skin, meaning you'll reduce the risk of scarring. They're a gentle alternative to helping soothe angry blemishes while you work on moisturizing your skin.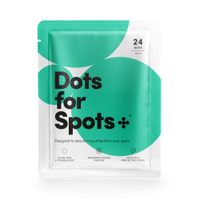 Dots for Spots Hydrocolloid Patches, $7 / £6 | Beauty Bay
One of the more affordable options, Dots for Spots nifty little hydrocolloid patches work out as less than 30 cents or 25p per sticker.
Be patient
We know, it's the most frustrating item on our list, it's hard to be patient when your complexion isn't where you'd like it to be—especially with conditions like acne that can take a toll on your self-confidence levels.
But time and patience are key to seeing improvements in your skin, so stick with the fuss-free products and always seek help from a professional if your skin is getting worse or refusing to clear up.
The My Imperfect Life team is all about helping you navigate your world. We bring you the latest on fashion, beauty, travel and wellness so you can live life on your terms.