Clinique Moisture Surge review: can this gel moisturizer really hydrate for 72 hours?
Clinique Moisture Surge review: the Intense 72H Lipid-Replenishing Hydrator promises to intensely hydrate skin with a fuss-free airy formula. We put it to the test…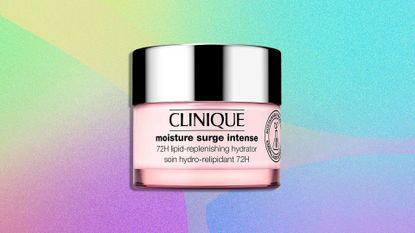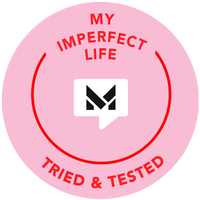 (Image credit: Clinique)
My Imperfect Life Verdict
This fast-absorbing and incredibly hydrating gel moisturizer with hyaluronic acid tackles a multitude of skin concerns and is perfect for both oily and dry skin.
Reasons to buy
+

It's cooling and lightweight

+

A water-based gel is ideal for oily and dry skin types

+

Auto-replenishes the moisture in your skin all day long. especially good for humid summer days

+

Contains cica to alleviate redness
Reasons to avoid
-

Is on the pricey side for a moisturizer
Skin that is silky smooth and bounces back when you press it can't exist without supremely hydrating skincare. That's why we rely on Clinique's Moisture Surge Intense 72H Lipid-Replenishing Hydrator—literally because it features in our pick of the best moisturizers for dry skin.
When it comes to parched, snake-like skin, there are usually two culprits to blame. First, overuse of harsh products (we're looking at you AHAs, retinoids, and sulfate-heavy cleansers) that have stripped away any natural oils and left the skin's barrier function impaired. The other is fluctuating temperatures, which can cause skin to have a major seasonal freak-out. Our faces are either assaulted with blasting radiators indoors and freezing temperatures outside during winter or are forced to adapt to an equally disruptive combination of air-conditioning and humidity in summer.
Either way, your skin is crying out for a good moisturizer but a common misconception is that the thicker and more occlusive the formula, the greater the injection of hydration. Aside from causing the skin to sweat, and pores to become blocked under such heavy layers, this approach also sends a message to the natural lipids and water reservoirs in your skin not to bother rehydrating themselves.
A far better solution is to use a lightweight gel formula that supports your skin's internal hydrating functions. Meet Clinique Moisture Surge Intense 72H Lipid-Replenishing Hydrator, which feels like a long cooling drink for your skin and, miraculously, promises to keep it hydrated for no less than 72 hours.
It's also worth noting that gel creams are moisturizers for people who don't typically love moisturizers, using their gloopy, greasy finish as an excuse for skipping this key skincare step. Sensorially, gel moisturizers are more pleasing and user-friendly as they are water-based and free of the fatty, waxy ingredients that make creams creamy. They're light, make even the dullest skin look dewy, and spread more easily.
Want to know more? Read on...
Clinique Moisture Surge review: here's what you need to know
Targets: The causes of dry skin but oily skin types, especially those using retinol, will also benefit thanks to the airy oil-free texture.
USP: A special water-holding matrix that forms an almost invisible mesh over your skin to lock in hydration.
The science behind Clinique moisture surge
Clinique Moisture Surge boasts a special water-holding matrix. Put in simpler terms, it forms a breathable mesh over your skin to lock in hydration. There are also three types of lipids, or fats, to support the skin's protective barrier so it can better keep moisture in and impurities out. The brand claims that even after washing your face, skin still stays hydrated for 72 hours after application.
The gel cream is also packed with carefully considered ingredients crafted to strengthen the skin's moisture barrier. There's hyaluronic acid, a moisture-binding ingredient with the unique ability to hold 1,000 times its weight in water. Added to this, caffeine works together with water that has been infused with aloe leaf extract to draw water from the lower layers of skin to the surface. Together, this helps to create a 'moisture reservoir' for skin to drink from all day long so it never feels tight or uncomfortable. In fact, clinical studies show Clinique's approach boosts skin moisture by 152%.
Finally, Clinique has added cica, also known as tiger grass, a centuries-old ingredient used in Chinese medicine, to take down any redness and irritation. All while steering clear of pore-clogging oil or sulfates and denatured alcohol, which can strip skin of its natural lubricating oils.
How to use
Apply in the morning and evening onto clean skin. Use alone or under makeup, on dry patches, or deliver a dose of hydration as a five-minute mask.
Packaging
Clinique Moisture Surge now comes in more sustainable packaging. All 30ml, 50ml, and 125ml are made from glass that's recyclable, while the mini 15ml jar is made with a minimum of 44% post-consumer recycled material such as plastic water bottles.
To recycle after use, simply remove the cap, then rinse the jar and place it in a recycling bin.
Pricing
The recommended RRP for Clinique Moisture Surge Intense 72H Lipid-Replenishing Hydrator is $41/£38, which is typically what you'd expect to pay for a mid-range moisturizer in a beauty hall. The 50ml jar should last for a month.
Clinique moisture surge serum: the verdict
Gel moisturizers are typically divisive for those with different skin types—those on the sensitive or oilier side adore them while dry types find they need to frequently reapply to keep skin plump and juicy. In my opinion, this is not the case when it comes to Clinique Moisture Surge, which tackles a multitude of skin concerns.
Most impressively, it continuously drip-feeds skin moisture during the day and night thanks to clever auto-replenishing technology, which is the beating heart of this product's innovation. Additionally, hyaluronic acid is a gold standard ingredient, beloved by dermatologists, for soothing and deeply hydrating the skin. In other words, this moisturizer is almost bullet-proof for all skin types when it comes to doing what it says on the jar.
The skincare savvy among you has probably noticed that this is a new version of Moisture Surge and there's a good reason for that. The new and improved formula is more effective at ensuring fine lines and wrinkles stay plumped up all day. It now also contains cica for soothing away the irritation that frequently goes hand in hand with dehydrated skin.
In as little as a week of daily application, my skin was smoother and dewier and I know that I'll be reaching for this jar in the summer months as I switch to more lightweight skincare layers.
Who should buy Clinique Moisture Surge
The marketing material promotes Clinique Moisture Surge as the answer to dry skin and yes, applied alone or under makeup, your complexion will maintain that just-moisturized feeling all day. However, a water-based gel like this one is also ideal for oily skin as it sinks in almost immediately without adding shine or clogging pores.
Chilled in the refrigerator, Clinique Moisture Surge also quickly calms redness in sensitive skin and because you can simply pat it on, there's no additional friction from rubbing. Anyone over the age of 35, whose natural moisture barrier is starting to weaken, will also benefit from a gel cream, which prevents water from evaporating from the skin. So it's a win-win all around. For another hero hydrating formula, read our Origins GinZing Moisturizer review next.
Fiona Embleton is a multi-award-winning beauty editor who has tested over 10,000 products in her 10 years + of writing and shooting beauty stories. For the past four years, she was the Senior Beauty Editor at Marie Claire, having previously worked in the role of Beauty Editor at both Stylist and Cosmopolitan. She has recently gone freelance and alongside My Imperfect Life, she has written for titles including ELLE UK, ELLE Canada, Buro 247, Harper's Bazaar Arabia, Vogue Scandinavia, and ES Magazine. Beauty journalism allowed her to marry up her first-class degree in English Literature and Language (she's a stickler for grammar and a self-confessed ingredients geek) with a passion for make-up and skincare, photography, and catwalk trends. She loves jumping on the latest internet-breaking beauty news, dissecting the best red carpet looks, and having the crème de la crème of dermatologists, make-up artists, and hairstylists on speed dial so she can tap them for the best advice. She's a discerning beauty shopper and knows it can be confusing trying to navigate what's hype and what really works. So if she really likes something, you can trust that she has reached that opinion by vetting it against everything else she's ever tried. Her career highs? Interviewing Cate Blanchett and winning a Jasmine Award for the deeply personal feature Cancer Stole My Mother's Scent.