Cruel Summer theories: Here's how the teen thriller could possibly wrap up
The '90s teen mystery is coming to a close, and Cruel Summer theories are circulating widely. Here's what we think will happen by the season's end.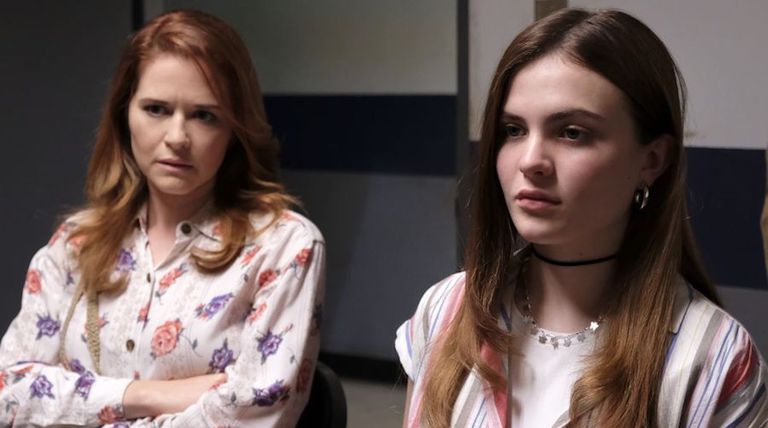 (Image credit: Courtesy: Freeform/Bill Matlock)
As our time in Skylin, Texas, comes to a close, Cruel Summer theories have begun circulating in the teen thriller fandom. Mystery buffs are questioning if they're able to completely trust Jeanette, Kate, or either girl. Who's ready for shocking reveals to unfold in the season 1 finale? (We know we are!) 
** Proceed with caution if you're not all caught up with Cruel Summer just yet, as there are season 1 spoilers are ahead **
Cruel Summer: how to watch Jessica Biel's psychological teen thriller from anywhere in the world
What happens in Cruel Summer season one?
Jessica Biel's dark, '90s-set thriller takes place over the course of three summers. We encounter the Texas town's popular girl, Kate (Olivia Holt)—blonde, bubbly, sweet, and of course, adored by everyone. When she runs into her quirky classmate Jeanette (Chiara Aurelia) in the mall, it's clear that the school outcast would love a chance to run in the popular circle alongside Kate.
As each episode progresses, things in the small town begin to change: Kate is kidnapped and groomed by her assistant principal, Mr. Harrison, with whom she has a romantic and illegal relationship. Meanwhile, Jeanette undergoes quite the transformation and climbs her way up the high school hierarchy, becoming the new "It" girl and even going so far as to date Kate's boyfriend, Jamie. 
Now, the two are at odds in the final episode—in court. Kate insists that Jeanette did see Mr. Harrison lure her into his home and didn't contact the police, though it's believed she ventured to his house willingly. Jeanette, on the other hand, alleges that Kate publicly tarnished her reputation in the media with these false accusations. 
So, exactly who do we believe? Who is responsible for all of this? Did any of our supporting characters have a hand in the chaos?
How many episodes in Cruel Summer season one?
We're coming to the end, folks: This week marks the tenth of Cruel Summer's ten-episode first season. Fingers crossed we get as many, or even more, for season two!
What time does Cruel Summer come on Hulu?
The season one finale of Cruel Summer, entitled "Hostile Witness," will air on Freeform at 10pm EST on Tuesday, June 15th. It will be available to stream on both Hulu and Freeform.com.
Cruel Summer spoilers Reddit: How will it end?
Like with any good mystery, predictions are unfolding—and quickly. Check out what fellow fans are guessing, according to Reddit. 
Some fans believe Jeanette did know about Kate's relationship with Mr. Harrison but was forced to keep it under wraps.
Others think Kate isn't the only one who was manipulated by the assistant principal and believe the mysterious Annabelle will speak out about a similar situation.
Some are siding with Jeanette and believe Kate is being vindictive and placing the blame for her problems on Jeanette. 
Regardless of what happens tonight, fans are very much excited to finally see things line up. When speaking to Decider, Olivia Holt said she had to process the ending, but believes fans are going to be impressed. 
"I think a lot of questions that people have are going to be answered, and I think people are going to walk away from this very satisfied," she said. 
Although we're still gathering our thoughts and trying to process what happened and what's still going to happen in season 1, we can only hope a second season awaits!
Danielle is a news writer for woman&home and My Imperfect Life. When she's not working, you can find her experimenting with new recipes or sitting on the couch with a good book and a cup of coffee.