The ultimate guide to the 'Bling Empire' drama with Cherie Chan and Jessey Lee
Chèrie and Jessey became one of the main talking points despite having officially left the show—here's what we know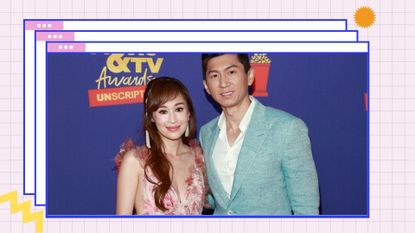 (Image credit: Matt Winkelmeyer/2021 MTV Movie and TV Awards/Getty Images for MTV/ViacomCBS)
Chèrie Chan and Jessey Lee's relationship is one of the hot topics of Bling Empire season 2, but what do we actually know about the drama?
The show is finally back with plenty of drama—as well as Kim Lee and Kevin Kreider's will-they-won't-they and a few newcomers, Chèrie and Jessey were the talk of the town among the Bling Empire cast. Here's what you need to know...
Are Chèrie and Jessey still together?
Not only are Chèrie and Jessey still together but they are also officially married. The pair tied the knot earlier this year, in Champagne, France.
Just days before the release of the new season of Bling Empire, Chèrie shared screenshots of an interview with Brides magazine, where she details how she met Jessey and he provides details of his divorce. The interview was published back in February, around the time of their wedding, so it seems she wanted people to re-share the story now so that people could hear her side of the story.
She wrote alongside the post: "Married to the love of my life. 👰‍♀️🤵‍♂️ Don't be friends with people who try to hurt your family, kids, and close friends. I will protect you always.👨‍👩‍👧‍👦👩‍👧‍👧 It's ok to marry, fall in love, have kids, divorce, marry again, we should always celebrate love and be there for one another."
In the interview, Cherie revealed to Brides that she met Jessey in Vegas while visiting mutual friends, but the two only started chatting when he reached out to her half a year later, after his divorce.
Jessey also revealed that his divorce was the 'lowest part' of his life and that it meant a lot to him that Cherie was there by his side. "For her to stand by my side and accept things… It's easy to love somebody when everything is good. When I met Chèrie, I was at the lowest point of my life. When in life you feel like you are very low, when there is someone else who is there and supports you, it really just uplifts you in this amazing way. If it wasn't for her love and support, it would have been so much tougher. Sometimes life just blesses you. Chèrie didn't have to endure what she did through my separation, but she did. She stuck around and here we are now, one happy family."
Chèrie added: "I knew he was going through a lot. Our Feng Shui master said we were together in our past lives and we were destined to be together in this lifetime."
Are Chèrie and Jessey still on 'Bling Empire'?
Chèrie had confirmed to TMZ last year that she'd left the show, so we were actually surprised to see her back. However, despite the drama brewing between her and the rest of the group, we never saw Chèrie set the record straight on the show, which probably indicates her reality TV show days are behind her. The last episode we see her in (episode three of season two) is aptly called 'Adieu ma Chérie'—it means 'goodbye my dear' in French, but could also mean 'goodbye' to Chèrie. We got the hint..Clever!
Why did Chèrie leave 'Bling Empire'?
Chèrie said she left the show to focus on her family, but it's possible the drama surrounding Jessey's previous marriage could have helped her make that decision.
It all started when Jaime heard from newcomer Leah Qin that Jessey had already been married and that he also had children from this previous marriage. Worried that this might be the reason Jessey seemed so reluctant to get engaged (season one ended with Chèrie stepping in and proposing to Jessey), Jaime decided to tell Kane.
Also worried about his friend, Kane wanted to confront Chèrie until he hears she supposedly knew Jessey while he was still married. According to Leah, the two met because Chèrie's boyfriend at the time wanted her to have more girlfriends, so he introduced her to his friend Jessey's wife, Crystal.
Kane started to take things personally because he felt that as her close friend, she should have told her—and that's when things go very wrong. After speaking to Anna Shay about it, she tells him to stop gossiping...
Mariana is Editor of My Imperfect Life. She has previously worked for titles including woman&home and Goodto, covering all aspects of women's lifestyle — from beauty and fashion to wellness and travel. She was nominated for AOP Digital Journalist of the Year in 2020, and for New Digital Talent of the Year at the 2016 PPA Digital Awards. She's mildly obsessed with reality TV (Love Island memes included) and spends far too much time checking her horoscope and figuring out the perfect curly hair routine.