Where to find the Bling Empire cast on Instagram, including the show's two newbies
The Bling Empire cast love Instagram as much as the rest of us, expect they're a little more luxury with it...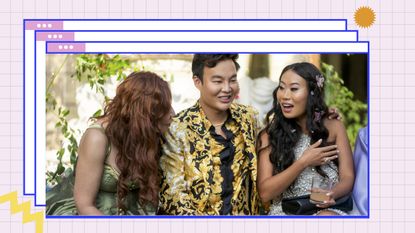 (Image credit: Netflix)
We've been hooked on the Bling Empire cast since the moment we laid eyes on them back in 2021 and now that the show is back with Netflix dropping Bling Empire season two on Friday (May 13), we can't wait to check back in with LA's wealthiest Asian-American friends... or in some cases, frenemies.
While they've been away, chances are you've been keeping up with the cast on Instagram just like we have. What we've learnt is that their lives are just as glamorous on-camera as they are off camera. In fact, ever since we followed the likes of Anna Shay, Kevin Kreider and DJ Kim Lee (who's life we're extra envious of, btw), we've been making a wish list of all the designer stores, fancy restaurant and hottest parties in LA. You know, just in case we find ourselves in their wealthy circle one day.
Though there are plenty of shows like Bling Empire, there are none like the cast themselves. Most of the time, we're wondering Is Bling Empire real or scripted? Why? Because that's how dramatic things get between this group but we're not afraid to say that we can't get enough. So if watching their lives unfold on the show simply isn't enough, here's where you can indulge in their daily happenings on social media...
Anna Shay
Kris Jenner has a strong competitor as the self-confessed queen of Bel-Air. Our newfound bling icon has won fans over with her selfless attitude and generosity. Anna Shay's carpe diem personality is worth following on Instagram, and her taste is impeccable.
Christine Alexandra Chiu
As the "villain" of the show, Christine love to impress but can come off as pretentious. But what is the wife of a multi-billionaire dynastic prince meant to be like? Christine's love for dressing up along with her extensive wig collection compliments all her beautiful jewelry, like that stunning Louis Vuitton pink sapphire and diamond necklace!
Chèrie
Cherie's Instagram was a joke on the show for her wild choice of filters, but we honestly can't stop scrolling her snaps of exclusive Hermès Birkin bags. Cherie's storyline is the most wholesome of the bunch. After welcoming a baby boy right on camera, she opens up about the tragic loss of her mother and the promise ring that won't turn into an engagement ring. But we're happy she (mild spoiler alert) finally got what she wanted season's finale.
Kane Lim
Kane is your funny yet serious friend who is the life of the party and the hookup you need for finding great new spots to hang out. Kane's relationships with the rest of the cast show his beautiful character, so, Kane if you're reading this, we want a bestie like you!
Kevin Kreider
Girls, he might be super good-looking but his cringe moments might give you the ick. Kevin Kreider spends the season topless, and nothing changes on Instagram. Kevin's TikToks on 'Attract the man of your dreams...especially if he's Asian...', are all over his Instagram. We're wondering if Kelly will give him another date in season two of Bling Empire...
Kelly Mi Li
Kelly's Instagram has influencer written all over it, as she takes us on a journey of glamour. Kelly's first season delivered serious drama, from her toxic relationship with red power ranger Andrew Gray, or her awkward salsa moment with fellow co-star Kevin. She's the talk of the town and her big blow out with Andrew in Paris was virtually bought up in every scene.
Guy Tang
Guy sadly doesn't feature too much in the show, but his brief blowup with Anna over the penis pump was the highlight of the show. Sometimes he can give us a little too much information but his Instagram is a fun mix of his hair brand Guy Tang Mydentity alongside snack reviews.
Kim Lee
Famous DJ Kim Lee has the best selfies out there. And earning 50k a job, she has enough buck to keep up with her lavish lifestyle. Kim's character is relatively conflicting, as she starts the show as a sweet mommy's girl but then throws a cocktail over Kevin midseason. Still, her estranged relationship with her now-deceased father is a heartbreaking story, we're glad you've got some great family and friends to support you, Kimmy.
Jaime Xie
Fashion-God Jaime is up there with the Kardashians, spending ridiculous amounts on keeping up her look for her influencer empire. As one of the youngest cast members at just 21, she has a wardrobe to die for we'd love to spend a day shopping with Jamie and her stylist.
Mimi Morris
Businesswoman Mimi may be living a life of luxury now but she hails from humble beginnings in Vietnam. "At the height of the war, at the age of seven, Mimi and her seven brothers and sisters were unable to flee their village to find safety, so instead spent two years living in a large hole in the ground, with scant food or water," according to Netflix. Mimi never lost her "hard work ethic" and started her own business once she moved to America. Her husband is Donald Morris, CEO of Morris Group International and he couple have three children together. It's safe to say their lives are luxury at its peak.
Dorothy Wang
TV personality and entrepreneur Dorothy Wang is no stranger to reality TV. She four seasons of Rich Kids of Beverly Hills, where she built up a fan base that will no doubt be following her to Bling Empire. "Born and raised in Beverly Hills, Dorothy's Chinese-born mother and father moved from Taiwan to the United States for graduate school," says Netflix. "Her father, Roger Wang, quickly built a successful real estate business and always instilled in Dorothy and her sister the importance of hard work, family values, and giving back to the community."
Since December 2020, Kudzai has worked as a trainee journalist at FUTURE, writing about fashion, entertainment and beauty content for My Imperfect Life.

Kudzai previously worked as a freelance fashion wardrobe stylist, directing magazine photoshoots and coordinating the fashion direction of recording artists.

A fully qualified Journalism and Media graduate from De Mont Fort University, Kudzai graduated in the summer of 2020.