Creed from 'Too Hot to Handle' season 4 tells us all about those love triangles and leaving the show early
What went down with Flavia, Imogen and Creed from 'Too Hot to Handle'? We talked to the season 4 bad boy directly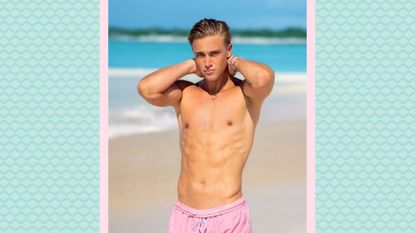 (Image credit: Netflix)
When the series aired in December 2022, the Too Hot to Handle season 4 cast instantly became some of the wildest in the show's history—and Creed from Too Hot To Handle became one of the most divisive of them all.
Airing on Netflix at the end of last year, the most recent series of THTH was full of rule breaks, arguments, and a whole lot of lovin'. From late arrivals (including wild cards Flavia Laos and Ethan Smith) to love triangles, to plenty of snogging, Too Hot to Handle season 4 has been nothing short of drama—and as viewers will well know, ladies man Creed McKinnon was at the center of a lot of it.
To get the scoop on what really went down during the month the contestants were in Turks and Caicos—particularly how one man could find himself in two (!!!) love triangles— we spoke to none other than the fourth season's resident bad boy, Creed McKinnon.
*Warning: spoilers ahead!*
Creed from 'Too Hot to Handle' chats to My Imperfect Life
Q: You didn't expect to go on to Too Hot To Handle, you expected to be on a show called Wild Love. Were there no warning signs at all that things weren't as they seemed?
A: No, not at all and, to be honest, I don't really watch TV a whole lot. So, I had heard of what Too Hot was but I'd never binged a season before, so it was all new to me. Wild Love also sounded like an absolutely brilliant concept, so I was buzzing about that. I had maybe six different casting producers hit me up. So I saw that as a godsend and was like, 'you know what, Creed, just take this opportunity.' And then when we found that it was Too Hot, it was a bit like, 'here we go.'
At first, it seemed like Nigel was going to be this season's player but it ended up being you, as you were involved in love triangles the whole time. How did you get into a situation like that?
My whole life, I've kind of always just been that nice guy that always gets in a bit of trouble because he likes to connect with people. I never really want to put out in a sense, I'm not really kissing a whole lot of people or sleeping with a lot of people but I do like the interaction with a lot of people. So that's kind of where I was in a bit of a sticky situation through the retreat. I grew up with girls. I went to college and lived with six girls in the college house. So, in the retreat, sometimes it would come off as flirting, meanwhile, I was just kind of wanting to be there for the girls. It's a real environment, everyone was kind of quite emotional, so you really want to be there for people. And when you spend more time with people, you tend to connect with them. And that was kind of where my head started to go.
Sophie didn't take your kindness that well. Do you think her reaction was warranted?
I wasn't expecting it, to be honest. We had only known each other for, like, a week. Maybe I just have that effect? I don't know. I think I would have acted differently if I knew that that would have been the repercussion. But in my head, it was quite different from how she felt. At the end of the day, I wouldn't even say it was a lack of communication; it was kind of just interpreting a situation quite differently.
It does seem like an intense environment.
It's an extremely intense environment. You saw that even I broke down quite a lot in tears because, you know, emotions run high in there. Feelings are sky-high in there. So I would never hold a grudge for anything someone said to me because, at the end of the day, you're not 100% yourself in that situation.
What was it about Flavia and Imogen that had them stuck in your head?
Honestly, those two girls are unbelievable, I can't speak highly enough of the two. Flavia is such an amazing girl (Flavia and Creed got very close, before new girl Imogen came in). My mind is blown, especially since spending more time with her and seeing how things are in the outside world. Then Imogen as well, she's an Aussie and this was a huge curveball for me. I left Australia when I was 14 years old, it had been about 10 years and I haven't had much Australian interaction throughout those 10 years. So, when I eventually got that with Imogen, oh my word, it was just beautiful. Like, I was reminiscing on the good old days as a child because when I left Australia, I kind of boxed that part of my life and put it to the side and focused on the present. So being with Imogen really reminded me of how beautiful the upbringing in Australia was. We were singing nursery rhymes together, we were laughing about the food in Australia and the banter. So it was kind of just a massive headspin, two amazing girls that just are so different and so special. They're beautiful people inside and out.
Where do you stand now with them—are you friends or more?
Right now, for me, the best relationships are built on friendship. That's something I stand by 100%. I can't even explain to you how close we all are as a family, not just the girls but everyone as a group. But I talk to the girls almost every day. We're always checking in on each other. I'm definitely going to be making trips around the world to see how they're living in the outside world.
You left the show early because of your indecision between Flavia and Imogen. Were you expecting to leave?
It was definitely a shock. I don't think you can prepare yourself for the magnitude of leaving, but a part of me was like, 'this is definitely the right thing.' I was stuck between a rock and a hard place, and it was kind of something that had to be answered by the outside world. I had a grand exit, and the one thing I was most afraid about was that no one would be my friend afterwards, but as soon as we all connected on the outside world, that was gone. And you know what? I'm in all 10 episodes.
You were in the house for a month. Do you feel like the show changed you in any way?
I'm definitely keeping people more at arm's length. You'll see in the show, I was just extremely open to everything that came my way, but now I'm moving a bit slower. This year has also been a massive focus on personal growth and strengthening those relationships that I've already had because I really want to give the best part of me to my future partner.
If you had to pick someone from another season, who would you pick?
This is going to be controversial, but I've met [Too Hot to Handle season 3 cast member] Georgia Hassarati in Bali. And it might just be the Australian thing, but she is an unbelievable girl.
Who's your favourite couple from Too Hot to Handle this season?
It's hard to put your finger on one because they all had such different journeys. I love Seb so much. Seb's my brother, so I can't really pick a favourite couple. Jawahir and Nick are amazing. Kayla and Seb had an unbelievable journey, and Brittan and James had a roller coaster journey as well. So they're all beautiful in their own way.
This interview with Creed from Too Hot to Handle was published in December 2022, and has been edited and condensed for clarity.
What has Too Hot to Handle's Creed been up to since the show aired?
We at My Imperfect Life interviewed Creed as the show was airing back in December 2022—so what has the former contestant been up to since then?
According to his Instagram feed, it looks as though he's been spending plenty of time in Europe and, as mentioned, hanging out with his fellow THTH co-stars.
In late January, Creed posted a pic of himself in front of The Louvre in Paris, and revealed that he was attending part of Paris Fashion Week. Most recently, he has shared images to his feed of him attending events in London, such as the recent premiere of the film Knock at the Cabin. He has also shared some cute snaps of himself with his fellow Too Hot cast members, including his bestie Seb and Flavia.
Looks like Creed is living his best post-THTH life!
Catch Too Hot to Handle's Creed on Too Hot to Handle season 4, streaming now on Netflix.
Liv is a freelance journalist currently studying English at university. She loves covering everything from entertainment and politics to lifestyle and travel. As well as writing for My Imperfect Life, Liv has bylines in The Times, HuffPost, Den of Geek, Bustle The Metro and The Bookseller.