Okay, what's the deal: Is Cruel Summer based on a true story or not?
Is Cruel Summer based on a true story? In true Jeanette fashion, 'we don't know what's going on, but we're here for it'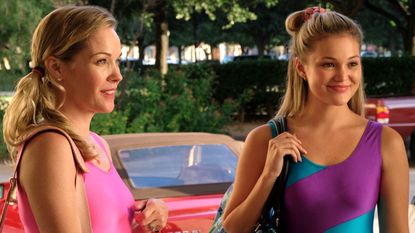 (Image credit: Freeform)
Freeform's drama-mystery has everyone wondering: 'is Cruel Summer based on a true story?'
The show about two Texas teens unravels when one of the girls is mysteriously abducted, and the focus turns to the other, before finally exposing the secrets they've both been trying to keep buried. It doesn't seem entirely fictional...
---
---
Is Cruel Summer based on a true story?
Thankfully, Cruel Summer isn't actually based on real events. Since the show addresses various themes including jealousy, teen depression and the desire for validation, it's common for viewers to wonder whether the series is based on real stories. (Folks are still wondering is Firefly Lane a true story, too!)

In fact, the show is based on a fantasy narrative written by screenplay writer Bert V. Royal, who is best known for writing the Off-Broadway hit Dog Sees God: Confessions of a Teenage Blockhead.
With so many historic cases being adapted into films or shows, it's natural to wonder if the suspenseful tale really occurred in real life.
Where is Cruel Summer set?
In terms of era, the show is set in the 1990s, giving it a cool, yet nostalgic vibe. The exact years the show is set are 1993, 1994, and 1995, so there are lots of fun elements like pagers, Walkmans, and dial-up internet—flashback to the past anyone?
But, as the facts surrounding Kate's abduction become clearer, will the era choice become more relevant in the case? Well, for that you'll just have to wait and see.
How to watch Cruel Summer season 1
Fans can watch Cruel Summer from anywhere in the world, which means the YA thriller is bound to amass more fans than ever before.
While US-based viewers have been watching the show on Freeform and streaming it via Hulu, those in the UK have finally been treated to the action-packed series. Cruel Summer just hit Amazon Prime as of August 6th, so we guarantee there's a marathon in the near future for many.
But if those methods—or locations—can't give you access to Jessica Biel's new show, don't worry: a VPN will allow you to browse anonymously, and to change your IP address so your mobile, computer, or laptop thinks it's in another location. Meaning, you can watch your favorite show, film, or event from anywhere in the world.
Our favorite VPN service is ExpressVPN—rated the best VPN in the world right now, by our colleagues at TechRadar.
Will there be a Cruel Summer season 2?
The mystery continues! Although we know for certain that a second season is set to premiere in 2022, the main plot points are still a work in progress. We're definitely anxious to see where the show's creators take us next, and we'll certainly be brainstorming Cruel Summer theories before you know it. We are all for a return to Skylin, Texas.
Since December 2020, Kudzai has worked as a trainee journalist at FUTURE, writing about fashion, entertainment and beauty content for My Imperfect Life.

Kudzai previously worked as a freelance fashion wardrobe stylist, directing magazine photoshoots and coordinating the fashion direction of recording artists.

A fully qualified Journalism and Media graduate from De Mont Fort University, Kudzai graduated in the summer of 2020.