Did Sara actually die in 'Who Killed Sara'?
What really happened with that parachute incident? Did Sara actually die in 'Who Killed Sara'? Here's what we know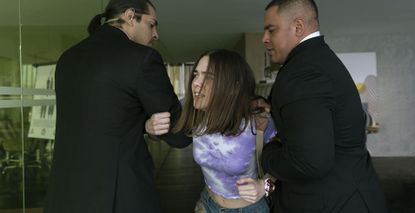 (Image credit: Paulina Campos/Netflix)
Who Killed Sara? (¿Quién Mató a Sara? in Spanish) has kept fans hooked since it first premiered in March 2021. With each season questioning everything we thought we knew, making our jaws drop multiple times an episode and leaving us with more questions than answers, the show is hands down another must-watch hit by Netflix. But one of the biggest questions pops up in Who Killed Sara? season 3: did Sara actually die?
The Mexican mystery thriller follows Álex Guzmán who—after being wrongly convicted of his sister Sara's murder and imprisoned for 18 years—decides to launch an investigation into who really killed Sara.
The question of who killed Sara Guzmán is not only the title of the show but makes up the main storyline, as we see how Sara's life and her many many secrets intertwine with every single character's actions. However, the initial story of Sara dying when the cords of the parachute were cut was put into question by the Who Killed Sara? season 2 ending, which showed Nicandro looking through a file as he schemingly tells Dr. Alanis that now that everyone thinks Marifer is the one who killed Sara, the story needs to stay that way. I.e., things are not as they seem.
So, did Sara actually die in Who Killed Sara? Has the show title been a red herring all along? Here's what we know.
*Warning: spoilers ahead!*
Did Sara actually die in 'Who Killed Sara?'?
In short, no.
For the first two seasons of Who Killed Sara? viewers have been under the impression that Sara died from her injuries from falling from the parachute. However, in episode one of season three, we see Sara's body being exhumed to confirm whether or not she's truly deceased, with Alex and Rodolfo watching on. We then see Rodolfo approach Sara's coffin and confirm to Alex that there is no body in the coffin, which changes Sara's status of "dead" to "presumed dead."
This obviously opens a whole new can of worms, as we don't know what happened to Sara's body or if she's even actually dead to begin with. We've said it before and we'll say it again—this show is wild, so we're honestly not surprised that something like this would happen in the opening moments of season three.
This then launches Alex's investigation into what happened to his sister from the time he brought her to the hospital at approximately 4pm and her being declared dead (as per her death certificate) at around 7pm. We see flashbacks of Alex rushing his sister to the hospital and then being forced to leave the room as they supposedly work to save her life. However, in the next two episodes, it's revealed that when they usher Alex out of the room, it's in order to get Reinaldo into the room as he's deemed Sara the perfect patient for his new endeavor called the Medusa Project.
Reinaldo takes over Sara's care and is told by the doctors that she will not survive there and needs to be flown to Mexico in order to be saved. He agrees because he desperately wants her for the Medusa Project. Yeah, Reinaldo is not a good man and we should also mention he is Nicandro's dad, which also explains a lot!
So it's cleared up that Sara did not die from the parachuting accident like everyone thought and was instead kidnapped and committed to a psychiatric hospital by Reinaldo. We see her heavily pregnant and heavily medicated staring at the walls of the room she's been given, which is covered in loads of disturbing drawings. Viewers are then told via a file Alex finds in the "burn unit" that was set up for Marifer—but was never actually a hospital to begin with—that Sara gave birth to her daughter on March 8 and had a natural birth with one epidural administered.
Whew, talk about a twist, And that's just from the first three episodes!
Who actually killed Sara in 'Who Killed Sara?'?
Sara Guzmán committed suicide. After giving birth to her baby Lucia and being separated from the child, Sara was subjected to more experimentation from Reinaldo, as he hoped to use her to make a medicine for those with schizophrenia. Sara, being the girl that she is, somehow got hold of a knife and stabbed herself, saying that she wouldn't be Reinaldo's guinea pig anymore.
All episodes of Who Killed Sara? season 3 are now streaming on Netflix. Here's what's happening with Who Killed Sara? season 4.
Liv is a freelance journalist currently studying English at university. She loves covering everything from entertainment and politics to lifestyle and travel. As well as writing for My Imperfect Life, Liv has bylines in The Times, HuffPost, Den of Geek, Bustle The Metro and The Bookseller.