Did Yolanda Saldivar have a shrine like the one on Selena: The Series?
Yolanda Saldivar is seen to have a shrine on Selena: The Series but did that really happen?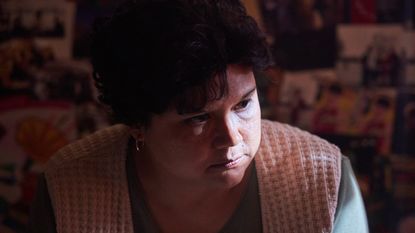 (Image credit: Cr. SARA KHALID/NETFLIX ©️ 2021)
Selena: The Series has given many of us a closer look at the life and legacy of the late Tejano superstar—from Selena Quintanilla's best songs to Selena's timeless outfits—but it's also left us with a few burning questions, including: did Yolanda Saldivar really have a shrine?
While many already knew the tragic story behind who killed Selena, the second season of the show has introduced us to the early stages of the singer's friendship with superfan, Yolanda Saldivar, the woman who ultimately ended up killing Selena Quintanilla Perez.
As we're shown on the show, Selena met a 30-year-old Yolanda in 1991. At the time, Yolanda was a newly qualified nurse who offered to found the Selena Fan Club, an official club for fans of the singer. She eventually wormed her way into the Quintanilla family, gaining their love and trust and becoming a close friend and confidant to Selena. However, there's a lot more to follow than what we've seen on the show so far, including the superfan's growing obsession with Selena.
Did Yolanda Saldivar really have a shrine?
Shortly after Selena's death, the Texas Monthly reported that Yolanda's apartment was "like a shrine" for the singer. A number of people also came forward to express that they were alarmed by Yolanda's attachment to Selena, including Martin Gomez, a designer who shared office space with Yolanda.
Speaking to The Washington Post days after the tragic shooting, he said: "She was very vindictive. She was very possessive of Selena. She'd get, like, very angry if you crossed her. She would play so many mind games, say people had said things they hadn't said."
Was Yolanda Saldivar obsessed with Selena?
It is believed that Yolanda was dangerously obsessed with Selena, becoming completely fixated by her over the years. In the four years that Yolanda launched the Selena fan club, it gained thousands of members, bringing her closer to her idol and helping her gain Selena's trust—so much so, that she entrusted her to not only lead the fan club but also manage Selena's new boutiques for her clothing line, putting Yolanda in charge of her business accounts.
However, as Yolanda's responsibilities and bond to the Quintanilla family grew, Selena's dad and manager Abraham began to question her intentions, especially after he found hints suggesting Yolanda was embezzling money from his daughter's boutiques. He demanded that she proved her innocence, which is when things turned sour.
Yolanda was terrified of losing everything she had worked for, which is believed to be the reason she murdered Selena. "Yolanda wanted to kill Selena because Selena was firing Yolanda," Carlos Valdez who served as the lead prosecutor in Saldívar subsequent murder trial, told A&E Real Crime. "She wouldn't exist if she didn't have Selena. And if she didn't work for Selena, she didn't want to work for anybody."
Sagal is a journalist, specialising in lifestyle, pop culture, fashion and beauty. She has written for a number of publications including Vogue, Glamour, Stylist, Evening Standard, Bustle, You Magazine, Dazed and Wonderland to name a few.