Who killed Selena Quintanilla Perez and why?
The tragic story behind who killed Selena Quintanilla Perez explained...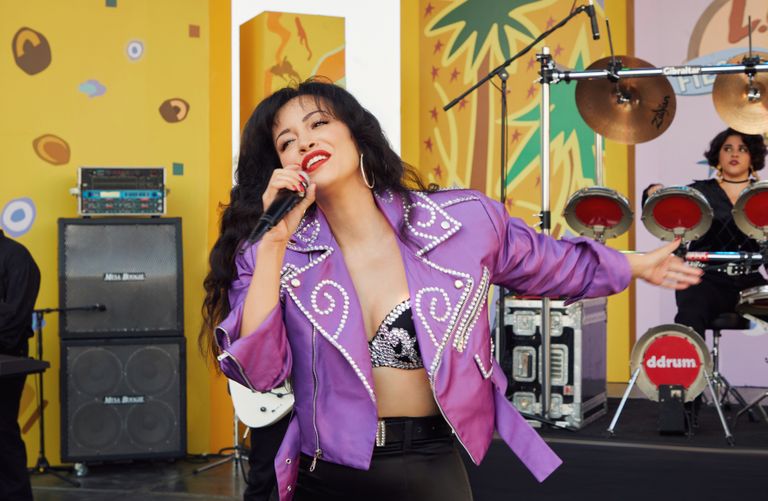 (Image credit: Netflix )
If you're currently watching Netflix's Selena: The Series you may be wondering who killed Selena Quintanilla Perez, the Tejano superstar whose life was tragically cut short when she was murdered in 1995. 
Selena, who was a Mexican-American born and raised in Texas,  was a legend for a plethora of reasons. Not only was she the first major Latin celebrity to break the mainstream music industry, Selena Quintanilla's songs were chart-topping and won Grammy awards too, but she quickly became a beauty icon for refusing to conform to norms and embracing her natural beauty instead, be it her curves or enhancing her features with her famous makeup routine. Selena's outfits were some of the best '90s looks to date and also solidified her as a style queen.
Her life and legacy has been honored over the years in the form of artwork, dedicated cosmetic lines, and her famous 1997 biopic, in which Jennifer Lopez plays her. Now, Selena fans—both old and new—are able to watch the dramatized version of her life on Netflix, with the recently released part two of the show airing on the streaming service now. Naturally, it has raised many questions about what happened to the singer, including how Selena Quintanilla died and who killed her.
 Here's the heartbreaking story of her murder explained... 
How did Selena Quintanilla die? 
Selena Quintanilla was shot and killed in Corpus Christi, Texas, on March 31, 1995. She was only 23-years-old at the time. 
Who killed Selena Quintanilla?
Selena was killed by a woman named Yolanda Saldívar, the president of her fan club who grew close with the  Quintanilla family. As those who have already binge-watched part two of Selena: The Series will know, Selena first met Yolanda in 1991 when she was a newly-qualified 30-year-old nurse in San Antonio, Texas as well as being a super fan of the singer. At the time, she was 11-years older than her idol but she was passionate about her love for her—she even called up Selena's dad/manager to ask permission to form the fan club she eventually headed up. 
The club quickly amassed over 1,500 members and Yolanda was dedicated to promoting the star, always by her side whenever she would visit her own town in Texas. However, as we've yet to see on the show, the loving relationship between the two quickly became toxic as Yolanda grew obsessed with Selena, to the point where people around her and Selena's family were concerned about just how much she "loved" the singer. 
Nevertheless, the two continued their friendship for years before Yolanda's fixation ultimately led to the death of Selena. On March 30, 1995, Yolanda checked into a local Days Inn in Corpus Christi, where she called Selena and asked to meet up. The women met up the next day and ended up arguing over some financial documents the singer needed to file her taxes. As Selena headed for the door, on her way out of the hotel room, Yolanda took out a gun and pulled the trigger, shooting Selena in the back and fatally wounding her. Selena was declared dead at Corpus Christi Memorial Hospital, just 90 minutes after the shooting, creating shockwaves across the nation. 
Did Yolanda Saldívar get charged? 
A few months after the shooting on October 15, 1995, Yolanda went on trial in Houston for the murder of Selena. Her lawyer insisted that the shooting was an accident and that she meant to fire the gun at herself, according to The New York Times. However, she was eventually convicted of first-degree murder on October 24, 1995, following testimonies from Selena's father, husband, and sister.