Who killed Selena Quintanilla Perez? The tragic death of the iconic singer
Who killed Selena Quintanilla Perez? This is the heartbreaking true story of the murder of the much-loved performer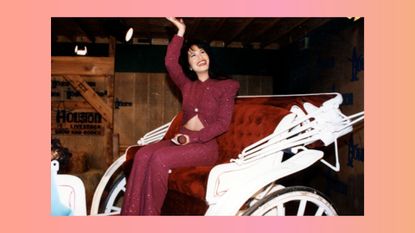 (Image credit: Arlene Richie/Getty Images)
Who killed Selena Quintanilla Perez? The true story behind the singing superstar's untimely death is as shocking as it is tragic.
Selena was a music sensation, reaching the height of her fame in the last 80's/early 90's. And we're still obsessed with her fabulous outfits and her classic songs like "Como La Flor" and "Bidi Bidi Bom Bom." But of course, the Tejano superstar's life was cut heartbreakingly short—so whether you've watched the Netflix series or the JLo-led film about her life, or nothing at all, you might have questions about Selena Quintanilla Perez.
The Netflix show, Selena: The Series, is based on the life of the famous singer who captivated the world until she was tragically murdered in 1995. If you were old enough to witness the tragedy, then you may already know the answer to who committed the crime—but it might still be a mystery for a lot of new viewers and younger fans. If you're wondering who killed Selena Quintanilla Perez, we've shared the details of the incredibly sad story below.
Who was Selena Quintanilla Perez?
Selena, who was a Mexican-American born and raised in Texas, was a legend for many reasons. Not only was she the first major Latin celebrity to break into the mainstream music industry, but Selena Quintanilla's songs were a commercial and critical success, winning Grammys and topping charts.
The singer also became a beauty icon for refusing to conform to norms, and embracing her natural beauty. Be it her curves, enhancing her features with her famous Selena makeup routine, or her iconic Selena outfits—the singer's style resulted in some the best '90s looks to date, and have all solidified her as a truly iconic style queen.
Her life has been honored in many ways over the years, from artwork to cosmetics lines. But possibly the most notable is the now iconic 1997 biopic, Selena, in which Jennifer Lopez played Quintanilla-Perez as one of her first acting roles.
And Selena fans—both old and new—are now also able to watch another dramatized version of her life via the Netflix series which was released back in 2020. Naturally, the show has raised many questions about what happened to the singer, including how Selena Quintanilla died, and who killed Selena Quintanilla Perez.
Who killed Selena Quintanilla Perez—and why?
If you're wondering who killed Selena, the hugely popular performer was killed by a woman she actually knew very well. Selena was murdered by Yolanda Saldívar—and she was also the president of her fan club, and grew close with not only Selena but the entire Quintanilla family, too.
As those who have already binge-watched Selena: The Series will know, Selena first met Yolanda in 1991. Yolanda was a newly-qualified 30-year-old nurse in San Antonio, Texas, as well as being a super fan of the singer. At the time, Yolanda was 11 years older than her idol, but she was passionate about her love for her. She even called Selena's dad/manager, Abraham Isaac Quintanilla Jr., to ask permission to form the fan club she eventually headed up.
The club quickly amassed over 1,500 members, and Yolanda was dedicated to promoting the star, and was always by her side whenever she would visit Texas. In fact, she even became the manager of Selena's two fashion boutiques in Texas, firmly cementing her place in the singer's life.
However, as viewers will have seen on the show, the loving relationship between the two quickly became toxic, as Yolanda grew obsessed with Selena—to the point where people around her and Selena's family were concerned about just how much she "loved" the singer.
Nevertheless, the two continued their friendship for years, before Yolanda's fixation ultimately led to Selena's death.
On March 30, 1995, Yolanda checked into a local Days Inn in Corpus Christi, Texas, where she called Selena and asked to meet up. Leading up to this day, there had been a number of questions about how Yolanda was handling the finances of the Selena fan club, with serious concerns from Abraham and eventually, Selena herself. After Yolanda checked into the motel, the women met up the next day and ended up arguing over said financial documents.
How did Selena Quintanilla die?
After arguing at the motel on on March 31, 1995, Selena headed for the door—but as she made her way out of the room, Yolanda took out a .38 revolver and pulled the trigger, shooting Selena in the back and fatally wounding her. Selena was declared dead at Corpus Christi Memorial Hospital, just 90 minutes after the shooting.
Although the medical team tried to revive her, the bullet that Yolanda Saldívar shot had severed an artery and Selena died of hypovolemic shock, with her death being pronounced at 1:05 pm. She was just 23 years old, and left behind a husband and entire family.
The Selena murder send shockwaves across the state, nation and the world, and two weeks after her death, on April 12, 1995, then-Texas governor George W. Bush commemorated the late singer by declaring her birthday "Selena Day" in the state of Texas.
While no one could have seen the murder coming, there have since been reports of Yolanda's obsessive behavior, and her 'fixation' on Selena.
A man called Martin Gomez, who was a designer at Selena's boutiques, told The Washington Post (opens in new tab) that Yolanda had a very 'vindictive' side to her. He said, "She was very vindictive. She was very possessive of Selena.
"She'd get, like, very angry if you crossed her. She would play so many mind games, say people had said things they hadn't said."
He continued, addressing the pair's relationship: "Selena treated her very professionally. Selena was a darling girl, very sweet, very sweet, but I never, ever thought Selena treated her special.
"She was nice to all of us. But it got to the point where Yolanda was the leeway between us and Selena, she was the voice, and she tried to shut everyone out."
Did they give Selena blood at the hospital?
In the years since her death, there have been rumors on social media and the internet that Selena was, for some reason, allegedly denied procedures at the hospital she was taken to that could have saved her life.
One such procedure is that she was not given a blood transfusion, due to religious beliefs. However, her father Abraham Quintanilla has swiftly denied these rumors, telling 3 News (opens in new tab) that she was in fact given a blood transfusion as soon as she arrived.
He explained, "Selena was given blood by the doctor. When she arrived at the hospital at the emergency room after she was shot.
"For 26 years, I have read on social media, people criticizing me that Selena died because I didn't want to give her blood. That it was religious fanaticism. They are incorrect, completely incorrect."
What happened to Yolanda Saldívar? Did she get charged?
As for Selena Quintanilla Perez's murderer, Yolanda Saldívar was charged and sent to prison. Immediately after killing Selena though, Yolanda entered into a nine-hour stand-off with police, holding the gun to her head while negotiating with law enforcement.
On October 15, 1995, Saldívar went on trial in Houston for the murder of Selena. Her lawyer insisted that the shooting was an accident and that she meant to fire the gun at herself, according to The New York Times (opens in new tab). However, she was eventually convicted of first-degree murder on October 24, 1995, following testimonies from Selena's father, husband, and sister.
Where is Yolanda Saldívar now?
Yolanda Saldívar is currently serving time at a maximum-security facility in Gatesville, Texas called Mountain View Unit. It has been reported that she might be eligible for parole in 2025—30 years after she committed the horrific murder of Selena the singer.
In an interview with 20/20 News, Yolanda states her belief that the killing was an accident, saying that she was holding the gun to her own head. She explained, "I said, 'If you don't leave, I'm going to do it Selena [referring to killing herself]'. And she said, 'Mom (a nickname Yolanda says Selena had for her), we need to talk about this, I'm going to close the door'
"And when she was walking towards the door, she was going at an angle. And I told her, 'Don't close the door', and in that instant, the gun went off."
Sagal is a journalist, specialising in lifestyle, pop culture, fashion and beauty. She has written for a number of publications including Vogue, Glamour, Stylist, Evening Standard, Bustle, You Magazine, Dazed and Wonderland to name a few.
With contributions from