Selena: The Series season 3—is it happening?
Is Selena: The Series season 3 on the way? This is how many seasons of the show we'll get...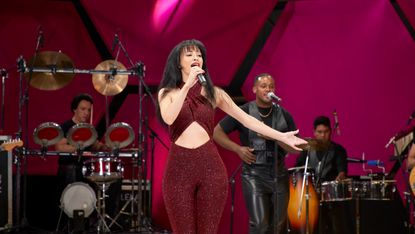 (Image credit: Cr. SARA KHALID/NETFLIX ©️ 2021)
If you've watched seasons 1 and 2 already, you might be wondering if Netflix will grace us with Selena: The Series season 3.
The first season of Selena: The Series, which is led by Christian Serratos as the titular star, debuted on Netflix back in December 2020. It focused on Selena's childhood in Texas and the beginning of her career in a family band with her brother and sister titled Selena Los Dinos, managed by her father, Abraham Quintanilla. We watched the making of Selena, the release of her first Spanish album, Ven Conmigo as well as the making of some of the most famous Selena Quintanilla's songs.
Meanwhile, the second season of the show, which dropped on the streaming service on 4 May, is all about Selena's journey to mainstream success as she prepares to finally release her first English language album, her marriage with Chris Perez in 1992, and her toxic relationship with Yolanda Saldivar, the woman who ultimately shot and killed her on March 31, 1995.
So will will there be a season 3 of Selena: The Series?
We didn't get to see her death played out which tells us that Selena: The Series season 3 could potentially be on the way. However, Netflix has yet to confirm that the show will be renewed for a third season.
According to creator Moisés Zamora, Selena: The Series was originally pitched as a limited series. Speaking to Deadline, he explained that he worried the streaming service wouldn't see the value in a show about Selena beyond three or four episodes, so he mapped out the story with a tight 20-episode arc. "I saw that we could really just see the journey that this family takes," he told Deadline. "We can also see, piece by piece, the making of Selena."
Now that we have seen the first 18 episodes, Zamora explained that it was up to Netflix whether they'd like the show to continue with production. "That's up to Netflix's discretion to say how many more," he said, which isn't exactly a no. Guess we'll have to keep our eyes peeled for more news!
Ahead of season two's release, Francisco Ramos, VP of Latin American Originals told Deadline: "When Selena Quintanilla burst onto the Tejano music scene in the 80s, her dream was to make music that celebrated both her Latin roots and her Mexican-American upbringing. She ultimately brought these two worlds together, leaving behind a timeless legacy that still resonates with generations of fans around the world. We had the same hopes when we released Selena: The Series in December on Netflix. We wanted to pay tribute to the young girl with big dreams and an even bigger voice, and honor her incredible rise from performing local gigs with her family to gracing some of the world's biggest stages."
We've got everything crossed for a third installment of the show!
Sagal is a journalist, specialising in lifestyle, pop culture, fashion and beauty. She has written for a number of publications including Vogue, Glamour, Stylist, Evening Standard, Bustle, You Magazine, Dazed and Wonderland to name a few.