Where is Selena Quintanilla's husband now?
This is where Selena Quintanilla's husband is now...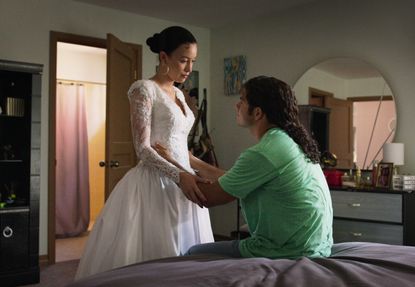 (Image credit: Netflix )
Where is Selena Quintanilla's husband now? It's a question you may have asked yourself after looking into the life of the late Latin music legend following the release of Netflix's Selena: The Series, a biographical drama based on her life and journey to stardom.
Fans of the Tejano superstar will already be familiar with the tragic story of her death and who killed Selena, though the show has brought her story back up to the surface, breaking hearts all over again whilst also celebrating her beautiful life and legacy.
The Mexican-American Texas native had performed as a musician since the age of ten but it wasn't until the late '80s that she blew up into the fully-fledged icon she is remembered as today. With chart-topping hits that are now recognized as classics, she made her mark on various industries like the true star she was—from paving the way in fashion with Selena's chic 90s outfits to becoming a role model for young women in the Latinx community and beyond for embracing her natural beauty, and of course, that timeless Selena Quintanilla makeup routine that women around the world still replicate today.
Selena was loved by the masses, making her devastating murder a gut-wrenching loss for the world and most significantly, those closest to her including her husband, Chris Pérez.
Here's everything you need to know about Chris, from when he married Selena to where he is now.
Did Selena Quintanilla get married?
Selena and Chris have a whirlwind of a love story that truly was one for the ages. The two met in the early '90s when Chris joined Selena's band, Selena y Los Dinos, as a guitarist. Blown away by her talent and beauty, it was love at first sight for Chris, who once told Entertainment Tonight: "I'm a shy person by nature, and there was just something about her that she was able to pull me out."
As we see in the first episode of Selena: The Series, the couple secretly got married on April 2, 1992, after eloping at the Texas courthouse, just like they did in real life. They were both young at the time, with Selena being 20 and Chris being 22. Reminiscing on the day in a Facebook post back in 2017, Chris wrote: "Selena and I decided that the only way to be together . . . was to run away and get married. What a rollercoaster ride THAT day was."
Like all married couples, Chris and Selena had their ups and downs, with Chris admitting that the couple even considered divorce at one point. "I think what it boiled down to is that we were young," Chris told CNN in 2012. "We were married and together 24 hours a day, seven days a week. We had to learn how to handle that and that was both of us." Despite their troubles, the couple always worked things out and were keen on starting a family together but sadly, they never got the chance to before Selena was murdered.
Who is Selena Quintanilla husband?
Selena was married to guitarist Chris Pérez, who joined her family band in the early 90s.
Where is Chris Perez now?
Chris Pérez is now 51 years old. He remains a musician but also has his own hot sauce company called Perez Pepper Sauce. He remarried in 2001, tying the knot with a woman named Venessa Villanueva. The couple has two children named Noah and Cassie but got divorced in 2008.
After Selena's passing, Chris continued his music career and won a Grammy in 1999 for Best Latin Rock/Alternative Performance for the song, "Resurrection."
In 2012 he wrote a book titled To Selena, with Love, where he recounts his life with her and addresses how he has navigated life without the love of his life. "My life has gone on. More than anything, I am grateful to Selena for teaching me the meaning of love, I was fortunate enough to be able to marry again and have children," he wrote. "I wish that I could have had a family with Selena, as we had always planned; still, I know that Selena was the one who made this possible for me. She showed me how to drop my guard and embrace life."
Sagal is a journalist, specialising in lifestyle, pop culture, fashion and beauty. She has written for a number of publications including Vogue, Glamour, Stylist, Evening Standard, Bustle, You Magazine, Dazed and Wonderland to name a few.