Do Ginny and Marcus get back together in 'Ginny & Georgia' season 2?
Fans are seriously shipping Ginny and Marcus, but do they rekindle their romance in season 2? Here's what we know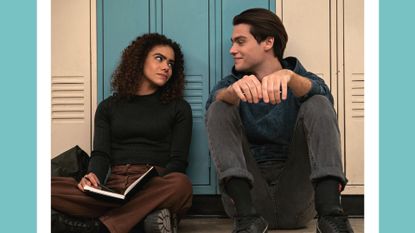 (Image credit: Amanda Matlovich/Netflix)
The highly-anticipated second season of Ginny & Georgia has finally arrived and it's got a lot of unanswered questions to clear up: especially, do Ginny and Marcus get back together?
A lot happened during that season one Ginny & Georgia ending: Ginny (Antonia Gentry) run away, we discovered Georgia (Brianne Howey) is a serial killer (exactly who did Georgia murder? We've got the spoilers!), and it seemed like Ginny and Marcus (Felix Mallard) were very much on the rocks after he denied the value of their relationship to her friendship group M.A.N.G and Ginny's now ex-boyfriend Hunter.
So much goes on in a single episode of Ginny & Georgia that sometimes it's hard to keep track of the good stuff, the important stuff, like Ginny's romantic relationships. If like us this season was a bit of a whirlwind for you and you're wondering if Ginny got back together with Marcus or she ended up with Hunter, don't worry, we've got you covered!
Here's everything we know about who Ginny ends up with by the end of Ginny & Georgia season 2.
*Warning: spoilers ahead!*
Do Ginny and Marcus get back together?
The season one finale, entitled "The Worst Betrayal since Jordyn and Kylie," saw the big public reveal of Ginny and Marcus' relationship, and that did not go down so well.
Marcus ended up apologizing to Ginny for denying the importance of their relationship to his twin sister Maxine, Hunter and the rest of Ginny's friends, but Ginny was understandably a bit preoccupied with the news that her mother not only hadn't been sending Austin's letters to his father Gil but that she also killed her ex-husband Kenny.
So Ginny ends up leaving Wellsbury for her father Zion's place, and it's confirmed at the beginning of season two that she hasn't spoken to anyone from home for almost two weeks, including Marcus. Zion eventually convinces Ginny and Austin to go back to Wellsbury to be with their mother and upon her return, Ginny is very much an outcast from her friend group, as Max still hasn't forgiven her for sleeping with her twin brother.
But the situation helps Marcus and Ginny rekindle their relationship, which is a much-needed safe space for Ginny throughout the season, especially as she battles dealing with guilt from Georgia's killings (which she believes to be her fault) as well as her own mental health as a result of her childhood and life with Georgia.
Ginny reveals to Marcus that Georgia killed her husband Kenny. (This is before Ginny knew about how Georgia also killed her first husband.) Marcus takes the situation surprisingly well and labels Georgia a "force."
However, as we know nothing goes swimmingly for long in the town of Wellsbury and as Ginny's mental health starts to improve, Marcus's starts to decline and it leads to him breaking up with Ginny in episode eight.
Do Ginny and Hunter get back together?
At the beginning of season two, Ginny's relationship with Hunter (Mason Temple) is strained to say the least. It's fresh from their breakup and Hunter finding out that Ginny cheated on him with Marcus.
But as the season goes on, we do see Hunter's lingering feelings for Ginny, and the two share a moment at Max's birthday party at Ginny's house in episode four. They discussed everything that went down including the infamous oppression Olympics scene. Hunter reveals that he loved Ginny and Ginny also reveals that she loved him but not in the same way that she feels about Marcus, which may seem but was actually a sweet scene.
When Hunter finds out that Marcus broke up with Ginny, he does not go running to try and get Ginny back but instead has a conversation with Marcus and is way more cordial than we would have been. But it actually ends up seeming like Hunter is going to pursue a relationship with Padma rather than try and win Ginny back while she's in the midst of a breakup. For those who don't remember, Padma was who Marcus broke up with when he started hooking up with Ginny in season one.
So, to confirm, Ginny does not get back together with Hunter either by the end of the second season.
So who does Ginny end up with in 'Ginny & Georgia' season 2?
Surprisingly, for the first time since she's arrived in Wellsbury, Ginny is single again. Yes, by the end of season two, Ginny is neither romantically involved with Marcus nor Hunter, or anyone else for that matter.
If we were to place our bets on who she reunites with, we would probably put it on the Ginny & Georgia team writing in a brand new love interest or choosing Ginny to end up with Marcus.
Marcus and Ginny have a moment in the final episode of the season where they talk about how Ginny failed to notice Marcus was struggling and Ginny ends up comforting Marcus. So while they seem to be very much in a friendship stage, the fact that Marcus notes that he just likes to see Ginny happy means there's hope for Ginny and Marcus yet!
The second season of Ginny & Georgia is now streaming on Netflix.
Liv is a freelance journalist currently studying English at university. She loves covering everything from entertainment and politics to lifestyle and travel. As well as writing for My Imperfect Life, Liv has bylines in The Times, HuffPost, Den of Geek, Bustle The Metro and The Bookseller.