Do Johnny and Kate get back together in 'Firefly Lane'?
They've been in a will-they-won't-they situation all season, but do Johnny and Kate get back together in 'Firefly Lane'?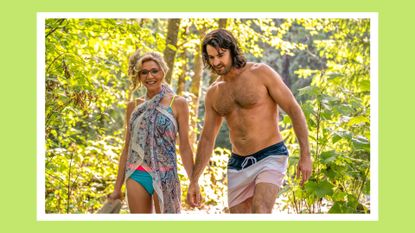 (Image credit: DIYAH PERA/NETFLIX)
After all of those years of back-and-forth, do Johnny and Kate get back together in Firefly Lane?
While there are more dire questions to be answered in Firefly Lane season 2—namely, "does Kate die in Firefly Lane?" and does Johnny die in Firefly Lane?"—fans of the couple have been wondering if coworkers-turned-spouses-turned-exes Kate Mularkey (Sarah Chalke) and Johnny Ryan (Ben Lawson) will eventually make their way back to each other in the show.
Season two spends a lot of time with the duo across the decades, showing their burgeoning relationship in the 1980s to the present-day status as divorcées who clearly still feel for each other.
But how does the introduction of a few new romantic interests this season complicate matters? Do Johnny and Kate get back together in Firefly Lane season 2? Here's what we know.
*Warning: spoilers for season 2 ahead!*
Do Johnny and Kate get back together in 'Firefly Lane'?
Good news for you shippers: yes, Johnny and Kate get back together in Firefly Lane season 2.
The season one Firefly Lane ending saw Kate and Johnny finally get together in the 1980s storyline, but their "present-day" relationship in the 2000s isn't in the best place, with the duo deciding to divorce after years together.
Things change in season two, however, after Johnny is seriously injured during an IED explosion in Iraq in the 2000s timeline. Thankfully alive but dealing with physical damage and a painful case of PTSD, Johnny holes up at Kate's house to recover. As a result of the drama, his relationship with Kate becomes strained, complicated even further by the addition of Charlie, a former KPOC intern who was massively crushing on Johnny back in the '80s and has resurfaced as a reporter who grew close to him while in Iraq. This causes a bit of a love triangle between the characters.
Back in the 1980s storyline with Johnny and Kate dating, the couple breaks up because they don't see eye-to-eye on marriage and children (Kate wants them, Johnny doesn't). However, Johnny realizes that his feelings for Kate are greater than their issues and he goes to reconcile, only to find that Kate is dating a new guy named Theo and has gone to Europe with him. Kate and Johnny do eventually get married and have a child, Marah, however, so it's clear that this particular breakup is a short-lived one.
In the present day, Johnny's recovery journey and therapy treatment for PTSD results in him realizing that he still loves Kate. They reconnect at Kate's Fourth of July party and renew their romance, but this time with more honesty and clarity about their relationship. In the mid-season finale, Johnny proposes marriage to Kate while they're decorating for Christmas and she accepts, so the pair ends the second season as fiancés.
Why did Kate and Johnny break up?
Though Firefly Lane season 1 doesn't give explicit answers about why Johnny and Kate divorced, the show's second season gave more insight into the past problems the couple had in their relationship.
When Johnny and Kate reconcile in the present-day storyline, they talk through some of these issues, including how they previously downplayed their own needs to keep the peace (Kate hates being kissed on the neck, Johnny doesn't actually like shepherd's pie) or how Kate is worried that Johnny will lose himself in his work again.
"Johnny, I'm always scared of losing you," she reveals in episode 7. "In every relationship, there's one person who always loves the other person more, and that's always been me." "I'm sorry Mularkey but that's complete and utter bullsh*t," Johnny tells her. "You have always been busy telling yourself that you love me more that you can't even see how much I love you, how much I want to make you happy, and how much it kills me when I fall short."
They talk through the "messiness" of their issues, including Johnny's feelings about Kate moving on with Travis and Kate's insecurity about her standing in the relationship and her worries about being a consolation prize compared to Tully, with whom Johnny had a fling in the past. While all of these conflicts and complications ultimately led to their divorce in season 1, they promise to not let them get in the way of their reconciliation in season 2.
The first part of Firefly Lane season 2 is streaming now on Netflix. Firefly Lane season 2 part 2 will debut on June 8, 2023.
Christina Izzo is the Deputy Editor of My Imperfect Life.
More generally, she is a writer-editor covering food and drink, travel, lifestyle and culture in New York City. She was previously the Features Editor at Rachael Ray In Season and Reveal, as well as the Food & Drink Editor and chief restaurant critic at Time Out New York.
When she's not doing all that, she can probably be found eating cheese somewhere.