Does Kate die in 'Firefly Lane' season 2? An update on the character's fate
The end is nigh, but fans are worried: does Kate die in 'Firefly Lane'? Here's what happens to the character in season 2 part 2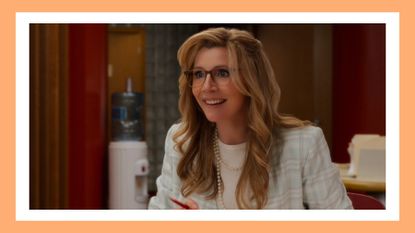 (Image credit: Netflix)
Does Kate die in Firefly Lane? After premiering its first batch of episodes at the end of 2022, Firefly Lane season 2 has brought with it concerns about one of our favorite characters' fate.
We had many questions following that season one Firefly Lane ending—including "What did Tully do to Kate to cause the lifelong friends to become estranged?" and, oh yeah, "Does Johnny die in Firefly Lane?!"
But if you've already finished the first half of the second season, you'll know that there's now a huge question mark attached to one of the series' leading ladies, Kate Mularkey (portrayed by Sarah Chalke as an adult and Roan Curtis in Kate's younger years.) And now that Firefly Lane season 2 part 2 is here to culminate Kate and Tully's journey, dropping on Netflix on Thursday, April 27, we're expecting answers.
We thankfully already know the answer to the question, "Does Tully die in Firefly Lane?" but what becomes of her BFF Kate at the end of season 2? Here's everything we know.
*Warning: spoilers for season 2 ahead*
Does Kate die in 'Firefly Lane' season 2?
Yes, Kate Mularkey does die by the end of Firefly Lane season 2.
We didn't know the official fate of the character in the first half of Firefly Lane's second and final season, which dropped its first nine episodes on Netflix on December 2, 2022. (The last seven episodes of the series were supposed to hit on June 8 but were fast-tracked to April 27.)
Things weren't looking too great for the mom-of-one during that mid-season finale: along with dealing with the pain of her estrangement from Tully as well as the death of her father Bud, Kate gets the news that she has an aggressive form of breast cancer, after discovering a spreading rash on her chest.
"I wish I had better news," her doctor begins. "The rash on your breast is actually a very rare and very aggressive form of cancer known as inflammatory breast cancer, stage 3."
In the final moments of season 2 part 1, Kate is seen leaving the doctor's office and tearfully wandering around the city. She eventually ends up at Tully's apartment building in an attempt to reconcile with her old friend, but Tully has already left for a months-long trek to Antarctica for work—which Kate isn't yet aware of. We last see Kate sobbing as she bangs on Tully's door.
Season 2 part 2 picks up a year into Kate and Tully's estrangement, during which Kate has been receiving chemo treatment for her breast cancer and dealing with the overbearing love of her well-meaning family, all while missing her best friend. The treatment initially works, however, later in the season, Kate's cancer devastatingly comes back, having spread to her liver and eventually her brain. It's at that time that Kate decides to discontinue treatment and instead spend the last remaining months she has in the comfort of her own home.
Weakened and using a wheelchair, Kate dies overlooking the beautiful Pacific Northwest view from her backyard. Tully, who had been sitting and gossiping with her BFF but quickly popped into the house to refill her tea, comes out to find Kate still, tearfully realizing that she's already gone.
What happens to Kate in 'Firefly Lane' the book?
Yes, sadly, Kate does die following a breast-cancer battle in the Firefly Lane books by Kristin Hannah, on which the Netflix series is based.
Before Kate succumbs to the late-stage disease, Tully comes home early from Antarctica to be by her best friend's side and support her through her cancer journey. While we're hoping that that won't be Kate's fate in the TV show, we're also crossing our fingers that Tully makes it home to support her bestie during her illness.
Fly Away, the 2013 book sequel to Firefly Lane, deals with Tully, Johnny, Marah and Cloud's grief after Kate's passing. Before her death, Kate asks Tully to take care of Johnny and her children (in the show, the couple only has Marah, but in the book, they share three kids), which she agrees to do. However, Tully suffers a terrible car accident that leaves her hanging between life and death, during which she is spiritually reunited with Kate who helps to guide her on her journey.
"I know you'll be thinking that I left you, but it's not true. All you have to do is remember Firefly Lane, and you'll find me. There will always be a TullyandKate," Kate writes in an emotional note left for Tully before she died.
And if you're wondering about a potential Firefly Lane season 3, we've also got some sad news—there won't be a third season, as the second part of season 2 will be the very last episodes of the drama.
Firefly Lane season 2 is streaming now in full on Netflix.
Christina Izzo is the Deputy Editor of My Imperfect Life.
More generally, she is a writer-editor covering food and drink, travel, lifestyle and culture in New York City. She was previously the Features Editor at Rachael Ray In Season and Reveal, as well as the Food & Drink Editor and chief restaurant critic at Time Out New York.
When she's not doing all that, she can probably be found eating cheese somewhere.