Who plays Eddie, 'Stranger Things' season 4 fan favorite?
Viewers are loving Eddie, 'Stranger Things' season 4 newcomer. Here's what to know about the character and the actor who plays him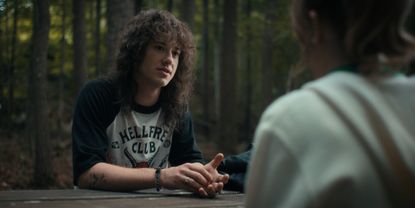 (Image credit: Netflix)
New episodes, a new villain (sup, Vecna?) and new additions to the Hawkins crew—Stranger Things season 4 is here and bigger than ever.

And one of the brightest spots in all of the sci-fi darkness this time around is a newcomer to our cast of beloved Stranger Things characters: Eddie Munson.
The character proves to be a major force in the latest batch of episodes, but who really is Eddie, how does he fit into all of the Upside Down insanity, and who is the actor behind the character? Here's what to know.
*Warning: spoilers ahead!*
Who is Eddie, 'Stranger Things' newcomer?
Introduced in season four episode one, "Chapter One: The Hellfire Club," Eddie Munson is the leader and dungeon master of the Hellfire Club, the official Dungeons & Dragons group at Hawkins High. A Black Sabbath-loving metalhead, he plays in the band Corroded Coffin and slacks off at school in favor of dealing weed on the side.
Despite his hard edge, Eddie turns out to actually be quite charming and sweet, as seen in an early scene with Chrissy Cunningham, the Hawkins High head cheerleader to whom he is selling drugs. The surprising twosome laughs and bonds and enjoys each other's company—but those good vibes are seriously dampened when Vecna kills Chrissy and all of Hawkins thinks Eddie is behind her death, putting our new favorite on the run for most of season four.
How old is Eddie from 'Stranger Things'?
Eddie is older than most Hawkins seniors, as he reveals early on in season four that he was supposed to graduate in 1984, but was held back twice. That makes him around 19 or 20 years old.
Who plays Eddie in 'Stranger Things'?
Eddie Munson is played by British actor Joseph Quinn. The London-based Quinn prepared for the role of Eddie by trying his hand at Dungeon & Dragons, listening to metal music and, of course, picking out the perfect mullet.
"I played my first [D&D] game in L.A. when we were doing some press," Quinn told Entertainment Weekly. "I bought a book to try and understand what Dungeons & Dragons was about, and it didn't agree with me. Though, I knew that wasn't going to be my way in, as it were." Instead, it was heavy metal that helped him tap into the character: "God, it's impossible to not sound pretentious when you say it, but, yeah, that was my way in," he told the outlet.
Of Eddie's signature hard-rock hairdo, Quinn told EW that it took two weeks of fittings to narrow it down to a hairpiece that was "very David Bowie in Labyrinth."
"I wanted something that was normal, of this world, more like a mullet," Quinn said. "But we compromised. I mean, it's still objectively ridiculous, but it serves the character really well. It's very useful as an actor to put something on and instantly you feel like you're looking at a different person."
Will Eddie be in 'Stranger Things' season 5?
It is unknown if fans will be seeing the likes of Eddie onscreen again since the character dies a tragic but heroic death in the big Vecna battle at the end of season 4—but not before performing "the most metal concert in the history of the world."
Whilst in the Upside Down with Dustin (Gaten Matarazzo), Eddie shreds Metallica's "Master of Puppets" on guitar to distract the dimension's many monsters while the rest of the Scooby Gang tries to take down Vecna. Unfortunately, he is attacked and fatally injured by the Demo Bats in the process and dies in Dustin's arms. He tells Dustin to "look after those little sheep" and his last words are: "I think it's my year, Henderson. I think it's finally my year. I love you man."
According to the Duffer Brothers, Eddie's final words were improvised by Quinn. (Excuse us while we sob.)
"I love you, man" was improvised by Joe pic.twitter.com/z5gYyl18KFJuly 2, 2022
See more
"For the death scene, that whole sequence was mental. We shot that death scene in like 15 minutes or like 20 minutes at the end of a really, really long night shoot. But we only managed to get my coverage that night," Quinn told Esquire. "I think it was like maybe three weeks later we shot Gaten's stuff in the studio. It was very weird doing that bit and then going back to it later."
Of his standout arc this season and his character's tragic death, the actor revealed to the outlet: "I had no idea, really. I knew that I wasn't optioned. I had a feeling that we would finish his arc this season. I couldn't have imagined the manner in which he would leave, but yeah, I think it's a weird thing. It's kind of bittersweet. I would love to go back to that set and to see those people again."
"But sometimes there's a beautiful arc that they've written and he's such an empathetically written role and they're very rare, these kind of roles," he continued. "It feels a little bit like a lottery ticket and I feel incredibly grateful, but it's a shame not to be able to come back. Onwards."
As for a potential return of the beloved character, "I've got no idea. I mean, I'm as clueless as the rest of us," Quinn told the publication. However, he's clearly open to it: "He's great fun to play and they're great people to play with. So yeah, I would be up for coming back."
How old is Joseph Quinn from 'Stranger Things'?
Quinn was born on May 15, 1993, making him currently 29 years old. He is a Taurus.
Does Joseph Quinn have a girlfriend?
Alas, Quinn has not publicly divulged any intel about his romantic life, so we don't know for sure if this cutie is off the market or not.
Joseph Quinn movies and TV shows: where have you seen him?
Alongside playing Eddie in all nine episodes of Stranger Things season 4, Joseph Quinn has popped up in TV series like Dickensian on the BBC as Arthur Havisham and Games of Thrones on HBO as Koner, a House of Stark soldier. He's also previously been seen in miniseries including 2017's Howards End and 2019's Les Misérables and Catherine the Great.
Stranger Things season 4 is currently streaming on Netflix.
Christina Izzo is the Deputy Editor of My Imperfect Life.
More generally, she is a writer-editor covering food and drink, travel, lifestyle and culture in New York City. She was previously the Features Editor at Rachael Ray In Season and Reveal, as well as the Food & Drink Editor and chief restaurant critic at Time Out New York.
When she's not doing all that, she can probably be found eating cheese somewhere.