Who plays Chrissy from 'Stranger Things'?
Her Vecna possession kicked off season 4, but who plays Chrissy from 'Stranger Things'?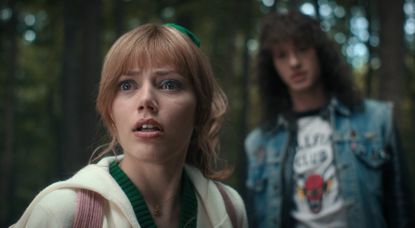 (Image credit: Netflix)
Yes, Stranger Things season 4 volume 2 is officially on Netflix as of Friday, July 1, but we're celebrating the end by taking a look back at how the fourth season—and all of that Vecna drama—began: namely, with Chrissy Cunningham, the Hawkins High School cheerleader who first fell victim to the super-villian's mind games and kicked off a whole lot of supernatural hijinks in the process.
The character of Chrissy wasn't in Stranger Things for a long time, but her influence is felt throughout the season—especially in relation to fellow season four newcomer Eddie Munson (played by Joseph Quinn), who many viewers shipped the teen queen with despite their short amount of screen time together.
Here's what to know about Chrissy from Stranger Things season 4, including intel about the actress who plays the character.
*Warning: spoilers ahead!*
Who plays Chrissy from 'Stranger Things'?
The character of Chrissy from Stranger Things is portrayed by actress-director Grace Van Dien. The 25-year-old Los Angeles native is the daughter of actor Casper Van Dien and Carrie Mitchum, and the granddaughter of yet another performer, Oscar-nominee Robert Mitchum.
Where have you seen Grace Van Dien before?
Prior to her vital Stranger Things role, Van Dien played Katie Campbell in the BBC series The Village, Brooke Osmond in the Netflix original Greenhouse Academy, and Sharon Tate in the 2018 Manson Family biopic Charlie Says. She also acted in and directed the 2020 short film Monsters and Muses.
What episode did Chrissy die in 'Stranger Things'?
Yes, alas, Chrissy Cunningham is one answer to the doomed question, "Who dies in Stranger Things season 4?" She is the first major casualty of the season, as her character gets possessed and eventually killed by this season's antagonist Vecna, who preys upon people's traumas and nightmares à la Freddy Kreuger.
It is during a drug deal with Eddie—Chrissy is trying to stave off her nightmares with marijuana but doesn't realize it's actually all Vecna's doing—that the "Queen of Hawkins High" meets her tragic fate at the end of "Chapter One: The Hellfire Club," the premiere episode of season four, when the super-villain possesses her and pulls her into the Upside Down. Her death kicks off a witchhunt for Eddie's character, who is blamed for her murder, and the mystery of who is really behind Vecna and how to defeat him.
Ironically, it was Van Dien's chemistry with fellow actor Joseph Quinn that made the Duffer Brothers regret killing her character so early on in the season. "We always have those moments [of 'What have we done?']," Matt Duffer told TVLine. "We shot the quote-unquote drug-deal scene in the woods pretty late, actually, into shooting." Brother Ross Duffer confirmed that they "had already killed Chrissy when we shot" the surprisingly sweet scene between the metalhead and the cheerleader.
"It was just one of those fortunate scenes where we were able to have two cameras rolling capturing them simultaneously," Matt said to the outlet. "Joe was doing a lot of stuff spontaneously, and we were getting these amazing reactions from Grace."
He continued: "It's pretty impressive what Grace was able to do with very, very few scenes, to get people to care like she did." Though whether we see Chrissy Cunningham again in Stranger Things is TBD, it's likely you'll see the actress in another Duffer Brothers production. "We'll find something else to do with Grace," Matt said.
🤘LET THE SHOW BEGIN. VOL 2 IS NOW STREAMING 🤘 pic.twitter.com/QDO89bnNayJuly 1, 2022
See more
There was so much chemistry between them. I had to draw Eddie and Chrissy together... And maybe I'm obsessed with this ship trope-😩😩❤️#StrangerThings #fanart #eddiechrissy pic.twitter.com/KcfGjHJsn3June 28, 2022
See more
still not over the wasted potential of eddie & chrissy and the only cure is opening 85 different tabs on ao3 i'm afraid (it's not) (i will also have to draw them)June 23, 2022
See more
I just realized Eddie and Chrissy are the "right person wrong time" trope and I justi pic.twitter.com/g3XFiFnkxEJune 15, 2022
See more
How old is Chrissy from 'Stranger Things'?
Though not officially confirmed on the show, Chrissy Cunningham is widely thought to be a senior at Hawkins High School, making her around 17 or 18 years old.
Was Chrissy pregnant on 'Stranger Things'?
Some fans took an early scene of Chrissy clutching her stomach as she leaves guidance counselor Ms. Kelly's office as a clue that the high-school student might have been pregnant. However, it's soon revealed that she actually suffers from bulimia, with a later scene showing her purging in the girls' bathroom. Chrissy's eating disorder and body-image issues—exacerbated by her emotionally abusive mother—add to the psychological trauma that Vecna feeds on.
What is the Chrissy Wake Up song on 'Stranger Things'?
Unlike Max Mayfield (Sadie Sink) and Kate Bush's "Running Up That Hill," Chrissy wasn't lucky enough to figure out in time that listening to her favorite song would help her escape from Vecna's possession and bring her back to reality. (FYI: You can now find your own "savior song" via the new Stranger Things Vecna Spotify playlist.)
However, Chrissy is the subject of the "Chrissy, Wake Up Remix," a song by YouTubers Schmoyoho that pulls audio from a scene of Eddie yelling at the cheerleader to wake up from Vecna's trance. "Chrissy wake up. I don't like this. Chrissy wake up. Hey? Hello? Got to wake up, got to wake up—can you hear me? Wake up Chrissy. I don't like this, Chrissy wake up," so goes the song.
Of course, the remix went viral, garnering more than one million likes and 6.4 million views on the original TikTok.
See how everything wraps up for Chrissy, Eddie and the rest of the Hawkins gang on July 1 when the final two episodes in Stranger Things season 4 hit Netflix.
Christina Izzo is the Deputy Editor of My Imperfect Life.
More generally, she is a writer-editor covering food and drink, travel, lifestyle and culture in New York City. She was previously the Features Editor at Rachael Ray In Season and Reveal, as well as the Food & Drink Editor and chief restaurant critic at Time Out New York.
When she's not doing all that, she can probably be found eating cheese somewhere.