Intrigued by facial rollers? Here's everything to know about them
If you're looking to add one of the best facial rollers to your routine, here's what you need to know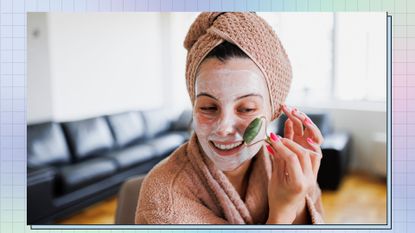 (Image credit: Future / Getty Images )
It was once impossible to scroll through skin-stagram without seeing a crystal facial roller. Coming in an array of pale pink, rippled purple, or soft green colorways, they've been the perfect complement to any shelfie or flat lay, and an integral part of many a beauty enthusiast's skincare routine for a few years now.
But by now we all know that their true merit lies beyond their aesthetic use; usually developed from one of the most ancient Chinese and Indonesian facial tools, the gua sha or kerokan, they work wonders for sculpting and lifting the face.
What are the benefits of facial rollers?
Like all tools, facial rollers can truly yield amazing results when used correctly. No matter how you use them, you're likely to see a benefit— from light or medium to different directions of motion (mostly upwards and outwards). They're great at stimulating the lymphatic system in the face and neck, helping the body's natural mechanism for draining excess fluid (read: puffy eyes) along as normal. It's a great first step for most skin types, from oily to dry.
If you grind your teeth at night or clench your jaw, face rolling can also help to ease any tension that's built up. And if your skin feels lackluster or your energy is sluggish, rolling can boost your blood circulation to bring more nutrients to the skin's surface.
What are facial rollers made from?
Typically crafted from crystals, face rollers are designed to not only massage the face, but align your energy for an overall sense of wellbeing—therefore, knowing the basics of the best crystals for beginners is a good foundation to have.
Pink rose quartz is one of the most common crystals used for face rollers, to encourage self-love and kindness toward others. Purple amethyst is believed to calm the spirit and alleviate anxiety, while green jade—a favorite in traditional Chinese medicine—can bring good luck and balance.
Some facial rollers are made with black obsidian to ward off negative energy, or white jade for abundance and peace, although these two are harder to find. Many facial rollers also come in metal form, often with two prongs at one end to focus on massaging edged areas like the jaw or cheekbones.
How do I use a facial roller?
Facial rollers can be used on dry skin, but to keep it from being pulled and stretched, layer a light serum, one of the best moisturizers for dry skin, a hyaluronic acid serum or a facial oil onto the skin first for lubrication and to give it some slip. For major depuffing, keep your roller in a mini fridge for skincare.
Start by rolling it across the chest to open up the lymphatic pathways, then roll it downwards along the neck. Work your way up to the jaw, rolling upwards towards the ears on each side.
Continue under the cheekbones, and use the smaller end (if the roller has one) to roll around the mouth and over lips, as well as on the sides of the nose. Gently press and roll carefully underneath the eyes to reduce puffiness.
Finish by using the large side across the forehead and roll down towards the jaw to move the drainage downwards. Repeat every day for a minute or two for the best results—when you see them, you'll never want to stop.
The best facial rollers to shop now
Ava Welsing-Kitcher is a freelance beauty journalist who's earned her stripes at InStyle, Stylist, and The Sunday Times STYLE. Though she can write about anything beauty and wellness, her main passion is hair - especially curly and afro textures. You can find her trawling through ingredients lists and product samples to really get to the bottom of what makes an excellent beauty buy.