What astrology season is it? Mark your 2022-2023 planners
No need to ask 'What astrology season is it?' We have all the intel and expert-backed advice from the cosmic pros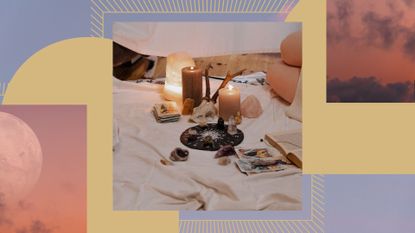 (Image credit: Future)
What astrology season is it? No need to wonder—we have everything you need to know.
Luckily for the zodiac obsessed, we've mapped out all astrology events throughout the year, from full moons, new moons, retrogrades and, of course astro seasons.
Allow the pros to walk you through the specific time and everything the cosmos have planned—plus how to make the most out of each event. Consider this resource one of the best astrology gifts you could ask for!
What astrology season is it?
Sagittarius Season: November 22 to December 21, 2022
The lively, free-spirited Sagittarius season is here! After some cosmic stress thanks largely to the moon—anyone else relieved eclipse season 2022 is behind us?—everyone is ready for things to be a little less strenuous.
"Sagittarians are the playful social butterflies of the zodiac. They radiate positivity and have a magnetic aura about them," says astrologer Michelle Bell, founder of Cosmic Fusion (opens in new tab). "We're being encouraged to tap into this exuberant power. Go to networking events, attend parties, and host dinners. Whatever it is, try to say yes to everything this month."
Another piece of advice? Let things happen as they may.
"Don't overthink anything this month and try to remember that over planning isn't the answer," Bell adds. "Embrace the unknown and try to be comfortable in the dark."
Meet the expert: Michelle Bell
Michelle is an astrologer and the founder of Cosmic Fusion (opens in new tab), an app that combines your Western zodiac sign + your Chinese element + your Chinese animal to uncover your unique personality.
All astrology seasons
Aries season
When: March 20 to April 19, 2022
March 21 to April 20, 2023
Aries season 2022—described as a "wonderful blend of fire and water energy" by astrologer Liz Simmons (opens in new tab)—gave us the hope we needed right in time for the spring equinox. Though it's customary to make bold moves when the fire sign comes into play, we were warned to stay grounded and not let our excitement take over. (Keep these recs in mind for the new year!)
Liz Simmons is a freelance writer, astrologer, and tarot reader based in Salem, MA. She views astrology and tarot as another tool in our arsenal to understand the cosmic interplay in our lives. Currently, Liz contributes astrological articles and horoscopes to StyleCaster, POPSUGAR and Astrology.com. She is also the resident astrologer at ASCEND Get Lifted. Check out Liz's Instagram @the__crone (opens in new tab) and her website, the-crone.com. (opens in new tab)
Taurus season
When: April 19 to May 20, 2022
April 21 to May 20, 2023
Taurus season was a bag of mixed energy. Overall, we were asked to reexamine what's important and ask "why" in all areas of our lives.
In terms of astrology events in 2022, Taurus season helped us usher in the first solar eclipse of the year and the highly-anticipated Stellium in Pisces at the end of April, which focused on romance, creativity and rest—a few of our favorite things!
We're excited to see what the new year will bring for Taurus season.
Gemini season
When: May 21 to June 20, 2022
May 21 to June 21, 2023
Simmons believed we were forced to get in tune with our authenticity. She also noted that we were likely faced with making decisions, particularly because the new moon in Gemini on May 30 was "pure" and "simplified the ideas of two roads, two paths, two actions."
Expect decision-making to be a theme for Gemini season going forward.
Cancer season
When: June 21 to July 20, 2022
June 22 to July 22, 2023
Cancer season was an ideal time to slow down and unwind, so it worked out perfectly that it aligned with summer vacation. Plus, Cancer season also asked us to evaluate our "home"—bodies, communities, actual abodes and anything that brings us comfort.
"It's about filling up your own cup before giving to others first," says astrologer and numerologist Kaitlyn Kaehart (opens in new tab). "If you're able to give to yourself, you're able to give more to your loved ones because Cancer loves to nurture."
This is definitely one of the astro seasons we welcome each year!
Leo season
When: July 22 to August 23, 2022
July 23 to August 23, 2023

Leos love the spotlight, and that was certainly true this year...and likely will be next year as well.
"Leo season is going to be nothing short of drama, which is just what Leo likes, says astrologer Noush (opens in new tab). "It can bring that activity, that passion, that energy, that spice. The drama can also be fun, it doesn't have to be scary."
An astrologer, creative and crystal enthusiast, Noush believes in the combination of energy healing and practical spirituality to bring meaning into our lives. You can learn more about your cosmic blueprint during an astrology reading with her (opens in new tab) or shop through an incredible collection of healing crystals @jooncrystals (opens in new tab).
Virgo season
When: August 22 to September 21, 2022
August 24 to September 22, 2023
"What is unique about Virgo season is that it encourages us to be selfish, but in the best possible way," Nebula's astrologer Patrick Price previously told My Imperfect Life. "Not only is it a much calmer time than most other seasons, but it is also the time for us to take time for ourselves."
This was the perfect energy to embrace before the autumnal equinox, which asked us to reflect on the year and make adjustments accordingly, particularly in regards to relationships and finances.
Although it's a calm time and a much-needed rest from Leo season, Virgo season does require us to check items off our to-do list, but at our own pace.
Meet the expert: Patrick Price
Patrick is Nebula: Horoscope and Astrology App's (opens in new tab) expert specializing in tarot, angel readings and Western astrology. Patrick is a queer man who comes from a gypsy family. Tarot is deeply rooted in his family's culture. He's been doing tarot for the past eight years and astrological readings for the last three years.
Libra season
When: September 22 to October 23, 2022
September 24 to October 23, 2023
Libra season is all about enjoyment and partnerships. It's the time to celebrate those you love and take part in the hobbies that make you happiest.
"Libra season is always a good time to focus on any type of relationships," astrologer Desiree Roby Antila (opens in new tab) previously told My Imperfect Life.
Not only will the cosmos restore some type of harmony in the sky, but the sun will be in a Venusian sign, so there's a focus on on things like art, music, money. Might as well indulge, right?!
Meet the expert: Desiree Roby Antila
Desiree Roby Antila, author of Sun Signs in Love (opens in new tab), specializes in sun signs and astrological relationships. She has been studying astrology for several decades and has written numerous articles on matchmaking, cosmic timing, forecasts, and more. Desiree also teaches astrology classes in her local community and has conducted hundreds of natal chart and synastry readings.
Scorpio season
When: October 23 to November 22, 2022
October 23 to November 21, 2023
Scorpio season is all about transformation.
"One of Scorpio's stereotypical but premier traits is their passionate nature," Bell previously told My Imperfect Life. "When they want something, they are all in. This is the time to figure out what you truly want and to go after it."
You'll be asked to face things head-on, and there's no beating around the bush when it comes to a Scorpio, and that's the truth!
Sagittarius season
When: November 22 to December 21, 2022
November 21 to December 21, 2023
"Sagittarius season is a really great time to reconnect with the universe since it is quite a philosophical sign," Watt previously suggested.
Luckily, it's prime time to do just that, so enjoy!
Meet the expert: Renée Watt
Astrologer Renée Watt has offered her expertise for a variety of publications, including Cosmo, InStyle, Girlboss and more. She hosts a weekly podcast called "The Glitter Cast" and is a cohost of the occult livestream "Betwixt The Shadows."
Capricorn season
When: December 21, 2021 to January 19, 2022
December 22, 2022 to January 20, 2023

Capricorn season was a welcomed start to 2022. Between Venus retrograde, the Winter Solstice and Jupiter entering Pisces on December 28, 2021 things were busy, but astrologers say it was all a positive, refreshing energy. Keep your fingers crossed for the same in 2023...despite Mercury retrograde being underway.
Aquarius season
When: January 19 to February 18, 2022
January 21 to February 19, 2023
Aquarius season is an opportunity to reconnect.
"Aquarius rules greater community and friendship, so it's really concerned with social connection," Simmons told us.
As Mars' moved into Venus and Capricorn, and Mercury retrograde began, we all turned to those we love for a little solace.
Pisces season
When: February 18 to March 20, 2022
February 20 to March 20, 2023
Pisces season was all about channeling that dreamy energy and bringing goals to life, particularly thanks to Neptune's influence. But at times, the water sign's effect caused us to dip into unrealistic territory.
"Embrace the excitement of the imagination and mysticism, but also have some sort of guidelines, that way you don't get lost," Simmons warned us at Pisces' start.
Cute astrology-themed gifts
Brand
Colour
Price
Refine ☵
Sort By