Is Callie coming back to Good Trouble? We spotted a Coterie reunion
Could Callie be making a comeback? We sure hope so...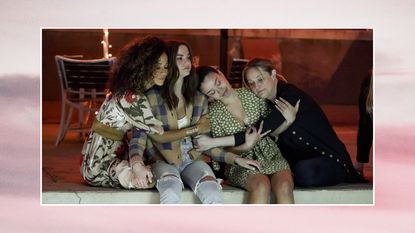 (Image credit: Troy Harvey/Freeform via Getty Images)
Contributions from
Callie broke our hearts when she left Good Trouble, as we watched one of our favorite characters depart the show. But what exactly was behind the decision and could Callie be returning to Good Trouble?
If you've yet to watch Good Trouble season 4 then now is the time to look away as there'll be some spoilers ahead. But also, what have you been doing? Here's how to watch Good Trouble from season one to the latest episode to ensure you're up to date...
Anyway, back to the issue at hand. Our beloved Callie Adams-Foster, played by Australian actor Maia Mitchell, has left the show, making her departure in episode two of the fourth season, much to the heartbreak of many fans—us included.
Here's everything you need to know about her exit, including why she chose to leave and whether she'll be coming back to the show (keep your fingers crossed for Good Trouble season 5)...
Why did Callie leave Good Trouble?
In episode two of season 4, we watched Callie leave The Coterie—the communal living space in Los Angeles where she lived with her sister Marianna and their friends—to start a new life in Washington D.C after landing her dream job with the ACLU.
In the episode, Callie invited her moms and brother Jude to town so she could break the news to Marianna, who naturally, was shocked to find out her sister (and best friend) was moving across the country in two days.
Callie then went on to say her goodbyes to her friends and loved ones throughout the episode, and it was an emotional watch, to say the least. In fact, there were just as many tears for Maia Mitchell (if not more) than there were for her on-screen character as it marked her final episode.
Mitchell has played Callie since 2013, first in 'The Fosters' and then again in Good Trouble since the spin-off launched in January 2019. She has also been executive producer of the show but is now leaving her role both in front and behind the camera to move back home to Australia.
Speaking to People (opens in new tab), the 28-year-old star spoke candidly about the tough decision to leave not only the show but America. "The pandemic was really hard for me," she admitted. "I know I'm so privileged and I was so lucky to be able to work, but it also meant that I was separated from my family for 18 months. And there was something about not being able to see them if something happened, just the knowledge that you couldn't get on a plane and see each other, was really hard. I just had to be with them."
Mitchell explained that returning to Australia had always been her plan, though it didn't make the goodbyes any easier for her. Especially given her close relationship with co-stars, particularly her close friendship with Cierra Ramirez—they really are BFF goals!
"Australia's always felt like home to me and I always had wanted to move back eventually," she told the publication. "Obviously, it was such a heartbreaking decision to make because I found community on that show. They've been my family in America. It's kept me going through my homesickness. It was a really, really tough decision. I sat with it for a really long time trying to talk myself out of it. But I had to be closer to my family."
As well as the devastating news that she's leaving, fans also had mixed feelings about Callie and Jamie's relationship. The two have had an on-again/off-again connection since the beginning and while many are happy to see them ending up together, with Jamie in D.C too, those who were team Callie and Gael aren't as pleased with the turn of events.
Is Callie coming back to Good Trouble?
While it's unclear whether Callie will return to the show, we have spotted that Maia is back in the United States. According to her Instagram, she was in New York in June and she's now back in California, where she lived when the show was being filmed...
She was also reunited with Cierra in one of the cutest BFF TikToks we've ever seen, and one of her most recent posts shows her hanging out with some of her Coterie family. Of course not everything we see on social media is true but maybe a return is in the cards?! We sure hope so...
Sagal is a journalist, specialising in lifestyle, pop culture, fashion and beauty. She has written for a number of publications including Vogue, Glamour, Stylist, Evening Standard, Bustle, You Magazine, Dazed and Wonderland to name a few.
With contributions from