5 guided journaling ideas to kickstart your journey
Want guided journaling ideas but need some help getting started? Wellness expert Francesca Specter shares her top tips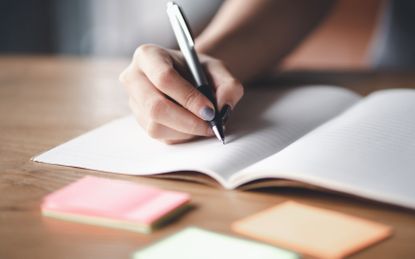 (Image credit: Getty Images)
Looking for journaling ideas? We hosted a guided journaling session with wellness expert and Alonement founder Francesca Specter on Instagram to help you get started.
Alongside the best meditation apps, journaling is one of the most beneficial ways to take care of your well-being. Not only is it a wellness gift loved by the likes of Michelle Obama and Emma Watson but it is also a great way to get your creative juices flowing. But how do you get started?
Here are Francesca's top tips...
---
---
How to start guided journaling
The first step is to set intentions for yourself. Journaling can be a really good way of taking control in a time where most things may feel like they're out of our hands due to the pandemic.
Start by setting yourself a one-word intention that you will focus on for your first journaling session. For example, that might be "clarity," gaining a sense of "control," or picking up "positive habits." The idea of this is to have a clear vision of what you want for yourself.
"For me, journaling is all about being able to live with intention. What I mean by that is I think we often think of journaling as 'Dear diary, this is what I did today' but it's more than that. It's creating a clear line between your past, current and future," says Francesca Specter. "I think writing down your intentions can really help with that—to feel you are on a journey. Holding yourself to account, to yourself, is a really powerful thing."
Specter also highlights that journaling is never about your writing ability. It's not about how it looks or the way you format it. "I personally have some page-long sentences in my diary," she admits. "Once we let go of those things holding us back, that you're not a writer or you're not happy with how it sounds, then it gets easier. No one is going to read it, this is for you and your intentions."
For those who are self-employed or freelancers with no colleagues, Specter points out that journaling to start her day is like having a morning meeting with yourself to outline your day and set your intentions. "I set my intentions with work and the fears I want to overcome, it really creates this sense of honesty with yourself," she says. "How do you want to feel? How are you going to get there? What steps do you need to take?"
This type of journalizing is called guided journaling and is really useful for people who are not used to journaling or have a fear of writing due to overthinking what it should look and sound like. "I think guided journaling allows you to get more out of journaling because it allows you to be mindful and be asked and answer certain questions on the page. It's also a nice group exercise."
Guided journaling ideas
Here are a set of exercises to guide you through your first journaling session.
1. How are you today?
Write down three words to simply describe how you're feeling.

2. Intention setting: What emotions would you like to feel in 2021?
Two-minute reflection:
Write down a couple of sentences about the best day or the best hour that you've had in recent memory. Whilst doing this, pay attention to the circumstances around that moment. Can you remember the specifics? Eg. sights, smells, what you wearing, who you were with, etc.
How did you feel at that moment?
Write down three words to describe how you felt in the moment you've reflected on.
What do you want to do more of in 2021?
Write down the first thing that springs into mind when you hear this question.
What is your one goal for 2021?
When answering this, focus on the feeling you felt in the moment of joy you reflected on earlier and the activity you wrote down for the question asking what you want to do more of in 2021.
3. Now that you have set your intention, ask yourself what is stopping you from achieving it?
Write down any number of things that you feel are getting in the way of you achieving your intention. Ask yourself what is stopping you from doing the things you want to do? This is a two-minute exercise to get it all out.
4. Write down one big positive change that you can make to achieve your goal
Take a moment to think about a big positive change that you can make to get you closer to your overarching intention.
5. Finally, write down three things that you're grateful for
End your session by thinking about three things you're currently feeling grateful for and write them down.
Sagal is a journalist, specialising in lifestyle, pop culture, fashion and beauty. She has written for a number of publications including Vogue, Glamour, Stylist, Evening Standard, Bustle, You Magazine, Dazed and Wonderland to name a few.