The best wellness gifts to shop for your loved ones this Christmas
Wellness gifts are exactly what we need for Christmas. Here are some of the best to give your friends and family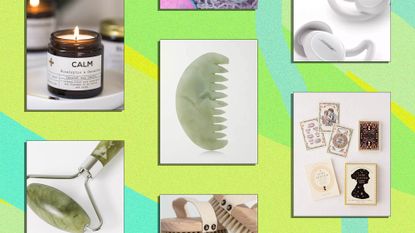 (Image credit: Free People / Hayo'U / Urban Outfitters / Dr Barbara Sturm / Bose / Beauty Bay / Not on the high street)
If there's one thing we all need this year, it's some lovely wellness gifts. The last few years have been a hard pill to swallow for many of us, that's no secret. From the pandemic to politics and everything in between, it's fair to say we've all had a lot to deal with.
Luckily, Christmas is right around the corner, which means 'tis the season of gift-giving. If you're struggling for ideas for gifts for your girlfriend, gifts for your boyfriend, or gifts for any friends and relatives, a wellness gift is a thoughtful, works-for-all present that anybody would love.
We all need to unwind as we approach the end of the year and what better way to do so than with a little wellness session? From soothing diffusers to spruce up your energy and atmosphere, to mind-opening journals to track your healthy progress, or calming candles to make you feel at ease, the list of Christmas gifts perfect for some much-needed self-care is endless.
Here are a few of our favorites, to show how much you cherish your loved ones this holiday season.
Wellness gifts to stock up on for Christmas:
1. SKIMS The Slide
Have your giftee stepping into the new year on the comfiest foot with these super-plush, faux-fur side slippers from SKIMS. You can match them with a nice robe or a pair of the best pajamas for a truly cozy-AF Christmas gift.
$48 at SKIMS (opens in new tab)
£‌52 at SKIMS (opens in new tab)
2. Great Ball of Fizz Bath Gift Set
The only thing we love more than a fizzy bath bomb for an indulgent bath session? A fizzy bath bomb that looks like a gorgeous, gold-flecked geode. The pampered princess in your friend group is going to love this one.
$25 at Free People (opens in new tab)
£20 at Miss Patisserie (opens in new tab)
3. HAYO'U Beauty Restorer Comb
Ahh, the subtle art of a good old head scratch. Is there anything more satisfying than a gentle comb running through your hair and massaging your scalp? We're finding it hard to think of one. If you or someone you love agrees then do them a favor and gift them this Gua Sha scraping massage tool scalp treatment comb. It hits all the right spots.
$55 at Net-A-Porter (opens in new tab)
£38 at Net-A-Porter (opens in new tab)
4. A Jane Austen Tarot Deck
Wellness is a well-rounded concept, so we've got to include some spiritual, meditative gift ideas—what better than a tarot deck inspired by the author of some of the best comfort reads around? Dip into divination with help from Jane Austen favorites, from Elizabeth Bennet to Elinor Dashwood.
$18.99 at Urban Outfitters (opens in new tab)
£12.90 on Amazon (opens in new tab)
5. Dr. Barbara Sturm The Body Brush
A great stocking stuffer for the bath-loving babes in your life, this natural-bristle brush can be used as a scrub aid in the shower or as a dry massage tool. Because what's better than gifting someone the smoothest, softest skin ever?
$35 at Sephora (opens in new tab)
£25 at Net-A-Porter (opens in new tab)
6. Compartés Gingerbread Dark Chocolate Bar
Yes, chocolate is totally a wellness gift. For one, the dark stuff has proven physiological benefits (it's full of antioxidants, improves blood flow, etc.), and two, it makes people happy, so we're considering that a mental health boost. Compartés has some of the most creative flavors in the chocolate game, but we love the festiveness of this gingerbread-laced confection.
$11.95 at Compartés (opens in new tab)
7. Parachute Silk Pillowcase
Put some beauty in beauty sleep with this chic silk pillowcase from Parachute, made from 100% premium Mulberry silk, which helps to prevent split ends in your 'do and reduce the appearance of fine lines on your skin.
$89- $109 at Parachute (opens in new tab)
8. Lord Jones CBD Gumdrops
Give the gift of hemp-derived relaxation with these yummy gumdrops, infused with 20 mg of broad-spectrum CBD and the festive flavors of sugarplums and ginger. Here's to a calmer year ahead!
$35 at Lord Jones (opens in new tab)
9. Flawless Beauty Fridge
Got a skincare queen on your to-buy-for list? A dedicated beauty fridge like this Flawless by Finishing Touch option will take their self-care game to the next level.
$59.99 at Ulta (opens in new tab)
10. Moleskine Wellness Journal
Designed to grow into a permanent and uniquely customized record of your fitness, nutrition and wellness journey, this journal is the perfect way to start the new year. As well as providing four structured sections allowing you to keep a record of your personal goals, fitness, diet, health and self-care progress, the journal includes nutrition tips, exercises to increase muscle mass and practical fitness facts.
$29.95 at Moleskine (opens in new tab)
£26.99 at Moleskine (opens in new tab)
11. Bose Sleepbuds II
These may look like headphones but they're actually sleep buds. Clinically proven to help you fall asleep faster, this clever technology doesn't play music but delivers relaxing and noise-masking sounds to help you fall asleep and stay asleep all night. So, if you know someone who suffers from insomnia or has trouble sleeping, you could potentially become their favorite person after gifting them this.
$249 at Bose (opens in new tab)
£219.95 at Bose (opens in new tab)
12. Beauty Bay Jade Facial Roller
We can't discuss wellness and self-care without a mention of skincare. Taking care of our skin not only looks but feels great. In fact, it's an essential part of wellness and one of the most soothing parts of our skincare routine is massaging our face with a jade roller. Beauty Bay's jade facial roller helps to reduce facial tension, aid lymphatic drainage and increase the absorption of your favorite skincare products.
$14 at Beauty Bay (opens in new tab)
13. Golde Matcha Turmeric Latte Blend
Whilst we'll admit that we love a good cup of coffee, we can't deny that the jittery feeling is far from one of zen. So to calm the spirit, encourage a loved one to switch to Matcha by gifting them a pack of Golde's Matcha Turmeric Latte Blend. The black-owned brand mixes seven essential superfoods to support skin glow, debloating, and serene focus. What's not to love?
$29 at Golde (opens in new tab)
14. Illumer 'Calm' Wellness Candle
Designed specifically to de-stress and relax, the candle is a calming blend of eucalyptus and geranium with peppermint and cinnamon. It aims to ease anxiety and create an overall positive aroma, all whilst maintaining a lovely long-lasting scent. It's an amazing gift for anyone with a hectic day-to-day life that needs to unwind. Oh, and did we mention it comes with an optional personalized cotton bag where you can add your own message?
$19.85 at Not On The High Street (opens in new tab)
£14 at Illumer (opens in new tab)