Holiday decor for your tiny apartment
Deck the halls with holiday decor ideas that offer maximum merriment, even with minimum space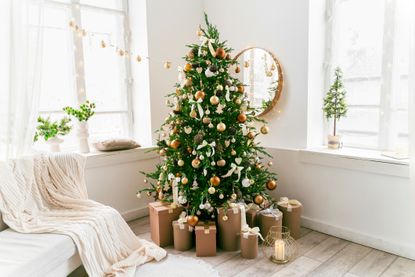 (Image credit: Getty)
You don't need to have big space to throw a big holiday, and these holiday decor ideas for your tiny apartment are adorable proof.
Ok, sure, we might not be able to fit one of those gigantic celebrity Christmas trees into our flats but that doesn't mean that our home holiday get-ups have to be any less jolly and joyful.
Whether you're looking for Christmas tree alternatives or clever small-space ideas that won't have you cursing your lack of storage come December 26, we've got holiday decor tips for you!
---
---
Holiday decor for your small apartment
1. Up your tiny tree game
Don't have the square footage for a Kris Jenner-worthy Christmas tree? Bigger doesn't always have to mean better, especially when you can forgo one giant Douglas fir for a whole forest's worth of festive micro trees. They can be Charlie Brown-style charmers that would otherwise be left at the tree lot, purely decorative numbers, or you can simply dress up the potted greenery that you already have around your flat.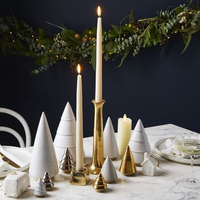 Food52, Farmhouse Pottery Ceramic Winter Trees ($32–$2,520)
Don't want the mess of a spruce? You won't need to pick up any pesky needles with these ceramic wintry trees, perfect for dressing up your mantle or dining table.
2. Swap in seasonality
When dealing with a smaller living space, you don't want to add more clutter-inducing items so much as replace the ones you already have. From dish towels to welcome doormats to throw pillow covers, swapping out your everyday stuff for more festive seasonal options is a super-easy fix when decorating for the holidays.
3. Decorate the kitchen (and bedroom, and bathroom)
Who says you need to stop in the living room when it comes to holiday decorations? We say extend the merriment through every room in your apartment or through your entire studio by bringing seasonal decor into your kitchen, bedroom, bathroom, heck, even the hallways!
4. Dress up your door(s)
When you're working with limited space, you have to use up every inch you've got. That includes doors—and you don't just have to restrict it to your front door. Extend the yuletide trimmings to hallway doors, closet doors, you name it, with stuff like wreaths, garlands, decals and extra stockings. The more is definitely the merrier.
5. When in doubt, light it up
If you live in an apartment building, you likely don't have the space or ability to hang up Christmas lights outside. But that doesn't mean you can't go all out indoors! From classic strung lights to window decorations and even trendy neon options, lighting adds a jolt of Christmas spirit without taking up much space.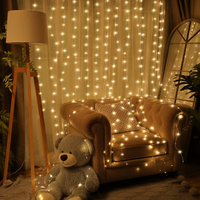 Amazon, Christmas Lights Indoor Decoration ($14.99)
Individual strings of Christmas lights can be annoying to put up—that's where a string-light curtain like this comes in to help. Use it as a wall hanging or window treatment for a quick way to add some winter-wonderland wow to your space.
Christina Izzo is the Deputy Editor of My Imperfect Life.
More generally, she is a writer-editor covering food and drink, travel, lifestyle and culture in New York City. She was previously the Features Editor at Rachael Ray In Season and Reveal, as well as the Food & Drink Editor and chief restaurant critic at Time Out New York.
When she's not doing all that, she can probably be found eating cheese somewhere.