The best celebrity Christmas trees to inspire your holiday decorating
We've rounded up the best celebrity Christmas trees that we spotted last year, and the picks we've already seen in 2022!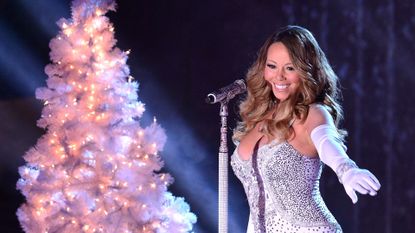 (Image credit: Photo by James Devaney/WireImage)
The chicest celebrity Christmas trees have a bit of everything: tinsel, ornaments, lights, stars and a large helping of pizzaz. Did you expect anything less?
While you're indulging in the best Christmas movies and sipping on eggnog, some of the world's biggest A-listers are busy getting their homes—and more specifically, their tree—ready for the festive season. And of course, they only use the best of the best; and now's the time to channel the same festive spirit in your own abode, with your own Christmas tree. We've already stocked up on the best Friends ornaments for a good dose of nostalgia!
To help get you inspired, we've rounded up our very favorite celeb trees from the last few years—and the early contenders for 2022—including Mariah Carey's (obvs), Tan France's, and Jessica Simpson's. These celebrity Christmas trees should inspire you to do a little bit more with your festive creation this year than just flop a few lights onto it...
10 celebrity Christmas trees that we love
1. Mariah Carey
Who better to kick off the list? The Queen of Christmas got into the holiday spirit immediately after the spooky season came to a close in 2021, and we weren't the least bit surprised. When Mimi says it's Christmastime, you better pull out an ugly sweater. She hasn't yet debuted her tree for 2022, but if last year's elegant and glamorous creation is anything to go by, it'll be amazing when she does!
2. Britney Spears
While most of us were still marathoning Halloween movies, Britney Spears had her Christmas tree up two weeks before October 31st even arrived back in 2021! Following a difficult journey with her conservatorship, she understandably felt the need to celebrate a bit earlier, and fans were all for her festivities. Her expertly decorated tree—complete with ribbons and a pink floral tree topper—is exactly how we envision our tree to look every year. It doesn't always work out that way, but we try...
3. Tan France
Tan is another celeb who didn't waste any time last year—his Christmas tree post went up on Instagram on October 31st. And we can see why! The fashionista and Queer Eye star opted for an elegant and minimalist thin Christmas tree, with traditional gold and red decor—of course though, we're totally distracted by his adorable baby.
4. Gwen Stefani
In true Gwen Stefani fashion, the singer's Christmas tree embodies a punk rock vibe thanks to the playful prints in her living room and her plaid gear. We also love the gingerbread man garlands, hanging candy canes, and oversized black baubles.
5. Jessica Simpson
Obviously, Christmas trees make for the perfect selfie, and Jessica Simpson decided to get in on the action. To her right, there isn't an inch of free space on her tree—it's completely adorned with decorations—oversized blue and silver baubles, hundreds of lights, and golden ornaments all adding an uber glam touch. We also love the snowy tree skirt.
6. Joanna Gaines
It comes as no surprise that the interior expert and Fixer-Upper superstar nailed her holiday decorations. The tree gives off a cozy, country vibe and it looks like her ornaments are spaced out to perfection—truly the work of a pro.
7. Martha Stewart
Every year, the marvelous Martha Stewart intricately decorates the various rooms of her Bedford home, and her latest two-tree showstopper is making us green with envy. Both are immaculately decorated in a blue/green color scheme (to match the walls, obvs), with interspersed warm golden lights breaking up the pattern. Any chance she can pull this off at our place?
8. Molly Ringwald
The queen of 80s movies gave us a sneak peek at her family decorating their Christmas tree, and it's totally heartwarming. This tree totally reminds us of our childhood—not immaculately polished and perfect, but full of fun handmade decorations and colorful lights that make us smile.
9. Amy Schumer
The funny lady of course did not miss an opportunity to post a LOL-worthy caption alongside the Christmas tree photo she snapped with her husband in 2021, next to a nice but not extravagant tree. They're looking less Buddy the Elf and more Scrooge...but we approve!
10. Drew Barrymore
In 2021, Drew shared her admiration for her tree by posting a photo of her giving it an air-kiss; and we're totally on board! The actress also went the traditional route, with plenty of red, whites and greens, and it works perfectly in her cozy home. As far as celebrity Christmas trees, it's one of the most achievable we've seen. The comments section on Instagram, one follower declared Barrymore "a true Christmas angel" and we couldn't agree more.
---
We haven't spotted any celebs posting their 2022 Christmas trees yet, but as soon as we do, we'll be sure to post our pick of the best right here! Until then, why not take a look at our guide to the best Christmas movies on Netflix and the best Christmas movies on Disney Plus, for that hit of the festive spirit?
Sagal is a journalist, specialising in lifestyle, pop culture, fashion and beauty. She has written for a number of publications including Vogue, Glamour, Stylist, Evening Standard, Bustle, You Magazine, Dazed and Wonderland to name a few.