How did Sara's mom actually die in 'Who Killed Sara?'
For three seasons of 'Who Killed Sara?' we were wrong about Sara's mom's death.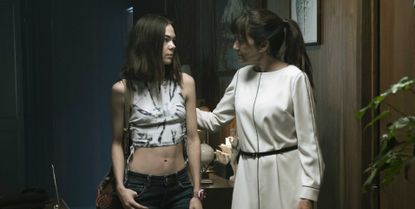 (Image credit: Paulina Campos/Netflix)
Netflix's Who Killed Sara? is not known for its lack of surprises. With more twists than a game of Twister, viewers learn that nothing is ever as simple as it seems.
The long-awaited Who Killed Sara? season 3 has delivered some much-wanted conclusions and a few jaw-dropping shocks that could never be foreseen. The biggest surprise in season three is arguably not who killed Sara (and if you're questioning, "Did Sara actually die in 'Who Killed Sara'?" we've got the answer for you), but finding out what really happened to her and Álex's mother, Lucia.
Lucia's death seemed pretty clear-cut and not something that viewers ever thought about but season three has revealed her passing is not as simple as initially thought. It turns out that she did not die from kidney failure after all—so how did Sara's mom actually die?
*Warning: spoilers ahead!*
How did Sara's mom actually die in 'Who Killed Sara?'
From season one, viewers are told that Sara and Álex's mum Lucia was in desperate need of a kidney transplant. In season one episode seven, Álex reveals to Elisa that, in exchange for him taking the blame for Sara's death, Cesar Lazcano would help his mother find a kidney, which Cesar did not do. Viewers just added this to the list of heinous things Cesar did but it turns out he may have had an excuse—he didn't get the chance.
Sara's mother was petrified that Sara was turning out to be schizophrenic like her biological father, Abel Martinez, who had raped Lucia. This is something that Lucia never revealed and something Álex only found out through his investigation into Sara's murder. This hereditary gene saw Lucia take Sara to Doctor Alanis who she believed would help find a diagnosis for Sara.
However, it turns out that Doctor Alanis was working with Reinaldo, the head of The Medusa Project. But worse, Reinaldo's right-hand woman Tonya was also working for Doctor Alanis and took over Sara's care. Tonya told Lucia that Doctor Alanis' conclusion was that Sara needed to partake in experimental treatment immediately, that treatment being Reinaldo's grand plan at the Medusa Center. Tonya's position as a key person to Doctor Alanis allowed her to reveal to Reinaldo that she had the perfect patient for his Medusa Project and convinced Lucia to sign the consent forms.
As Sara takes part in the supposed treatment, Lucia finds Sara's notebook hidden under her bed and is so horrified by the pictures that she tears out one of the pages and brings it to Doctor Alanis, but comes face to face with Tonya. The latter snatches the paper and brings it to Reinaldo.
Later, after Sara is admitted to the Medusa Project and her death has been faked, Reinaldo and his henchmen storm the Guzmán house looking for the notebook. But Lucia has already hidden it behind a hole in the wallpaper because she feared that something like this would happen, as she had been followed by the henchmen for weeks from the grocery store to her dialysis treatment. Her refusal to tell Reinaldo where the notebook is led Reinaldo to shoot her in the head, killing her.
This suggests that even though it's entirely probable that Cesar had no ambition to help find a kidney for Lucia, his opportunity to was ended early after Lucia was shot in the head. The death also means we'd been lied to for two seasons, or that we didn't look hard enough, as Lucia's death was easily covered up because she had nobody to look after her with Sara "dead" and Álex was in prison.
All episodes of Who Killed Sara? season 3 are now streaming on Netflix. Here's what's happening with Who Killed Sara season 4.
Liv is a freelance journalist currently studying English at university. She loves covering everything from entertainment and politics to lifestyle and travel. As well as writing for My Imperfect Life, Liv has bylines in The Times, HuffPost, Den of Geek, Bustle The Metro and The Bookseller.